Today we're featuring guest blogger Naomi who has a United States passport, but considers herself a global citizen and currently lives in New Delhi, India.  Along for the great adventure is her husband, one teenage traveler, two littles and an Indian street dog.  She blogs about their life (including an upcoming relocation to Singapore) at Delhi Bound [https://delhibound.com].
Using recycled toilet paper rolls and your imagination, create a fun and unique way to count down the days until upcoming special events!
When I was a little girl, my mom would often help us make paper chains to count down to special events.  As my kids grew up in Ohio, we did the same.  These chains marked the big summer vacation, or when daddy would come home from a business trip.
Fast forward to our lives abroad and we have graduated a bit from the paper chain variety!
Recently, I created a countdown for the kids, to mark our next big journey, a relocation to Singapore from New Delhi, India.
Ask your friends and family for some help and collect toilet paper rolls.  It takes some time to accumulate 31 + rolls!  Enlist the help of your children and paint the rolls a myriad of colors and then add a number to each one – one for each day of the countdown.
[One option is to instead have an advent-type calendar and simply label the tube with the actual date of the month, but we opted to use it backwards, whereby the roll with the number 1 on it, served as the one opened before the BIG day!]
Staple the bottom of the tubes shut. I hung our tubes on a long strip of ribbon that was affixed to the wall with nails (simple!).  Then, inside each roll, place handwritten or typed instructions.  Some suggestions?
Ice Cream at your favorite shop
New crayons (or markers, or stickers – based on your kiddos age and preference)
Have a sleepover in the living room
Play dress-up and have a makeup party with mama
Wrap up your siblings in toilet paper
Pick some flowers and have dinner on the floor like a picnic
YOU choose what we have for dinner!
Take a walk around your neighborhood and photograph interesting things
Decorate your car!
Shaving Cream in the Shower!
Surprise your teachers tomorrow with cinnamon rolls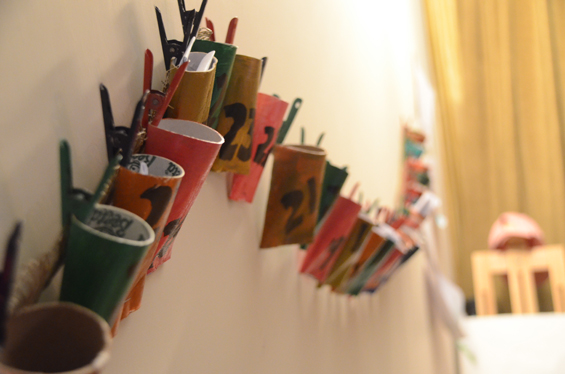 Each morning during this project, your children get to wake up and pull the instructions for the day.  Once they have "drawn for the day" remove that day's tube from the ribbon, so that they can visually SEE the remaining days left until the countdown is concluded.
Get creative!  I would love to hear your ideas for additions to this list.  What would your children enjoy?