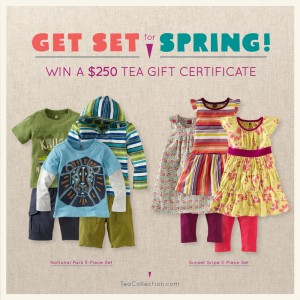 Official Rules
"Get Set for Spring Sweepstakes"
PLEASE REVIEW THESE OFFICIAL RULES BEFORE ENTERING THE SWEEPSTAKES. NO PAYMENT OR PURCHASE IS NECESSARY TO ENTER OR WIN. A PAYMENT OR PURCHASE WILL NOT INCREASE YOUR CHANCES OF WINNING. VOID WHERE PROHIBITED BY LAW.
GENERAL CONDITIONS: The "Get Set for Spring Sweepstakes" (the "Sweepstakes") is sponsored by  Tea Collection, 1 Arkansas Street, Studio B, San Francisco, CA 94107, (the "Sponsor") and administered by Tea Collection (the "Administrator"). By entering the Sweepstakes, each entrant agrees to abide by the terms of these Official Rules (the "Rules") and by the decisions of the Administrator and Sponsor, which shall be made in their sole and absolute discretion and are final and binding on all matters relating to the Sweepstakes. The Sweepstakes is governed by the laws of the State of California and applicable U.S. federal law, without regard to any conflicts of laws principles. The Sweepstakes is void where prohibited by law. The Sweepstakes is also governed by the privacy policies of Tea Collection (https://www.teacollection.com/static/privacy-policy.html) (the "Privacy Policy"), although the Rules will govern in the event of any conflict between the Privacy Policies and the Rules.
ELIGIBILITY: The Sweepstakes is open only to legal residents of the 50 United States (excluding Puerto Rico and including the District of Columbia) who, as of February 3, 2013: are at least eighteen (18) years of age and have Internet access, and an email account. Entry also requires a free Facebook account; see www.facebook.com to register. Employees, officers, and directors of Sponsor, Administrator, and their respective parents, subsidiaries, affiliates, dealerships (including retail stores), suppliers, and advertising, promotion and fulfillment agencies are not eligible to enter or win, nor are immediate family members or household members. "Immediate family members" means parents, step-parents, legal guardians, children, step-children, siblings, step-siblings, and spouses. "Household members" means those people who share the same residence at least three months a year.
HOW TO ENTER: No payment or purchase is necessary, and a payment or purchase will not increase your chances of winning. The Sweepstakes begins at 12:01 am PST ("PT") on  February  3, 2013 and ends at 11:59 pm PT on February 18, 2013 (the "Sweepstakes Period"). To enter the Sweepstakes, go to Tea Collection's Facebook page at www.facebook.com/teacollection, follow the link to the "Get Set for Spring" entry page (the "Sweepstakes Site"), and follow the instructions provided to enter. If you haven't already "liked" Tea on Facebook, you will need to do so in order to enter the Sweepstakes. After the entry is submitted, you will have a chance to refer friends to the Sweepstakes; you do not have to make referrals in order for your entry to be valid, but referring friends makes you eligible for the referral prizes described below. Entrants whose referrals result in more than three (3) additional entries in the Sweepstakes will have the opportunity to unlock a coupon for use on www.teacollection.com. Enter the promotional code SAVANNATEE during check out to receive $5 off on one style located in the tees & top section at TeaCollection.com. Code will take $5 off the total purchase, not the price of each top. Offer valid 12:01 am PST Sunday 2/3/2013 through 11:59 pm PST Tuesday 1/19/2013 . Cannot be combined with other promotions. No adjustments on previous purchases. Limited to stock on hand. Not redeemable for cash. Discount taken will be pre-tax. Discount applied at time of purchase will be taken off each item returned.
All entries must be received by 11:59 p.m. PT on February 18, 2013 (the "Deadline"). Proof of submission is not proof of receipt, and the Sponsor designated computer is the only valid official time-keeping devices for the Sweepstakes.
Limit one (1) entry per person and one (1) entry per email address. Multiple entries received from any person or email address after the first entry received from that person or email address will be void. Entries without all of the required information will be disqualified. Referrals must be made using the entrant's custom URL, and the referral recipient must follow the custom URL and enter the Sweepstakes as described above, in order for the original entrant to receive credit for the referral. In addition, Sponsor will have no responsibility for, and will have the right to refuse in its sole and complete discretion, any mass entries or reproductions, any entries that have been tampered with or that reflect an attempt to tamper with the Sponsor website or Facebook page, the Sweepstakes Site, or the entry process, and any entries that are late, lost, stolen, illegible, misdirected, damaged, inaccurate, or incomplete, whether due to Internet or email server failure or otherwise. Sponsor and its agents are not responsible for lost, late, or misdirected entries, for technical, hardware or software failures of any kind, for lost or unavailable network connections, or for failed, incomplete, garbled or delayed computer transmissions or any human error which may occur in the receipt or processing of the entries. Sponsor reserves the right to modify the scheduling of the Sweepstakes without prior notification. Any attempt at entry except as above stated is void. All entries become the property of the Sponsor and will not be acknowledged or returned. The Sponsor has the right to disqualify any entry that is not in compliance with these Rules, including all eligibility requirements.
The Sponsor will be collecting personal data about participants when they register and enter the Sweepstakes. By participating in the Sweepstakes, you agree to all of the terms and conditions of the Privacy Policies. It is the entrant's responsibility to inform the Administrator if the entrant's contact information changes after the entry is submitted. In the event of a dispute regarding the identity of the person submitting an entry, the entry will be deemed to be submitted by the person in whose name the e-mail account is registered on the date the entry is submitted.
WINNER SELECTION AND NOTIFICATION: One (1) potential grand prize winner and five (5) potential referral prize winners (each, a "Potential Winner") will be selected by the Sponsor or its designee on or about February 19, 2013.  The potential grand prize winner will be selected in a random drawing, and the referral prize winners will be the entrants whose referrals resulted in the most Sweepstakes entries.  Each Potential Winners will be notified by email using the email address provided in the Sweepstakes entry ("Prize Notification") and must respond by email within seven (7) calendar days of the date of the Prize Notification (the "Prize Deadline"), with Potential Winner's full name and a mailing address ("Mailing Information") where Sponsor can send his/her Prize (if warranted), and (if requested by Sponsor) a Declaration or Affidavit of Eligibility and Liability/Publicity Release in a form acceptable to the Sponsor (collectively, the "Sweepstakes Documents"). The mailing address must be a street address (no P.O. Boxes). If a Potential Winner does not respond to the Prize Notification by the Prize Deadline, he or she will be disqualified and an alternate Potential Winner will be selected using the methods described above.  The Sponsor is not responsible for the failure for any reason whatsoever of any Potential Winner to receive his or her Prize Notification or for Sponsor to receive a Potential Winner's responses and/or Sweepstakes Documents. Return of any Prize Notification or Sweepstakes Documents as undeliverable, the inability of Sponsor to contact a Potential Winner, the failure of a Potential Winner to contact the Sponsor in a timely manner, the inability of a Potential Winner to accept or receive the Prize for any reason, and/or the non-acceptance by a Potential Winner of any Prize for any reason will result in disqualification of such Potential Winner, and an alternate Potential Winner will be selected using the methods described above. A Potential Winner who receives a Prize is known as the "Winner".
5. PRIZES:
One (1) grand prize winner will receive a $250 Tea Collection  gift certificate, valid only for use at www.teacollection.com and subject to Sponsor's standard gift certificate terms. (Total ARV of $250). Odds of winning depend on the number of eligible entries received before the Deadline.
Five (5) referral prize winners will receive a Tea Collection wardrobe set. (Total ARV of $149).
PRIZE CONDITIONS: All Prize values are stated in United States dollars. Selection, details and specifics of all Prizes will be determined at the Sponsor's sole discretion. If a stated Prize is unavailable, Sponsor has the right to substitute one or more items of equal or greater value, in its sole and absolute discretion. Winner is not entitled to any surplus between the actual retail value of the Prize and its stated ARV. No cash redemption or prize substitution or exchange allowed. All Prizes are non-transferable. Winner will be solely responsible for complying with any and all applicable federal, state, provincial, local or other statutes, regulations, and other laws and for bearing any VAT, withholding taxes, personal income taxes, customs duties or other taxes, fees, insurance, surcharges or other costs relating to the Prize.
ALL PRIZES, AND ALL PRODUCTS, SERVICES, OR ITEMS PURCHASED WITH ANY PRIZE, ARE PROVIDED AND AWARDED "AS IS" AND WITHOUT WARRANTY OF ANY KIND. SPONSOR DOES NOT MAKE, AND EXPRESSLY DISCLAIM, ANY WARRANTY, WHETHER EXPRESS, IMPLIED, OR STATUTORY, REGARDING ANY PRIZE OR ANY PORTION THEREOF, OR ANY PRODUCT, SERVICE OR ITEM PURCHASED WITH ANY PRIZE, INCLUDING WITHOUT LIMITATION ANY IMPLIED OR STATUTORY WARRANTIES OF MERCHANTABILITY, FITNESS FOR A PARTICULAR PURPOSE, TITLE, OR NON-INFRINGEMENT. Acceptance, participation in and/or use of the Prizes, and any products, services or items purchased with the Prizes, are at the Winner's sole risk and Sponsor is not responsible for any damages whatsoever, including special, indirect, or consequential damages, arising out of or in connection with the use and/or misuse of any of the Prize or any products, services or items purchased with the Prize. Prizes will be awarded by email, U.S. Mail, Federal Express, UPS and/or other shipping method, in Sponsor's and/or its Prize suppliers' sole discretion, using the information provided in the Sweepstakes Entry.
REPRESENTATIONS: By entering the Sweepstakes, each entrant represents and warrants that: (a) the entrant meets all eligibility requirements of the Sweepstakes; (b) in entering and participating in the Sweepstakes, the entrant has complied with and will comply in all respects with these Rules and all applicable statutes, regulations and other laws;  (c) the information provided in the entrant's entry, including without limitation all contact information, is true, accurate and complete in all respects; and (d) with regard to referrals made by email, the entrant has sent the referrals only to his or her contacts and has not engaged in "spamming" or similar forms of mass email distribution.
GRANT OF RIGHTS: By accepting a prize, each Winner consents to the use of his/her name and/or likeness (voice, biographical information, city and state of residence, statements, photograph, and recording) for advertising and promotional purposes (including, but not limited to, use on Sponsor's web site and/or Facebook pages) without additional compensation, except where prohibited by law.
RELEASE: All decisions of Sponsor are final and binding, and entrants agree to waive any right to claim ambiguity in the Sweepstakes or these Rules, except where prohibited by law. To the maximum extent permitted by law, by entering the Sweepstakes, each entrant releases and holds harmless the Sponsor, Administrator, the Prize manufacturers or suppliers, any other entities involved in the administration of the Sweepstakes, each of their respective parents, subsidiaries, and affiliates, and each of their respective officers, directors, employees, agents and representatives (the "Sponsor Parties") from any and all responsibility, liability, damages (including without limitation direct, indirect, incidental, consequential, punitive, statutory and other damages), losses, costs, or expenses of any kind arising out of or relating to: (a) the Sweepstakes and participation in the Sweepstakes by the entrant; (b) any violation by the entrant of these Rules or applicable laws; (c) the acceptance, possession, receipt, or use of any Prize or any product, service, or item purchased with any Prize; (d) any entries that have been tampered with, or that evidence an attempt to tamper with the Sponsor website or Facebook page,  the Sweepstakes Site, or the entry process, or that are misdirected, incomplete, non-conforming, corrupt, lost, late, or ineligible; (e) any problems or technical malfunctions (including but not limited to errors, omissions, interruptions, deletions, defects, or delays in operation or transmission) of any computer, telephone, modem, cable, satellite, network, hardware, online system, server, software, or other equipment or provider, including any incorrect, incomplete, garbled or jumbled information resulting there from; (f) any Internet traffic congestion or website accessibility or delays; (g) printing or typographical errors in any Sweepstakes-related materials; or (h) any other technical or human error that may occur in connection with the Sweepstakes (the "Causes"). If anyone makes any claim against any of the Sponsor Parties arising out of or relating to any of the Causes attributable to the entrant, the entrant will pay for any damages, losses, liabilities, costs, penalties, and expenses, including without limitation attorneys' and experts' fees and costs, incurred in connection with such claim. WITHOUT LIMITING THE GENERALITY OF THE FOREGOING, THE SPONSOR PARTIES SHALL NOT BE LIABLE FOR ANY LOST PROFITS OR ANY SPECIAL, INCIDENTAL, INDIRECT, PUNITIVE, EXEMPLARY, OR CONSEQUENTIAL DAMAGES ARISING OUT OF THE SWEEPSTAKES, HOWSOEVER CAUSED, WHETHER ARISING IN STATUTE, TORT, CONTRACT, OR OTHER LEGAL THEORY, AND ALL SUCH DAMAGES ARE HEREBY DISCLAIMED AND EXCLUDED.
10.  USE OF PERSONAL INFORMATION: In order to participate in this Sweepstakes, participants will be required to supply certain information about themselves. Sponsor has specified which information is mandatory in order to participate in the Sweepstakes. By entering the Sweepstakes, each participant agrees that such information can be used by Sponsor in connection with administering the Sweepstakes and as set forth in the Privacy Policies.
11.  CHANGES AND TERMINATION: Sponsor reserves the right to make changes or additions to these Rules and/or extend the dates of this Sweepstakes for any reason at any time. Sponsor failure to enforce any term of these Rules shall not constitute a waiver of that provision. Sponsor reserves the right to suspend, modify or terminate the Sweepstakes at any time and for any reason in its sole discretion, including without limitation in the event of fraud, abuse, tampering, or technical, administrative, financial or other difficulties. In such cases, Sponsor will post notice on the Sweepstakes Site. Should the Sweepstakes terminate prior to selection of a winner, an alternate means of awarding the prizes will be announced on the Sweepstakes Site.
12.  CAUTION: ANY ATTEMPT BY AN ENTRANT OR ANY OTHER INDIVIDUAL TO DELIBERATELY ALTER OR DAMAGE ANY WEBSITE OR UNDERMINE THE LEGITIMATE OPERATIONS OF THE SWEEPSTAKES MAY BE A VIOLATION OF CRIMINAL AND CIVIL LAWS AND SHOULD SUCH AN ATTEMPT BE MADE, SPONSOR RESERVES THE RIGHT TO SEEK DAMAGES FROM ANY SUCH PERSON TO THE FULLEST EXTENT PERMITTED BY LAW.
13.  DISPUTES: Each entrant agrees that (1) any and all disputes, claims, and causes of action arising out of or in connection with this Sweepstakes, or any prizes awarded, shall be resolved individually, without resort to any form of class action, and any judicial proceeding shall take place in a federal or state court in San Francisco, California; (2) any and all claims, judgments, and awards shall be limited to actual out-of-pocket costs incurred, including costs associated with entering this Sweepstakes, but in no event attorneys fees and (3) under no circumstances will entrant be permitted to obtain awards for, and entrant hereby waives all rights to claim punitive, incidental, and consequential damages, and any other damages (other than for actual out-of-pocket expenses), and any and all rights to have damages multiplied or otherwise increased.
14.  MISCELLANEOUS: If any part of these Rules is held by a court of competent jurisdiction to be invalid, illegal, or otherwise unenforceable, such part will be modified by such court to the minimum extent necessary to make it enforceable while preserving to the maximum extent possible the original intent of Sponsor, and the remaining parts of these Rules will remain in full force and effect. Nothing contained herein or in any of the Sweepstakes-related materials should be construed as an endorsement by Sponsor of any third party, product or service.
15.  WINNER'S LIST/OFFICIAL RULES: For a list of Winners or a copy of the Rules, please send a self-addressed stamped envelope to: "Get Set for Spring," Winner's List/Official Rules, c/o Tea Collection, One Arkansas Street, Suite B, San Francisco, CA 94107, to be received no later than May 1, 2013. Winners' lists will be sent once all Winners have been verified and Prizes have been awarded.