We're excited to have Julia Pimsleur Levine, founder of Little Pim as our guest blogger today. Little Pim is the ultimate language learning gift for babies, toddlers and preschoolers – to learn more, visit What is Little Pim.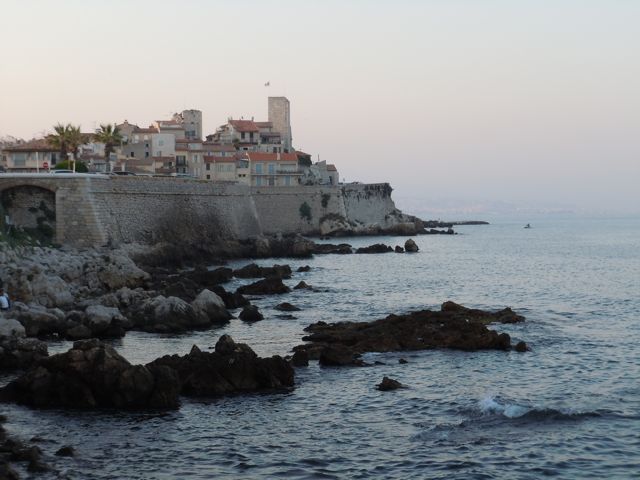 As the creator of the Little Pim foreign language teaching series for kids, people often ask me if my own sons, 3 and 7, speak French. They do speak passable French, but what is more important to me than the number of words they know is that they have fallen in love, as I did, with the French culture, sights, smells and tastes. Learning conjugations can come later.
Below are some of the ways we introduced our boys to French culture, language, and of course, le chocolat, on a recent trip to Antibes, France. Take a little voyage right here avec nous! (with us)
When kids want ice cream is a great time to get them to use their foreign language words… Even the most reluctant young student of French, Spanish or Italian suddenly finds courage in the face of ice cream. "Une glace au chocolat, s'il vous plaît" rolled right off my children's tongue when we got to France! By the end of our two weeks there, they could say all the flavors and colors, a yummy and lasting learning experience!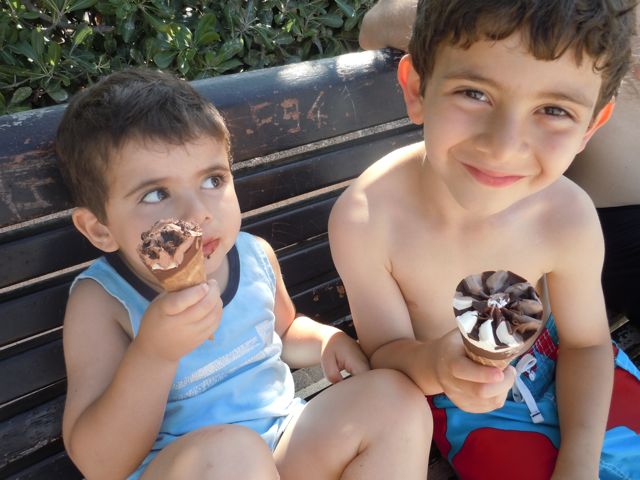 We also got to attend a traditional French marionette show, where we saw carefully crafted paper maché puppets made in the same way they have been made for the last 100+ years in France …. And probably told the same jokes they have told for the last 100 years too. My three year old laughed himself silly and my seven year old scowled and could only be persuaded to sit through it on the promise of mousse au chocolat after dinner.  C'est la vie!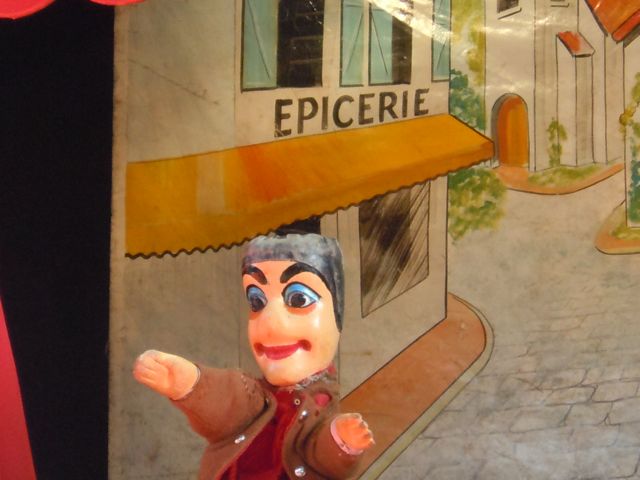 No trip to France would be complete without a ride on one of their ornate and spectacular Carrousels. These are nothing like the US mall version and are a great place to teach kids words like avion (plane), cheval (horse) and unicorne (an easy one!).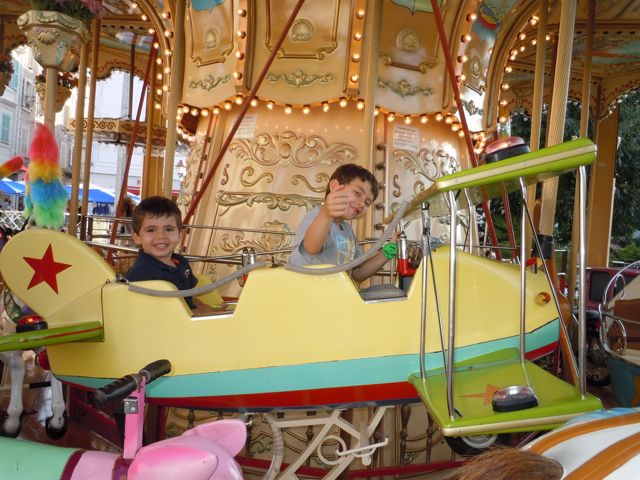 Ever since the trip, both boys greet me in the morning with a half-joking "Bonjour maman!" in unison, and thank me for their Cheerios with "Merci maman!". And they don't even realize that with all the amazing things they experienced this trip, the best is yet to come!
What language would you like your child to learn? Answer below for a chance to win a Little Pim Gift set in the language of your choice.
_________________________________________________________________________________
Congrats to Lisa Pelanne who will be receiving a Little Pim Gift set in the language of her choice!  Thank you to everyone who participated.  Please follow our Studio T blog  for more travel stories, contests, and our Behind the Design inspirations.  To learn more about Little Pim, visit their website at: https://www.littlepim.com/