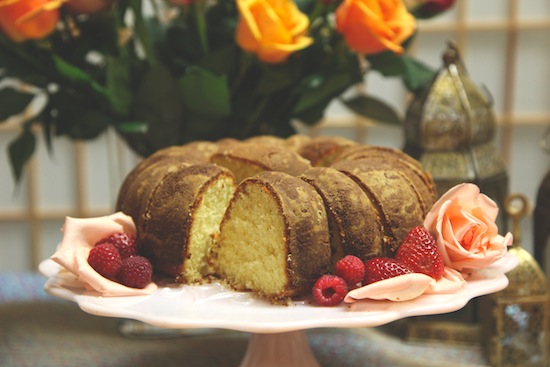 A traditional Moroccan cake is referred to as Meskouta in Arabic. Most often made with either orange juice or yogurt as the main ingredient, you'll typically find them served plain with no frosting. The recipe will vary depending on which family you ask and while it's most commonly baked in a bundt pan, this cake is much lighter than any other cake you're used to seeing in this shape. We think this is the perfect dessert to make with your little ones – only 10 minutes to prep and out of the oven 40 minutes later!
What You'll Need:
4 eggs
1 1/2 cups sugar
1/2 cup vegetable oil
2 cups flour
4 teaspoons baking powder
1/2 teaspoon salt
1/2 cup fresh orange juice
zest from 2 oranges
1 teaspoon vanilla extract
Or, you can go by these "Traditional Moroccan Measures" we came across when making this recipe…
4 eggs
1 level soup bowl of sugar
1 tea glass full of vegetable oil
1 heaping soup bowl of flour
2 sachets of baking powder
pinch of salt
1 tea glass of fresh orange juice
zest from 1 or 2 oranges
1 sachet of vanilla sugar
Prep:
Preheat oven to 350 degrees F (180 C). Grease and flour a bundt pan and set aside. Juice and zest fresh oranges. Beat together eggs and sugar. Gradually beat in oil. Stir in flour, baking powder, salt, and orange juice. Mix until smooth, adding the orange zest and vanilla.
Pour batter into the prepared pan. Bake for about 40 minutes or until top is brown and cake tests done (toothpick should come out clean). Allow cake to cool in the pan for about 10 minutes, then turn onto a rack to continue cooling.