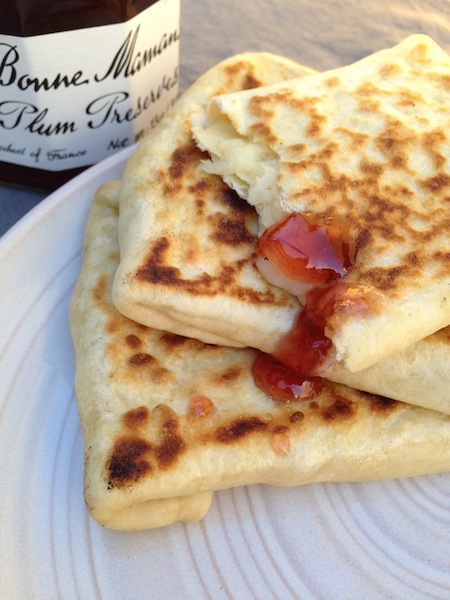 We've heard that three of the best Moroccan cities for street food are Fes, Marrakech and Essaouria (pronounced es-uh-weer-uh); coincidentally, we visited all three during our stay in Morocco. The best time to visit the food souks? Between 6 and 8 PM – this is the time Moroccans stroll and snack, before heading home for dinner around 10.
Rghaif is a flaky, layered flat bread that's common throughout these souks. Although the dough may be stuffed with a variety of fillings before it's folded and fried, plain rghaif are most popular served simply with honey or syrup made from butter. With only 4 ingredients, you can easily make this Moroccan flat bread at home!
What you'll need:
1 cup flour
1/2 teaspoon active dry yeast
1/4 teaspoon salt
1/2 cup warm water
olive oil
white cheese (preferably a bit salty) – optional for filling
How to make:
Combine flour, yeast and salt into a large bowl. Add water slowly and knead mixture for 5-10 minutes until the dough is smooth.
Divide the dough into 5 equal pieces. Roll each piece into a ball and lightly coat with olive oil, set aside for 10 minutes.
While your dough balls are resting, warm a cast iron skillet (or similarly heavy pan) to medium heat.
On a clean surface, roll each dough ball out as thin as you possibly can. Get started with a rolling pin and then carefully lift and stretch the dough by hand. The thinner, the better.
If you'd like to fill your flat bread, now is the time to do so! Once you've placed your filling in the center of the dough, fold the dough into a rectangle or square and place in the heated pan that's been lightly coated with olive oil.
Cook for a total of 6 minutes, flipping the bread every minute or so – making sure each one is cooked evenly.
Best served warm with your favorite jelly or honey. Add a side of sliced meats and enjoy!