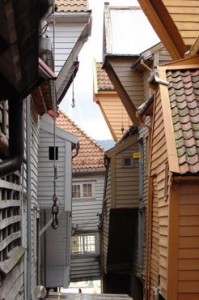 While walking along Bryggen Wharf in Bergen, Norway, I ran my fingers across the boards of one building facade. The wood had started to soften, ravished by the saltwater air and harsh Nordic winters, but it still didn't have the pliability I would have expected. It was only one of the little experiments I did during our stay in Bergen, testing to see if the relatively recently reconstructed UNESCO World Heritage site could be trusted to represent its actual history.
The wharf had been a busy thoroughfare in the city for hundreds of years. It existed before the Hanseatic League made Bergen one of their headquarter cities and was greatly improved upon during their tenure in the 1300's. But the buildings of Bryggen, made of wood, could not resist the fires that plagued the city. Parts of the wharf were destroyed and rebuilt, time and time again, most recently in 1955.
Before we left on our trip to Norway, I had spoken with excitement about seeing the wharf with my own eyes. Between the postcard-worthy beauty of photographs and its inclusion in several period novels I'd enjoyed, I anticipated that the brightly painted buildings, refurbished or not, could hold the magic of the city's magnificent history for me. A friend I shared my excitement with, however, was not quite so optimistic.
"Bah, I hate those reconstructions," Robert said. "It's like a theme park for adults. They've rebuilt it, sure, but only to put in a nice souvenir shop, a snack bar, and maybe even a photographer's studio where you can pay $19.95 to dress up like a nineteenth century Norwegian sailor."
I discounted his comments until my arrival. To my dismay, I saw that the wharf buildings, now separated from the harbor by a busy city street, were filled with tour operators, restaurants and the dreaded souvenir shops that he predicted. And to add insult to injury, most of the shops carried all shape, size and manner of troll figurines, prominently displayed in the windows.
It was my son who took me beyond this façade, to find something altogether different. Something caught his eye down a small alley. Faced with such curiosity from a toddler, what else could I do but follow?
The wooden buildings were a mish-mash of planked walkways, stairwells and old-fashioned room outcroppings that had, over time, started to lean into each other. The alleys, with some buildings aged over 200 years, had been built upon and over, creating a somewhat surreal maze to navigate. My son thrilled himself by walking up, down and over, the weathered wood making a pleasant stomping noise under his feet.
Medieval lever systems poked out from just under the roof line just waiting for some rope and a load to heave. An abandoned wagon sat behind a stairwell, next to a large door that was probably once a stable. And back here, there were still shops. But they were hidden in nooks and crannies, visible only to the most stalwart explorer – like my son.
As I watched my son once again climb through this wooden labyrinth, I was startled by the footsteps of an oncoming traveler, made all too noticeable by the timber walkway.
"It's something, isn't it?" a young Australian man said to me, nodding a hello and giving my son a big smile.
"It is. Although I wonder what it would have been like back in its heyday," I replied with a smile.
"Probably not too different from now. Up there would have been offices, sure, but down here for the masses? Places to find new berth on a ship, grab a glass of grog and a plate, maybe buy a few trinkets and find a warm bed for the night."
He was right. As a bustling seaport, Bryggen probably always had an element of the theme park quality that Robert had mentioned. It was an intrinsic quality of the town, something vital and necessary to the success of the port. Though Bryggen's current incarnation had adopted the more modern ice cream and plastic doll trade, it was not inherently different from what it had been all those hundreds of years ago.
As my fellow traveler snapped a few photos and moved on down the alley, I closed my eyes, breathed deep and allowed my son to draw me deeper into the jumble of staircases and alleys. It was all too easy to imagine a sailor in port for the day, meandering through the wharf to find a way to spend his earnings.
Now it was our turn. My son and I rambled, two pretend sailors on furlough, enjoying the feeling of being a little lost. We kept on until we came across a tiny shop in the shadows of a corner. Inside, we browsed the merchandise, compelled to spend the money burning a hole in my pocket.
I came away with the only thing I thought proper: two small troll dolls, their faces fixed in a comical grimace. One was for my son who had led me to this place and understanding. And the other? Inspired, I could think of nothing better to get as a memento for my friend, Robert.