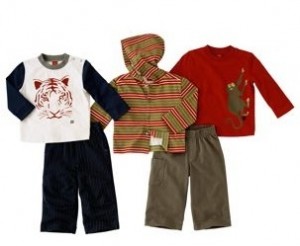 We loved this post from Jen L over at Go Get Your Jacket:
Remember Garanimals? They were sets of clothes that were matched by a color or an animal so that you always knew what shirt went with which pants. If the tigers or whatever on the tags matched, then the clothes did, too.
A lot of people made fun of Garanimals. They became a punchline, usually invoked when a grown man looked like he'd been dressed by two different people, both of whom were blind. In the dark.
Not me. If they'd been offered when I was a kid, I think I would have snapped them up. As it is, when I discovered a more upscale version for my own child, I was deee-lighted.
I had just ordered a whole bunch of fall clothes (some from my friend Eliza's company The Pink Giraffe), when I received the fall catalogue from Tea Collection. Now I'm itching to pull out my credit card for a five-piece ensemble called the Cooper set for William. It consists of a tiger long-sleeved t-shirt, a monkey long-sleeved t-shirt (bonus for the monkey), a striped hoody, a pair of cargo pants and a pair of ticking stripe pants. Five pieces for $105, which ends up being $21 per piece, which, you know if you've bought nice children's clothes recently, is not a bad deal.
And here's the best part: they all go together! You can wear the monkey shirt with the ticking stripe pants OR the cargo pants, or even put the hoodie on, too. Woot! Let me just give a big shout out to pre-matching clothes. I have rudimentary accessorizing skills at best. I sometimes put outfits together and then stare dubiously at them: "Does that look good together? Is that the same shade of green? Will the preschoolers laugh my child off the playground if I dress him in these two pieces at the same time?" Usually I do okay, but the doubt is always there, lingering at the back of my mind.
So this more sophisiticated modern-day version of Garanimals is just my speed. It doesn't hurt that the clothes are absolutely adorable. Adorable clothes for little boys that won't make me doubt my own sartorial prowess (or lack thereof). Here's my MasterCard.
Note: Garanimals has? have? actually staged a comeback, but they're no Tea Collection.