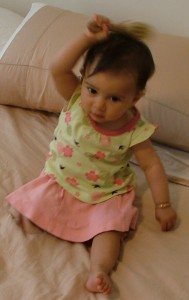 We were living in Germany when I became pregnant. I knew it would be a challenge having a baby in the land of fine sausage, tasty beer and stylish eyeglasses, because of the language barrier and because of a thousand tiny and not-so-tiny cultural differences. But my experience ended up being extremely positive, because, of course, the whole world loves babies, and everyone offers to help – no matter where you are. I remember one day, walking past a coffee shop, when I had one of those sudden, unexplained pregnancy pains, and people from the café rushed to bring me a chair and make sure I was okay. Shopkeepers were solicitous, and I established a great rapport with the pharmacists at my neighborhood pharmacy; it's where everybody knew my name. From interviewing midwives in German, to taking a prenatal yoga class, to trying to communicate with the doctor about our unborn child's body parts during the sonograms – all of these stretched and improved my German, and contributed to an incredible experience that I will always cherish. My daughter was finally born last August with the help of a wonderful midwife, who drove us to the hospital at 2 a.m. in her Mercedes!
We spent another 4 months in Germany before finally moving back to the States, which made a total of 4 and a half years for my husband and me. We still miss many things about Germany, like the Fußgängerzone (pedestrian zone), which is basically the whole downtown where everyone walks around shopping, sitting at cafes, riding bikes, playing in the fountains. It's very relaxing compared to driving everywhere! Our experience in Germany has enriched our lives, and also lead us to discover some great baby things – schlafsacks (sleep sacks), woolen onesies which are great for winter, beautiful organic woolen clothes, and also wonderful wooden toys, made with non-toxic paints and lacquers, which is important since absolutely everything ends up in our daughter's mouth.
In addition to being an international traveler, my daughter is also of international heritage. I am Indian from Kolkata and my husband is of mixed European descent. I am excited that I can pass on my language and culture to her. Fortunately, my parents will also be a big help as they live very close by. In fact, her first words have been Bengali ones – "eta" which means this; "Baba" which means father; now her favorite word is "bass" which means something like "there – that's done!" She uses "bass" when she's done with something, or more commonly when she throws something down! My husband and I are always so amazed that she's already bilingual – pointing to her nose, teeth, hair, bellybutton – when asked in English or Bengali. It's amazing how our brain incorporates languages. I know she will want to learn other languages as well one day. Maybe German will be one of them. She loves the word "Gesundheit" – it always makes her laugh!
I am so pleased that my family is as international as it is. I wouldn't have it any other way. I love that our world feels big – like there are so many possibilities, so many ways to communicate, so many friends, so many different things to eat and, sometimes to my husband's dismay, so many places to shop! Our next big trip will be either visiting Germany or going to India, where my family there awaits with baited breath to see my "shada" (white) husband and our wonderful daughter.