We're excited to have Stephanie, a Marketing Manager for Children's Books from Chronicle Books guest posting on our blog today. Chronicle Books publishes distinctive books, gifts and stationery for children and adults.
One of my favorite things about this time of year is getting the house decorated and ready for the holidays. Decorations come in all different shapes, sizes and styles from hand strung popcorn and cranberry garlands to glittering ornaments brought back from far away countries.  Although decorations vary from family to family, one thing's for sure – it's hard not to enjoy a decorated house.
An easy, but satisfying, decorating project is to make Shimmering Snowflakes from Holiday Crafting & Baking with Kids.  In just a few easy steps, you can create your own fun decorations to hang off the mantle or decorate the tree.  I made a few of these Shimmering Snowflakes this weekend and can't wait to hang them up!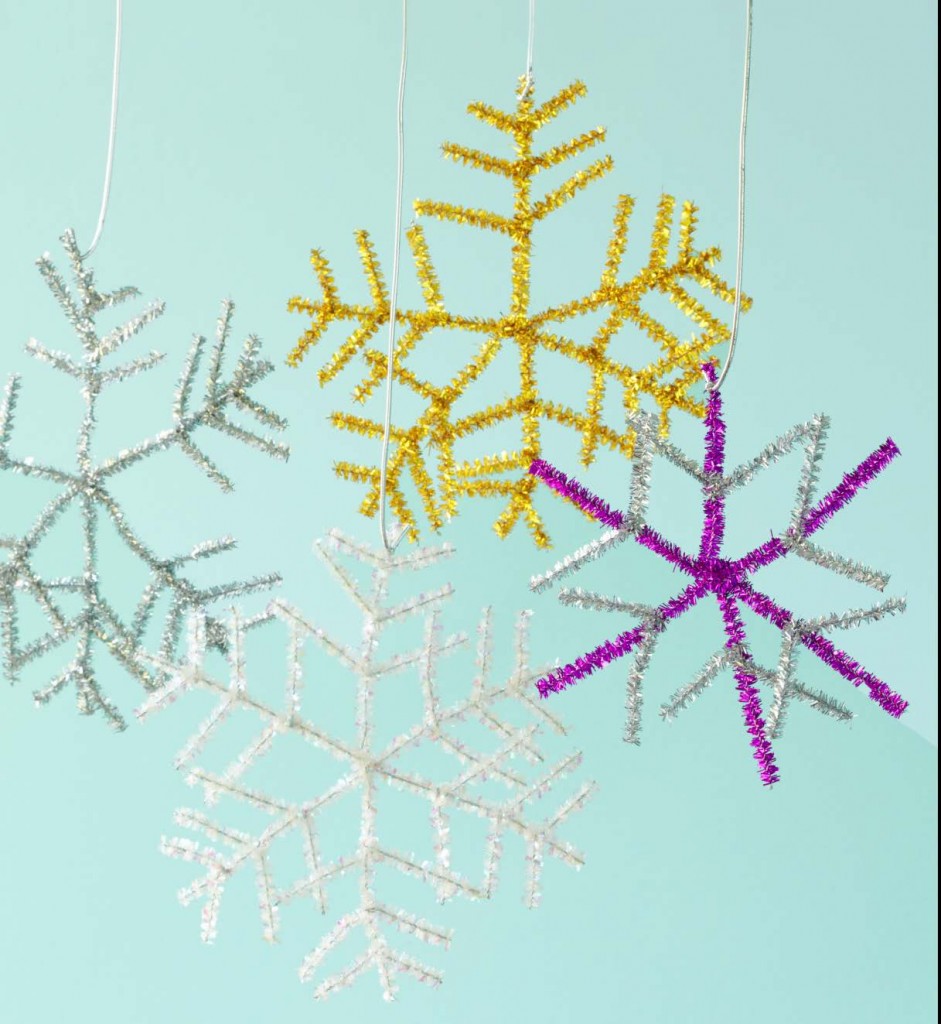 Shimmering Snowflakes Instructions
You can make these pretty snowflakes as simple or complex as you like.  To make them smaller or larger, simply adjust the length of your pipe cleaners to the size and design of your snowflake.  For a more traditional look, use white pipe cleaners, or add some pizzazz by using multicolored ones.  Hang them in the window, off the mantel, or on the tree!  The diagram will help you with the simple process, but once you begin, it becomes rudimentary.
MATERIALS (FOR ONE SNOWFLAKE)
6 silver or gold pipe cleaners (each 12 in) cut into the following lengths: 3 pieces –  6 inches, 6 pieces – 3 inches, 6 pieces – 2.5 inches, 6 pieces 2 inches
Needle-nose pliers
Shark scissors or wire cutters
Piece of silver or gold Christmas metallic elastic wrapping cord about 10 inches long
1. Join the three long pieces of pipe cleaner by twisting the
centers together and then stretching the spokes out. This
will create a six-pointed star. To be sure that the pipe
cleaners are securely attached, press the twisted area with
the needle-nose pliers.
2. Begin the spoke design by taking a 3-inch/7.5-cm piece of
pipe cleaner, placing it midway on one of the arms, and
wrapping it around the arm so that the pieces cross. Make
sure each spoke projects an equal distance on either side
of the arm; if necessary, trim the ends with scissors.
Secure with pliers. Repeat with the rest of the arms to
create all six spokes.
3. Repeat the process above with the next-longest pieces,
positioning them slightly above the first set of spokes.
4. Finally, repeat the process a third time with the remaining
pieces, adding them near the tips of the arms.
5. When you're ready to hang the snowflakes, wrap a piece of
ribbon around one of the arms—tying it close to the middle
of the arm is best for balance—then gather the ribbon to
the back and tie the ends to make a loop.
Once the decorations and stories have put you and your little ones in the holiday mood, it's time to celebrate!  And what would be better than a new holiday outfit to celebrate the Holiday Season?  Tea's festive outfits and Chronicle's seasonal books offer easy ways to prepare for the holidays.  How do you decorate for the holidays?   Share your answer in our comments section to be entered to win a Tea Collection holiday girls dress or a holiday boys outfit and Holiday Crafting & Baking with Kids, Follow the Star and Snow Baby.
Be sure to shop Chronicle Books wide selection of holiday stories this season.  Learn more by following their blog or by visiting their Facebook and Twitter.
________________________________________________________________________________
Congrats to Carmen Van Deursen, who will be winning the Tea holiday outfit of her choice and three great festive books from Chronicle Books. Chronicle Books wants to ensure that everyone has a chance to shop their great selection of holiday books so they are offering an exclusive promo for Studio T fans.  Use the promo code TEA11 to receive a 25% discount on your Chronicle Books purchase.  Hurry, this promo code expires 12/9/2011!
Thank you everyone for sharing your holiday decorating traditions!  Subscribe to our Studio T blog to learn about new contests, behind the design features, and all things Tea!