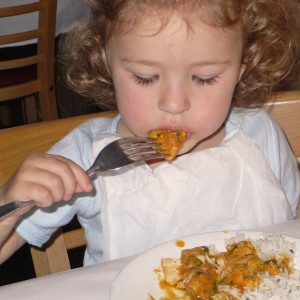 "When I grow up, I want to have butter. And cheese!" This is my daughter Mila's answer almost every time she is asked what she'd like to be when she grows up. She used to say she wanted to be an astronaut, and then it was a character from one of her favorite movies, but lately…all she wants is to consume dairy products. Like a growing number of children in America, Mila has multiple food allergies. Macaroni and cheese, chicken nuggets? She can't eat that. Goldfish crackers, peanut butter and jelly sandwiches? Nope. Actually, very few menu items typical to mainstream toddler cuisine in America are safe for her to eat. At restaurants the entire children's menu is usually off limits. Now, I love food – lots of different kinds – and at first it was difficult for me to accept that my own child might be unable to share that love of food with me.
I was fortunate enough to grow up in a household where we sampled a wide variety of ethnic cuisines. My grandmother took Chinese cooking lessons from the Benedictine Sisters of Peking and I remember my own mother cooking us dinners from that little cook book in turn – spring rolls and Taiwanese Special. I remember Bangladesh chicken curry over rice, a recipe my mother received from some missionary friends. How I loved the way those wonderful spices seeped into the rice and turned it bright yellow! A family from Cuba lived in our home for a while and fed us sopa de frijoles negros (Cuban style black beans) and fricasé du pollo (Cuban chicken fricassee) and guava paste on crackers. Later on, as a college student in Chicago, I discovered a love for Thai, Vietnamese, and Indian cuisines.
When we began to face the challenge of feeding a child with food allergies, I became frustrated with the difficulties of providing variety in my daughter's diet. Then I discovered that many of my favorite ethnic foods were already naturally safe for Mila to eat – no disappointing substitutes required! I discovered a wonderful alternative food source in the local Asian supermarket and in the inspiring dishes at my favorite ethnic restaurants. It's easy to avoid wheat, dairy, and soy in Thai cuisine, for example, and Indian cuisine offers many vegetarian options, which makes it easy to stay away from eggs. As it turns out, these foods that I've loved and had previously considered something of a luxury or a special treat are the things that Mila can eat on a regular basis. Masala dal (Indian lentils), pho bo (Vietnamese beef noodle soup)? Yes, she can eat that!
I do hope she can grow up to eat butter and cheese (and if she's an astronaut, I guess that would be fine too), but even if she doesn't, I'm confident now that there are many varieties of foods and flavors she'll be able to enjoy anyway. I want her to feel lucky for the opportunity at such a young age to explore the culinary traditions of so many different cultures. Because, really, those food allergies, when they might have meant a boring and restricted diet, have actually inspired our family to enjoy ethnic cuisines on a more regular basis and to explore the wonderful international supermarkets in our area. Maybe next time she's asked, she'll forget about butter and cheese and say, "when I grow up I want to have pud makua yow (Thai basil eggplant) and vindaloo (spicy Goan curry)." In the meantime I'm happily satisfied with her excited smile as she exclaims "mmm, this is spicy, right?!" and shovels in another bite….