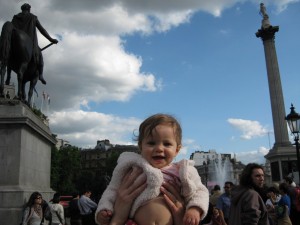 Our friends and family are not surprised that at one-year-old our daughter has already traveled more than many adults. With a great-grandmother in London who was anxious to finally meet her first great-grandchild, a trip to England within Zoe's first year was a given. We decided while we were over there why not make an adventure out of it. So, as a friend of mine put it, at nine-months-old Zoe "did Europe."
Our first stop was London and of course introducing Zoe to her G.G. Nita for the first time was truly amazing. Of course all Zoe knew was that she was getting lots of attention from a lot of people in London who had been waiting to see her.
We moved on to Vienna where we visited an old friend of mine and her Austrian husband and their 22-month-old son. They live in a house with another family with two small kids and have a steady stream of friends with little children coming and going. Zoe had a blast playing with all of the "older" kids. Best of all we got to see Vienna not only with locals but with local babies. The Vienna zoo and the kiddie pool were not only highlights for Zoe but for us too. As New Yorkers with a baby it was great to see how Austrian babies spend their days.
In Prague we realized some of the limitations that go along with travel with baby. After a long lunch in the main square during which Zoe sat in her stroller for a little too long we attempted to take a tour of the Jewish quarters. I don't know what we were thinking! No more than five minutes into the two hour tour Zoe made it clear that sitting in her stroller inside a temple with nothing to entertain her other than an old lady telling the history of the Jews in Prague was just not going to happen. We left and gave ourselves the abbreviated version of the tour –basically we walked in and out of a few of the temples and museums.
Considering how young she was, I don't know how much Zoe got out of the trip. But for her mom and dad this trip was a major step in reclaiming our sense of adventure post-baby. The trip was the proof we were looking for that we can still get out and do the things we love to do –at least many of them. Not only is travel with a baby possible, it was even enjoyable. We plan to continue to take family adventures and know that each year Zoe will take a little bit more from the trip.
Friends with older kids have told us that we lucked out because Zoe was at an age where she happily sat in the stroller –that travel will only get harder (we'll let you know if this is true later this month when we take her to Costa Rica). But the way I look at it travel was never about easy –staying home is easy. So why not grab the umbrella stroller, throw some diapers (and Daily Tea clothes) in a suitcase and get on that plane!