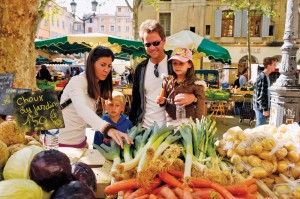 My husband and I honeymooned in Paris, France and even then- before we'd even started our family- we knew we'd love to take our children there someday. The sights, the history, the fashion, the art… all of it is incredible to take in and is something that will never leave my heart and mind. Of course I can't wait to share that with my family.
I had the opportunity to visit France a year before I got married and will never forget my first view from the Eiffel Tower. The first time I stepped into the Louvre. The taste of a crepes sucre! I met my husband soon after that European vacation and we quickly fell in love and were planning our wedding. Naturally I dreamed of honeymooning in Paris. What a dream come true to actually be able to do it!
I might have left my heart there… possibly in the gardens of Versailles. Maybe it was among the street markets. Or on the Champs-Élysées. Oh how I'd love to share that with our four children!
I recently discovered Adventures By Disney, a family friendly guided vacation program that spans the globe. Each vacation includes VIP experiences, exclusive moments and unique itineraries specifically designed for families. I'm wishing for the London & Paris trip which includes Buckingham Palace, taking in a show (The Lion King!), and then crossing the English Channel to Paris where the kids will go on an exciting scavenger hunt in the Louvre while Mom & Dad have a tour of their own. A family bike ride through Versailles and dinner at the Eiffel Tower are just a couple other great treats included in the package.
The Disney-trained Adventure Guides engage the whole family in fun activities and allow the family to relax and enjoy their trip- whether you're just visiting throughout the United States or abroad. It could be a Wild West fantasy, or Hollywood glamour, or even ancient Irish castles– whatever adventure fits your family. Just imagine the stories you'll hear… and the memories you'll create.
Bon Voyage!
Stephanie Precourt blogs daily at Adventures In Babywearing.