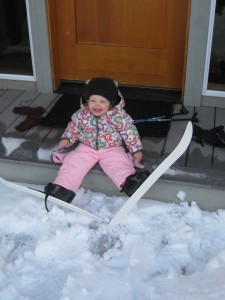 My husband and I love to ski and ever since our 16-month-old daughter Zoe was born we have been anxious to get her on skis. We first brought her to Jackson Hole, WY when she was 3 months old but of course she spent most of her time indoors on that trip. This year, at 15 months we brought her back to Jackson Hole and she actually did get an introduction to snow and winter sports.
The first time that we took her out in the snow we just let her walk around and get a feel for it. She didn't like the fact that it was slippery and difficult to walk. I guess when you've only learned to walk a few months ago it's probably pretty annoying when something like snow interferes with this new freedom. She also got cold very quickly because she refused to keep her mittens on. A passer-by suggested duct tape and that worked wonders!
After this initial time out in the snow we decided it was time for her to try skiing. We bought little skis that are made specifically for the under-two set and strap on to regular snow boots. When we first put them on her she was not happy at all, but once we got her sliding down the mountain (well it was technically just a pile of snow in the driveway) she was having the time of her life. Afterwards we built a snowman which she was intrigued by and pulled her around on a makeshift sled which she loved.
Zoe's least favorite snow activity was definitely the horse-drawn sled through the Elk Reserve. We thought she would love this because she loves animals. As it turned out the snow was coming down in her face and she was cold and so she hardly even noticed the horses or the elk even when we pointed them out. I don't think anyone on the sled was too happy with us! Maybe we'll try it again someday but not until she's at least 6 or 7!