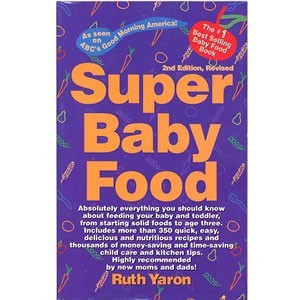 Back in the days when there was just my husband and I, we took turns with "cooking" dinner and by "cooking" dinner I mean walking to the kitchen drawer where we keep the take-out menus. "I'm cooking tonight. Do you want Thai food?"
Nothing like a baby to make you behave in oh so many ways. Luckily for baby Olivia, our granola-Berkeley friends sent over an amazing book called Super Baby Food by Ruth Yaron. Initially I flipped through it and it looked too complicated and utterly impossible to follow so I put it aside. Somewhere along the line I picked it up again for a quick reference. Our pediatrician told us that she was not getting enough iron so I referenced "the book" and found good food sources. I then found useful information after more useful information. This book is like having an elder at your fingertips. It is chock full of knowledge which ranges from how much should your baby eat, what should a 5 month old eat, a crash course in nutrition, play ideas, homemade silly putty and toddler (and grown-up) recipes…to name a few. Tonight I pulled out "the book" because I couldn't remember how long to microwave corn on the cob while in the husk. Viola. 3 minutes and turn halfway through. Today, Yaron's food index is the most valuable part of the book for me at this point in my 5 year olds life.
In the end, I never bought baby food from the store. I followed Yaron's suggestions to puree, pour into ice cube trays and freeze. It was easy, it felt good and I saved money.