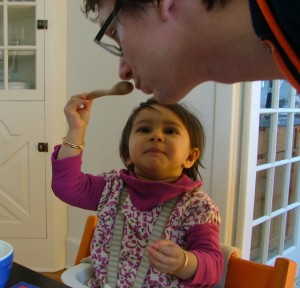 We started giving Moushumi our homemade Bengali food a few months ago. My mother was key in making this happen. She taught me some simple recipes that I ate as a little one – along with probably millions of other Indian babies! Everything is very mild, without any chili powder, but still packing lots of delicious flavors. I wasn't sure what Moushumi would think, being used to Earth's Best jarred foods, which are quite good, but comparatively less exciting. She loved it! Now she eats Indian food twice daily and even though she puts up with eating a jar or two when we're out, it's obvious that she prefers the food I make for her.
If you are looking to broaden your child's horizons, and yours if you're not used to cooking Indian food, here are a couple of easy recipes for you to start with.
Daal – Indian lentil soup (eaten with rice and vegetables)
1/2 cup red lentils
1/4 tsp turmeric powder
1/4 tsp salt (add more to taste, but a bit less than your taste)
2 cups water
Clean the lentils by washing them three times in cold water (just like rice). Add the water, salt and turmeric and bring to a boil. Turn to low and let simmer until soft and cooked – approximately 30 minutes to an hour, depending on how you like it. You may need to add some more water (boiling, if possible) if it seems to be getting too dry (or you can put in less water for a thicker daal). You can let it cool and blend it in the blender for a smoother texture if desired.
We boil some peas or green beans with some carrots and potatoes; flavor it with a dash of salt and mash it up to eat with the daal and soft-cooked basmati rice. My mom always says to add a smidgen of butter and taste it – "it must taste good to you!"
Basic Bengali Chicken curry (chicken in a flavorful sauce, eaten with rice)
One boneless, skinless breast
1 tbsp olive oil
1 pinch of whole cumin seeds
1/4 tsp salt
1/4 tsp turmeric powder
1/2 tsp coriander powder
1/4 tsp cumin powder
2 tbsp finely chopped onion
1 tsp grated ginger
1/2 tsp finely chopped garlic
1/2 small tomato – chopped
chopped fresh cilantro (optional)
Cut chicken into small cubes and mix with salt, turmeric, cumin and coriander powder. Let marinate for about one hour. Heat oil on med-high and when hot, throw in cumin seeds (if you can't find cumin seeds, just leave it out). Let them sizzle for a few minutes and then add onions – with a pinch of salt, and fry them until golden brown. Turning the heat down a bit, add the garlic and ginger. When you can smell the lovely aroma, add the tomato and cook until it all mixes together. It's hard to be precise, but approximately after 10 minutes, you will see that it's very mixed up and looking shiny, because the oil is separating from it. Add the chicken and cook until no pink is visible. Add some boiling water to cover the chicken and lightly boil until the chicken is soft. You can add the chopped cilantro at the same time. You can also add a handful of peas, baby carrots and potatoes when you add the water if you want some veggies in the curry. Let cool and blend if you need it to be a smoother texture. By the way, if you would like to make this for adults, just add some chili powder to your marinade, a fresh green chili with the onion and do not add water. Just allow the chicken to release it's own water while it cooks and voila – you have the sauce.
If you find this to be overwhelming, trust me, after you do this a few times – you will become a pro! Also, I make enough to last for several days so I'm not spending too much time cooking. And, of course, you can change it around to fit your taste buds – a little less cumin, a little more coriander, etc. I hope that your baby enjoys these recipes as much as mine.