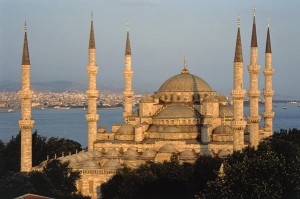 Like many world cities, Istanbul is a complex mix of the new and the old. Everywhere we turn we are reminded by a cobblestone street, a crumbling mosque or an historic tower that we are walking in the steps of ancient history. But this is a vibrant, bustling metropolis, the economic and cultural center of a nation bidding to enter the EU.
The core of modern Istanbul life is Istiklal Caddesi, a pedestrian-only shopping zone full of people no matter the time of day. Our apartment was located just a 10 minute walk from one end of Istiklal so we spent quite a bit of time on our trip meandering and discovering what it had to offer.
A "nostalgic tramway" reminiscent of San Francisco's streetcars runs the length of Istiklal. Since the street is built on a slight slope, the most comfortable way to explore it with little ones is to ride the tram from the southern most point to the top end of the street (Taksim Square) and walk back down. That way it's slightly downhill the whole way plus the tramway is a lot of fun for kids. You can reach the start of the nostalgic tramway by taking the Tunel funicular from Kadikoy. When you exit Tunel at the top (end of the line – there's only one stop) you'll see the streetcar stop right outside. You buy your ticket from the driver for 1 Turkish lira (about 60 cents).
Istiklal Caddesi is jam-packed with fashionable boutiques, kitschy tourist shops, cafes, movie theaters, restaurants, and historical sights. We most enjoyed just walking along and people-watching, stopping here and there for a bite to eat or for a cup of coffee. After riding the nostalgic tram to the end, Grace and I started our first day of exploration of Istiklal after we dropped Steve off for his conference at the Hilton near Taksim Square. First we stopped to try a simit from a branch of the chain Simit Sarayi. A simit is a ring of baked dough dipped in sesame seeds, similar to a bagel. You see simit vendors selling their snacks from red carts all over the city. They're cheap, fresh and very good.
Back out on the street Grace and I followed Rick Steve's walking tour of Istiklal Caddesi in his Istanbul guidebook (highly recommended), which pointed out some of the historical sites along the way. There are some old movie theaters, churches, mosques, flower and fish markets, that kind of thing. We didn't feel the need to stop long at any of the sites but following the tour at least I knew what I was seeing along the way.
We made a stop at the Ipek silk shop about halfway along the street, on the left if you're headed towards Taksim. It's a high-end silk shop with very helpful staff and good quality scarves. I found a few nice cotton/wool blend scarves (the shop has more than silk). Grace was the princess of the shop with all five shop attendants doting on her, kissing her, and even tying a jaunty scarf around her neck which they gifted to her (and she proceeded to lose on the street shortly after we left!). We have quickly learned that Turks adore children and have no qualms about showering children they don't know with affection. Grace slowly warmed up to the idea of such expressive strangers and started to return their love with shy waves and air kisses.
There's a great English language bookstore, Robinson Crusoe (#389), along Istiklal. They have English speaking staff and a wide-range of books about Turkey and other English-language books. It's a good stop if your kids need something new to read as well.
A fun culinary treat along Istiklal Caddesi, and throughout Istanbul, is ice cream. Turkish ice cream is thick and stretchy so the servers (found in cafe windows along the street – you'll spot them by their red and gold hats and vests) do all kinds of tricks with their gooey concoctions. When we stopped for a cone after dinner one night the server shot a long metal rod out the window at Grace. Stuck to the end of it was the scoop of ice cream with a cone. When Grace grabbed the cone, the cone (and scoop) detached perfectly in her hand. But the server wasn't going to let her get off so easily. He continued to grab the whole thing away from her but reaching out and slapping the end of the metal stick back on the ice cream, to which it stuck and he could pull it away. She was bewildered but amused by the whole endeavor but eventually he let her eat it in peace.
We ate a few meals along Istiklal Caddesi during our time in Istanbul too. Haci Abdullah (Sakizagaci Cadessi 17, just off Istiklal (past the Aga Mosque) was rated one of the best restaurants in the city by Lonely Planet Turkey, so we had to give it a try. The food was good and the service was fast, plus it's a large fairly noisy restaurant, a good thing when dining out with a toddler. Still it was expensive for what we got and we found we enjoyed Hala (about halfway up Istiklal Caddesi, on the right side if you're headed towards Taksim Square) so much more. Hala serves gozleme, a traditional thin crepe-type dough folded over various ingredients like cheese, spinach, ground meat and other vegetables. The crepes are made in the restaurant window where you can watch women roll out the dough and cook it over a griddle right in front of you, which is very fun for kids. We also tried their stuffed grape leaves (dolma) and Turkish ravioli (manti), both fresh and tasty.
Overall Istiklal Cadessi is an entertaining place for families, worth at least a short outing during your stay in Istanbul.