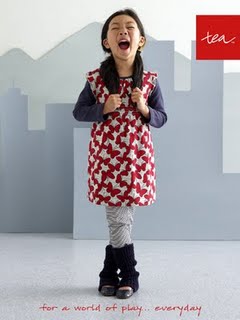 This summer my daughter Zoe, now 22-months started to insist on choosing her own outfits each day. While I want to encourage her independence and creativity, and I want to get out of the front door with as little toddler-drama as possible, I can't say it pleases me to take my child out in a bright yellow and orange tank top, blue, green and pink tie dye leggings and green frog rain boots as was the case today (which happens to have been one of the few days this summer in which the skies were completely clear). So as I start to buy her clothes for the fall I am attempting to choose things that even a 2-year-old can't horribly mismatch.
Daily Tea is always a favorite of ours and Zoe has had at least 2 mix-and-match outfits each season. These somehow always get worn as outfits and so she's always stylish as long as she's in her Daily Tea. I've decided that this fall Zoe's non-Daily Tea clothes will have to consist of a lot of neutral bottoms –navy blue leggings, Tea's Yoshi denim pants, and other choices that can be mixed with most anything. I also plan to look for patterned and solid dresses that can easily mix with the solid leggings. Jackets, sweaters and shoes will definitely have to be neutral as well.
Another key point to consider is that everything in her wardrobe must have at least two coordinating pieces. For example a shirt must go with a few different bottoms. The reason for this is that if Zoe sees this shirt in her drawer and insists on wearing it there had better be a pair of pants available that are not a) in the laundry b) uncomfortable and c) just not what she had in mind for that particular day.
Hopefully this won't result in too boring of a selection –it does seem I will be shying away from any sort of bright color. I am really hoping that this plan helps to keep Zoe in better style than she has been this summer. Before I start shopping any suggestions of things that have worked for clash-proofing your child's wardrobe would be greatly appreciated!