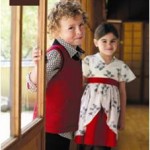 We thought it would be fun to share some trends that we have seen in children's special occasion clothes this holiday season.
Festive outfits that can be worn beyond the holiday season – Parents are seeking special occasion outfits for their children this holiday season; however they are looking for styles that are not the traditional red and green.  Especially in the current economic climate, it is important the pieces could also work for a birthday party, a nice dinner, or any other special occasion that requires a dressier outfit.  Tea's holiday dresses are perfect – they offer extraordinary elegance and style that can be worn for special occasions any time of the year.
East Meets West – East meets West fusion styling has been essential to this fall's fashions and is also showing up on runways in Spring/Summer 2010 collections.  Inspired by the ancient Japanese practice, Shinto Traditions are fashions for children up to size 8 that incorporates kimono inspired styling and symbolic prints.  The Shippo Woven Shirt is a modern printed shirt with contrast cuff with a pattern that represents the "seven treasure" in Buddhism.
Relaxed, yet refined holiday fashions – Children love to be comfortable, so it is important to find holiday outfits that are special yet practical for day parties or running around at grandma's house.  The Meiji Floral printed french terry dress will be well suited until spring with its sporty attitude and floral femininty, perfect for signature Tea
layering with Purity tees and leggings (layering is another trend).  For boys, the Satori Stripe Sweater offer luxe comfort in pimo cotton with sporty styling, paired with the Wabi Cargo pant; he will be ready for any occasion.