Just in time for holiday photos (and holiday photo cards), we have a few tips from our professional photographer friends at Wardrobe Wednesday! Today and tomorrow, we will post five photography tips– ranging from lighting suggestions to pointers on how to get the perfect shot.
Today, we begin with tips from photographers Shannon Dodge and Morgan Dawson on what to wear and the best camera settings.  Stay tuned for tomorrow's Holiday photo suggestions!
1. Figure Out What To Wear- by Shannon Dodge
♦ In addition, to a Holiday outfit from Tea [for boys or girls], Shannon recommends the following wardrobe strategies! ♦
When it comes to any family portraits, clothing and wardrobe are so important. I always tell my clients to start with one family member's outfit (preferably a child), and then build around it. It's so much fun to "pop" certain colors and it makes a photo more interesting. For instance, if the daughter is going to wear a red dress, you can "pop" the color red with your jewelry or shoes! Layers are also wonderful and add a bit of texture to the photo. Don't be afraid to wear a cute sweater or jacket over your dress or shirt.  Colorful knit hats, scarves or textured leggings are all wonderful articles of clothing that help to pull a look together.  — Shannon, Shannon Dodge Photography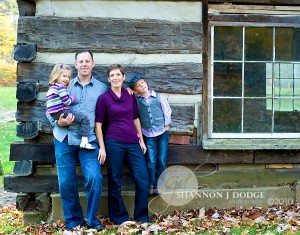 2. Get Away From AUTO– by Morgan Dawson
Most people don't realize that they can upgrade the photos they take without buying a new camera – or without spending a single additional cent.
I know this sounds like a totally boring thing to do, but consider taking a few minutes to read over your camera manual (if you can even find it!). Most people rip open the box – pop in some charged batteries – head straight to Auto mode…and never leave. Your camera – no matter how much it costs – is loaded with some high-tech Scene or Shooting modes that can make your photos that much better.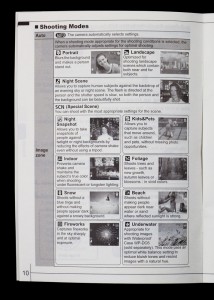 Don't worry, you don't need to try and figure out aperture, shutter speed, ISO, blah, blah, blah – just pick the mode that best matches where you are and what you're photographing. Seriously, it's that easy. Almost every camera has a setting for portraits, night photos, indoor pics, or shots with children and pets. You may also find options for photos in the snow, by candlelight, when you have a backlit scene, or when you have a low light area but you don't want to use your flash (high-ISO mode).

Be creative – have fun – explore your camera!  — Morgan, Morgan Dawson Photography