We're introducing guest blogger Pam Geller, a freelance marketing consultant, who traveled to Nairobi, Kenya with her three kids, Kayla | 7 yrs, Drew | 6 yrs, and Jenna | 3 yrs, who just happened to be wearing Tea on their trip.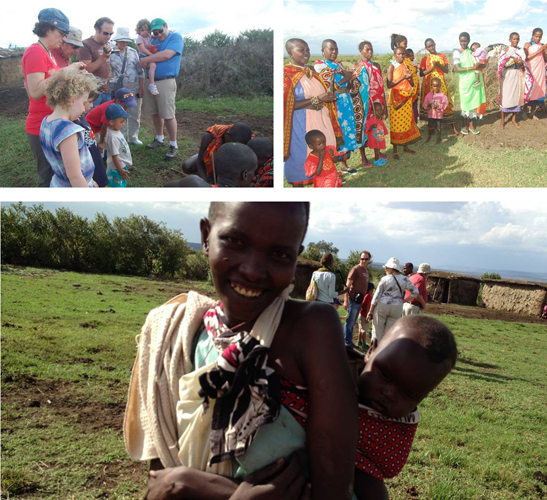 It was incredible to visit a Maasai "village" located in Nairobi, Kenya.  A "Kraal"("Kraal" — krôl, kräl) is a rural village, where a Maasai family lives, their huts in a circular area, to protect their livestock at night. Our Safari guide, Daniel,  took us to see his family's Kraal. Daniel's family consists of one dad, seven moms, and 70 brothers and sisters.  WOW!  Yes- 70 brothers and sisters.  Only Daniel and Daniel's brothers with their respective wives and children live in the village we visited.  After the brothers showed us their lion dance and how high they can jump, we were invited to go inside their village and see how they live.
Water…no aquifer; they get their water from nearby lakes and streams.
Food…no grocery stores; they crop their own food by hand, in dessert conditions…(mind you…)
Eating utensils…no forks; they gather around a large bowl of food set on the ground and scoop up the food with their fingers or with pieces of bread.
Fire…no matches; they make fire the old fashion way with sticks and elephant poo!
Homes…no brick and mortar; they build their home with mud, sticks, cow dung and cow urine!
Wealth…no money; they measure wealth in terms of cattle and children.
Medicine…no hospitals; they use the urine of animals.  It is thought that the urine of animals is holy and that if used in the right way it can cure sickness.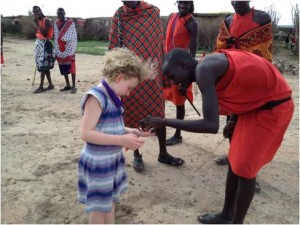 To see how they live in comparison to us, well, was inspiring and humbling.  Amazingly our oldest daughter, Kayla, who is 7, got it.  Here is a passage from her journal that she kept on our trip, "People are poor in Africa.  Okay, when we were driving in the Maasai Mara, we stopped at a village, we saw how the Maasai people live, and their house is made of cow poop and sticks. The girls have to make their houses and it takes three months and they don't have shoes they are barefoot. "