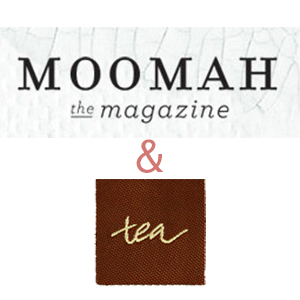 Today's post is one we're so excited to share with you! It's no secret we're huge fans of Moomah the Magazine; their photos transport you, their recipes are delicious and their original crafts keep little ones busy for hours. We've teamed up with the amazing ladies at Moomah to bring you 4 exclusive activities for Destination: China and today they're kicking off the series with this adorable panda mask. Be sure to sign up for their newsletter to receive the latest issue and if you're on Instagram, following them is a must – their summer travels will have you packing your bags in no time. Take it away ladies!
———————————————————————————
Earlier on this year, we were invited to view Tea's China inspired collection preview in NYC. Though the room was filled with so many of the most adorable new looks for kids, the first item that caught our eye was the sweetest long sleeve-T, with a timid looking panda sporting a pretty pink bow behind her ear. Though that was adorable enough, we were encouraged to turn the shirt around, only to see that the T was double sided! How much cuter can a child's panda shirt be, then one with both a panda's front and behind on show.
We were inspired. Tea's Back To School delivery reflects a Chinese Eastern Pop theme – their street style, pop culture, kitch icons, and modernized versions of traditional crafts. The prints on Tea's outfits encourage bold stripes and geometric shapes, and of course, pandas! With paper cuttings being a traditional Chinese craft, we decided to modernize the idea, and intertwine it with all other design aspects of their line. The result? An adorable Panda Mask – a clear mixture of our traditionalMoomah aesthetic, mixed with Tea's beautifully designed and inspired collection.