This past Christmas, I received a gift I'd been waiting almost a decade for… my husband took me back to Spain!
I am absolutely bananas about Spain.  Call it nostalgia: I lived there for three years as a child, and vacationed there frequently throughout high school and college.  But as is typical of your twenties, I never had the time or the money to make it back. But this past December, I got to return with my husband and toddler son, Xavier, to introduce them to Spain and fall in love with it all over again..
When people think of Spain, they think of beaches or exciting nightlife.  Neither being possible in December or with a two year old, we tasted many of the country's lesser known charms.  On our circuit up from our current home base in Morocco, we started in Andalucia, visiting Ronda and Granada before driving through Alicante to ferry to Mallorca. Then back west again, we hit Valencia, Cordoba and Seville. Of all the wonderful memories we made, I'll remember three things in particular.
1. Horsies
I've found that one of the best ways to involve a child in international travel is to tie it into their passion of the moment.  Though Xavier has since moved on to elephants, December was the month of the horse.
In many of the cities we visited, horse and carriage rides were among the most convenient ways to see the city, particularly given how rough cobblestones can be on stroller wheels!  Although they can be expensive, choosing at least one city to partake in a ride can be well worth the cost.  Everywhere else, we took time out to spot other carriages around town, ride carousel horses or book a pony ride.
In Cordoba, we visited the Royal stables for an equestrian show.  The beautiful animals and talented riders dance around the paddock to music and lights.  It was magical to see the wonder in Xavier's eyes and yell  "HORSIES" every minute or so.  The horses can be seen training by day as well and an even larger show can be seen in Jerez.
In Seville, horsies were out in force for the Three Kings or "Reyes" celebration.  No one does festivals quite like the Spanish and kids are never left out, no matter how late they go.  On January 6, Balthazar, Caspar and Melchior arrive and are welcomed with a parade of mounted attendants and elaborate floats. It is an exceptionally raucous but wonderfully festive event.  If you are visiting Spain with kids, look to see if you can time your visit with a local festival; there will always be plenty to entertain the kids.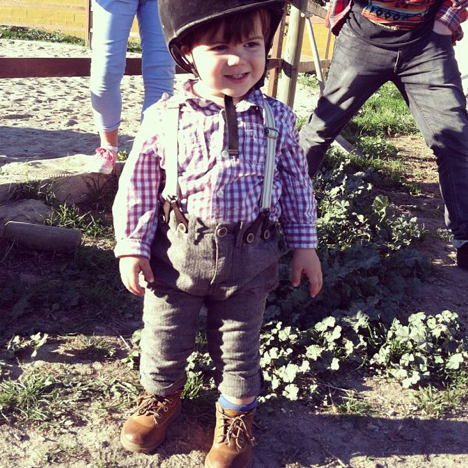 2. Pastries
One of my favorite things about Spain is the food.  Tapas, fresh seaside fish and a wonderful array of sweets.  But until visiting with a toddler, I never appreciated that Spanish food is as good in casual, fast food environments as it is in the finest haute cuisine establishments.  I am all for 5 star restaurants, but nothing puts a kink in the evening like playing airplane with your gourmet entree.
Spanish mainstay Paella was fortunately still on the menu for us.  Since it is served family style, it is easy to offer kids a smaller portion.  Moreover, the seafood version of the dish, although the best known, is by no means the only kind.  Chicken and even rabbit versions are also available.  We had our finest sampling in Valencia, Paella's birthplace.
Elsewhere in Spain, Xavier enjoyed the Spanish pasties.  In almost any Spanish city, it is easy to find "chocolate con churros".  The chocolate is not what you are used to, it is darker, thick as pudding and ideal for dipping fresh, hot, deep fried churros. It will never be part of a complete nutritious breakfast but it was a hit!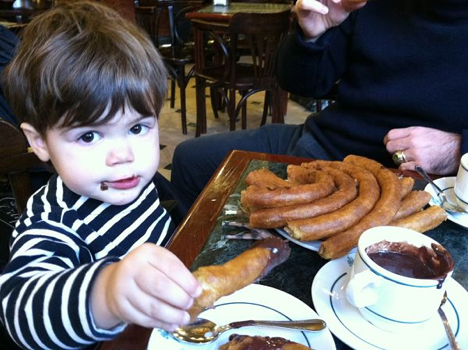 The island of Mallorca, off Spain's eastern coast, has it's own special and delicious tradition of pastries.  Our little man made a morning "ensaimada," a curly, soft confection topped with powdered sugar, a morning tradition (hold the traditional accompaniment of café con leche).
Finally: Chorizo – it probably will land me in Bad Parenting's hall of fame as the chewiest, saltiest most toddler inappropriate snack on the market today.  But I've got to confess to a very naughty pride in seeing how my little man took to this classic Iberian dried sausage.
3.  Time to Run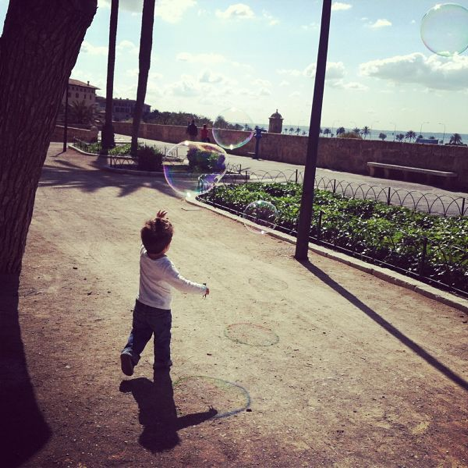 We have found that it's best not to travel in spite of a toddler but to open yourself up to new experiences you might never have had traveling as a couple. Slow your pace, choose more open spaces, and try to act less like a tourist and more like a local.  Don't make yourself a list of "must sees." Linger in a park, seek out historical or cultural attractions with gardens.  Before we travel, we find it prudent to check in with a local parenting websites. You'll find more off the beaten track walks and authentic experiences than ever before.
Our favorite moments were less about dragging our poor kiddo through world famous exhibits and more about watching him chase bubbles through a public park or collect oranges in the gardens of the famous Seville Alcazar. Don't forget to celebrate the kid in you.  Indulge in purely childish pleasures like aquariums and zoos….you might find yourself wondering why you skipped them all these years.
Finally, the wonderful thing about Spain is how they welcome children at almost any event or occasion.  I was shocked to see that I was about the only parent at New Year's Eve celebrations who had left their baby at home.  Even if there is a typically adult pleasure you are eager to experience, like a wine tasting, call ahead.  Odds are, children are accommodated.  For me, it was just one more reason to love Spain that I never expected.
Natalia is the founder and managing partner of CultureBaby. She started the company in 2011 when her son was five months old. On bad days, she puts the whole thing down to a fit of postpartum lunacy. But on most days, she loves seeking out new global products for CultureBaby and hearing from mothers worldwide about how they celebrate their culture and heritage with their kids. You can follow along on her adventures on The Culture Mom Chronicles. Follow her on Pinterest, Facebook and Twitter!