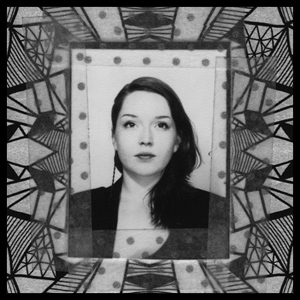 "My way of working represents an artistic creative process: irrational, intuitive, inquiring and interwoven. As a designer, however, I reserve the right to always keep the goal in mind and seek for solutions to existing problems. I test, scour, question and reject methods and in the best case new is discovered this way – always challenging the innovation in consideration of the real customers needs."
Anna Niestroj founded BLINKBLINK in 2012 as an open interactive design studio.
We collaborated with the talented pattern designer Anna Neistroj for our Germany Collection. Here is a little interview with our favorite guest artist.
Where do you live now?  In Berlin!
Favorite destination in Germany?  Berlin… and surroundings. And any old town in the country.
Favorite destination worldwide?  Seasides, Riversides, Lakesides! I wouldn't prefer a specific place.
Did you always want to be an artist? As a child what career did you want?  As a 5 year old: violinist. Soon I wanted to be an entrepreneur: doing things and selling it to people. As my father was an artist I considered myself even so 😉
Favorite Color?  Turquoise
Where do you get your inspiration?  From materials, printed matter, the internet, travels and the city I live in (+ people that live here.).
We were thrilled to discover your work while we were researching for our Germany collection. Your collages feel like a contemporary evolution of the Bauhaus artists. Is Bauhaus a strong influence on your work?  It makes me happy to read this! I actually didn't think of bauhaus while I created the collages but I think it still came to me via 'zeitgeist' 😉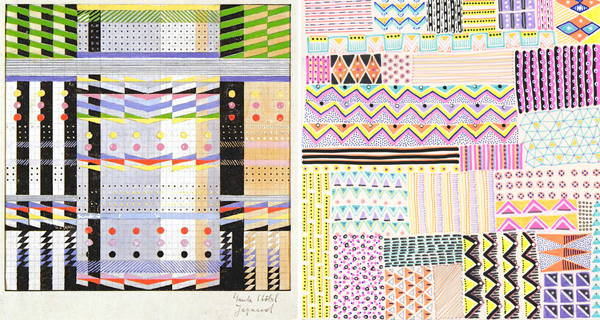 left: artwork by Bauhaus artist Gunta Stölzl, right: artwork by Anna Niestroj / Blink Blink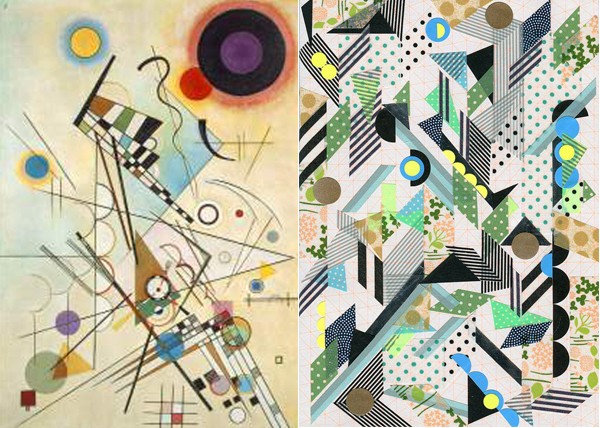 left: artwork by Bauhaus artist Wassily Kandinsky, right: artwork by Anna Niestroj / Blink Blink
Who are some of your favorite contemporary German artists?  David Schnell, Katharina Grosse, …

left: artwork by David Schnell, right: artwork by Katharina Grosse
Will you send us a picture of your studio and tell us a little about your typical work day?  There is no typical work day, except for being in the studio a lot (experimenting, printing, etc.), using the computer a lot (designing, communications, etc.) and welcoming all sorts of people. I have a fiew clients that I work for repeatingly. But the most jobs I do are on project-base and singular.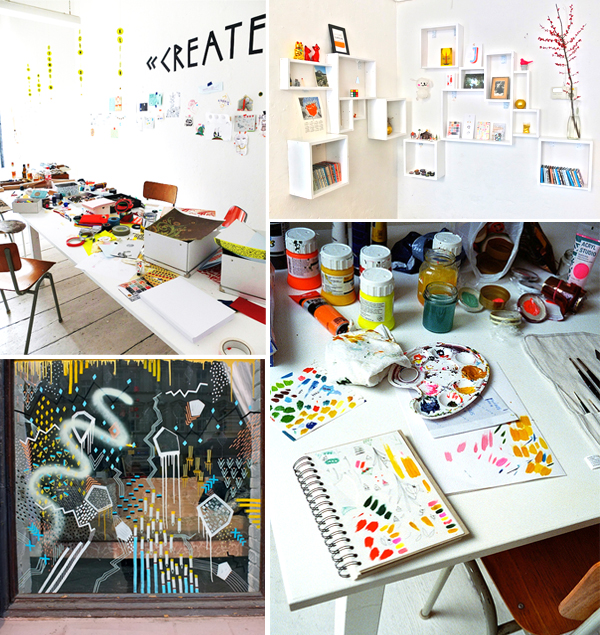 some shots of Anna Niestroj / Blink Blink's inspiring workspace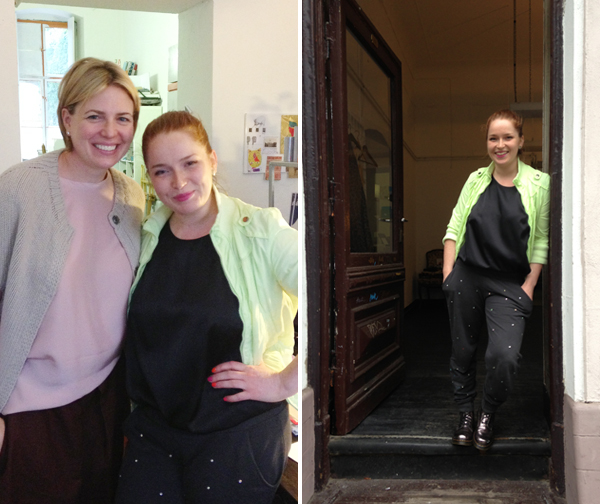 Emily and Anna in Anna's Studio/ Anna standing in the doorway to her studio space.
Do you have a cause or charity that is important to you?  I think that the place I choose for my studio is a special form of charity. I'm 'donating' some color and joy to a pretty rough area / neighborhood. Also I think that 'Think global, act local.' is a good leitmotif.
Tea will be making a donation in honor of Anna to himmelbeet, an intercultural community garden in Berlin that focus on organic farming. Here people of all ages come together to garden, build with recycled materials, cook and participate in environmental education workshops.