Some of our fans pointed out that it might be confusing to show nesting dolls in Old World Hungary, since nesting dolls are traditionally Russian.  So we decided to do further research on the history of the nesting doll so that we could share it with our readers.
Chinese Origins
While the modern day nesting doll is most popularly associated with Russia (Matryoshka dolls), the first nesting dolls actually came from China.  The Chinese crafted nesting boxes that date back to the Song Dynasty, around 1000 AD.  These boxes were both functional and decorative. Sometime during the 1700s they applied this concept to a set of dolls and the first nesting doll was born.
Chinese nesting dolls are similar to the nesting dolls that are common today.  In the original Chinese sets the smallest doll held a single grain of rice.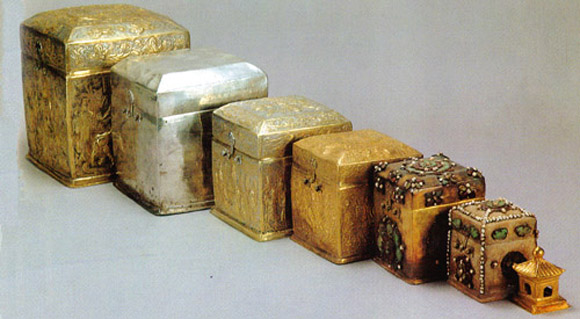 image found on the Hidden Treasures of Famen Si
The above image is actually as set of nested caskets.  I am having a hard time finding images of traditional Chinese nesting boxes or the original Chinese nesting dolls.  Does anyone have any good resources?
Nesting Dolls in Japan
Soon after nesting dolls originated in China they made their way to Japan.  Japanese wooden dolls were made to look like the Seven Lucky Gods from Japanese mythology.  The outer most doll was Fukurokuju the Japanese god of happiness and longevity.  He had an abnormally long forehead, like in the doll below.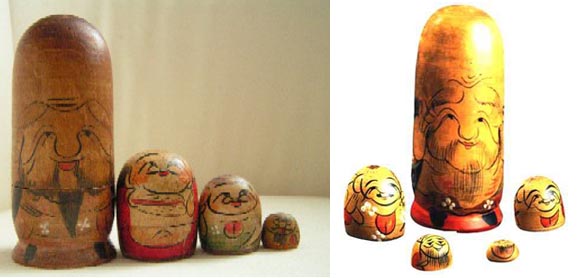 images found on:  Ingrid's Nesting Doll Page (left),  MamaZakka (right)

It seems logical that the nesting doll concept would take off in Japan as they already had a tradition in similar dolls.  Like nesting dolls, kokeshi dolls and daruma dolls do not have arms or legs.  Both kokeshi and daruma dolls are hand painted with decorative bodies and simplified facial features.
images found on:  Curiosities of Japan (left), Blogadilla (right)
Daruma dolls are modeled after Bodhidharma, the founder of Zen Buddhism.  Daruma dolls originated in the city of Takasaki, around the mid 1760s.  They are a hollow Papier-mâché doll and often have a wooden mold to create their shape.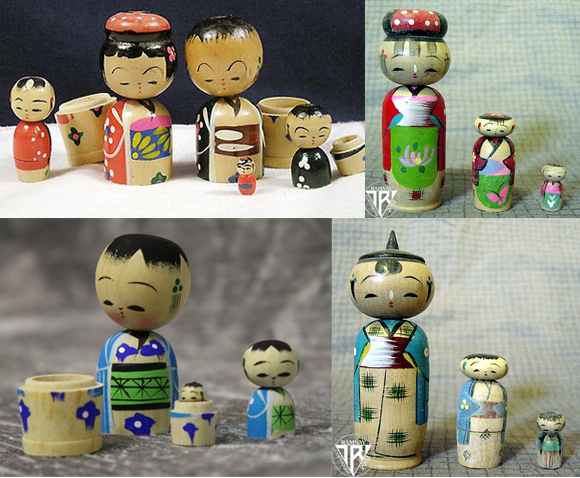 images found on:  Vintage Goodness (top left), The Jasper (top & bottom right), Etsy (bottom left)
Kokeshi dolls originated in Northern Japan during the Edo period (1600-1868).  Kokeshi dolls are hand made of wood and have decorative painting.  Many Kokeshi dolls, are made also made as a nesting dolls.
How the Nesting Doll Came to Russia
Some stories say the earliest set of Japanese nesting dolls were actually made by a Russian monk. Whether this is true or not, the nesting dolls made their way to Russia in the early 1890s when Savva Mamontov discovered a set.  Mamontov was a wealthy supporter of the arts and wanted to revive Russian folk art.   One of his artists, Sergei Maliutin created the first Russian set with the help of Vassily Zviozdochkin.   Their concept was to turn the nesting dolls into a symbol of Russia.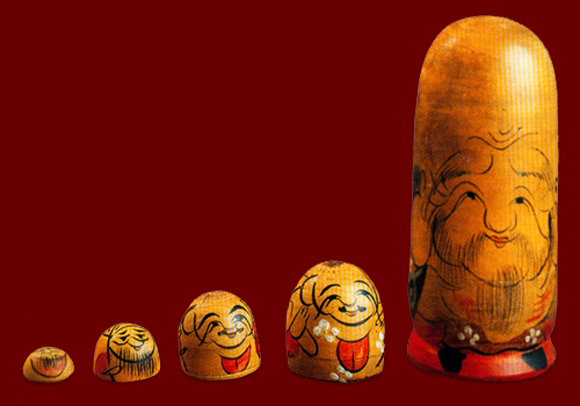 image found here
The nesting dolls that inspired Mamontov and Maliutin would have been similar to the set above.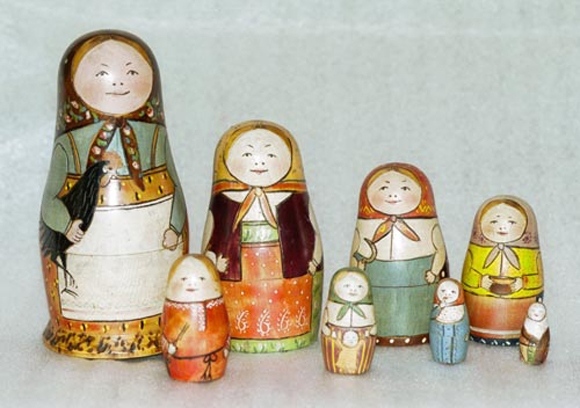 image found on Wikipedia
Above is the original set of nesting dolls by Maliutin.  These dolls can still be seen at the Sergiev Posad Museum of Toys in Zagorsk, Russia.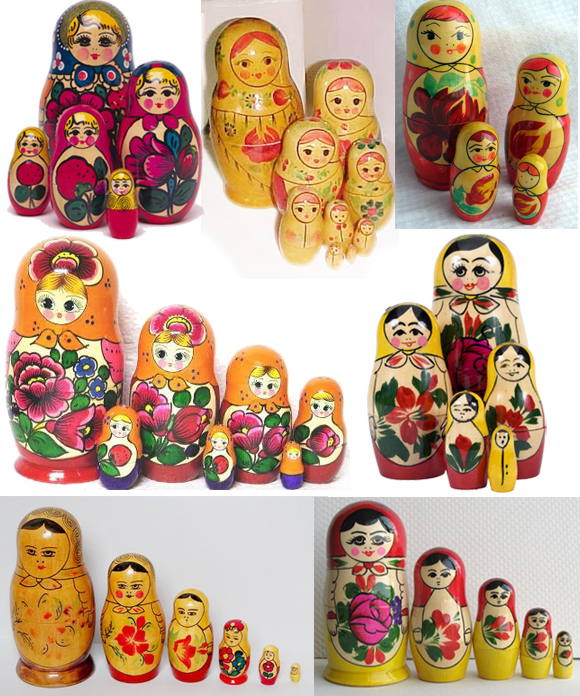 images found on: Yahoo (top left), Clementine (top middle), About.com (top right), Children of the World (center left), Little Gypsies (center right),  StyleHive (bottom row)
The above are done in style of more traditional Russian style.  Russian nesting dolls go by many names, Matryoshka (and many variations of that name), Russian Nesting Dolls, Stacking dolls, and sometimes babushka dolls, though there are arguments that this is not actually a name for the dolls. Matryoshka comes from Matryona, a popular Russian name at the time.  Traditional dolls are meant to look like a Russian women in traditional Russian dress.
Throughout Eastern Europe

In 1900 Mamontov wife presented the first Russian nesting dolls at the World Exhibition in Paris.  Soon after nesting dolls were being made throughout Russia and the surrounding regions.  Nesting dolls today can be found in Eastern and Eastern Central Europe in countries like German, Poland, Czech Republic, Italy, Ukraine.  Many of these countries have created their own motifs that are common to their region.  Nesting dolls are popular souvenir items through Eastern Europe.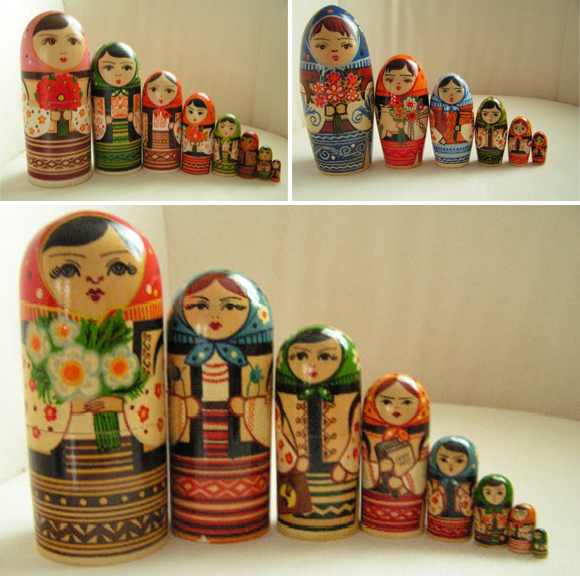 images found on Ingrid's Nesting Doll Page
The dolls above are from Ukraine, they have unique bullet-shaped bodies.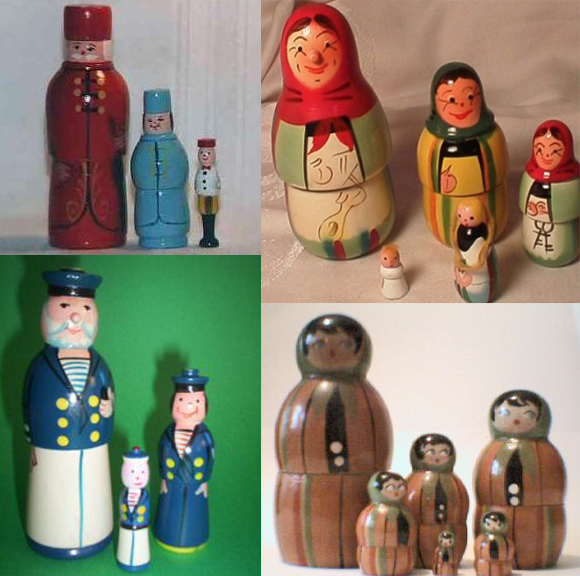 images found on Ingrid's Nesting Doll Page
These dolls from Poland have a more complex shape than the traditional Russian dolls.  Our Design Guru, Laura Boes, remembers fondly playing with her Polish grandmother's set, which looked very similar to the set on the top right.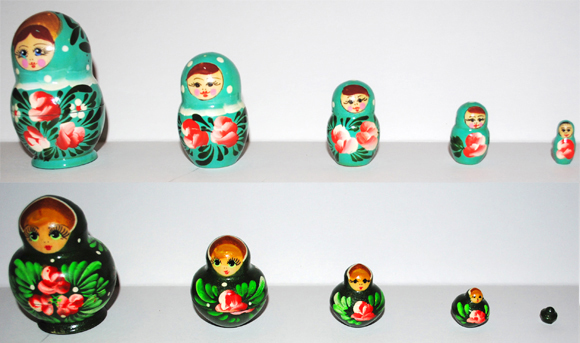 image from Tea
We found these pretty floral sets while traveling in Hungary.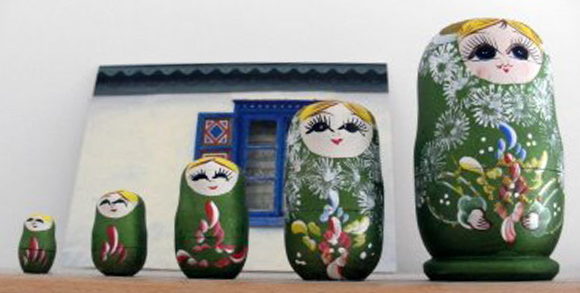 images found on Ingrid's Nesting Doll Page
This set from Romania have large childlike eyes.  They feel more playful than some of the more traditional sets.


Nesting Dolls Today
Today nesting dolls are popular all over the world.  So popular in fact, that our we already sold out of our Nesting Doll Tee.  Beyond the traditional motifs dolls, nesting dolls now come in sets of political leaders, pop icons, animals, and fairy tales, really almost anything you imagine.  They've transcended their traditional form and have become a very popular icon, especially in the the crafting community.  A search for matryoshka on Etsy yields more than 2500 results.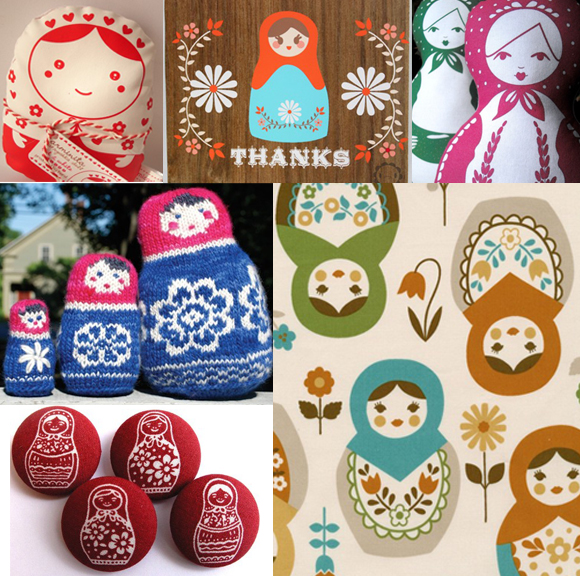 Micasita Etsy (top left), Bored Inc. (top center), Pulp Designs Etsy (top right), Kathleen Dames Etsy (middle left),  aimoobaroo Etsy (bottom left), Mountain of the Dragon Etsy (bottom right)
With all the variety in nesting dolls today it is easy to see why they would be so popular.  There's a nesting doll out there for everyone.  A simple, but brilliant concept has given this toy universal appeal.
For the animal lover…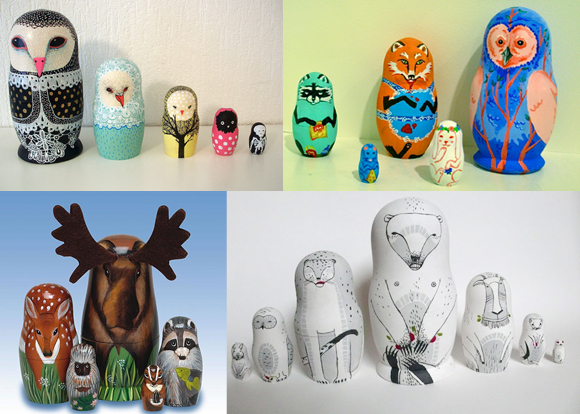 images from:  Bella Fruitella (top left), Deviant Art (top right), Bits & Pieces (bottom left), Irina Troitskaya (bottom right)
for the arist…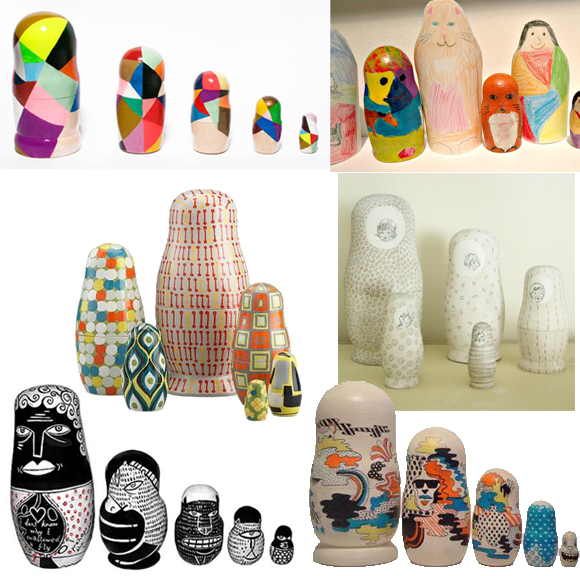 images found on:  Audree Lapierre (top left), Unedit my heart (top right), CB2 (center left), How Now Design Flickr (center right), ModaMuse (bottom left), the wurst gallery (bottom right)

For the fashionista…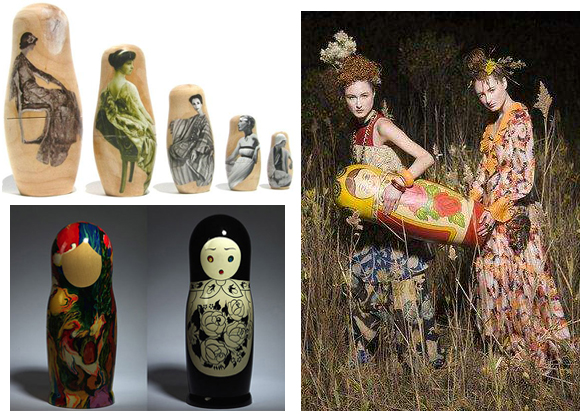 found on:  Belleslettres Etsy (top left),  Russian Vogue (bottom left and center), unknown (right) – please let me know if you  know.

for the techie…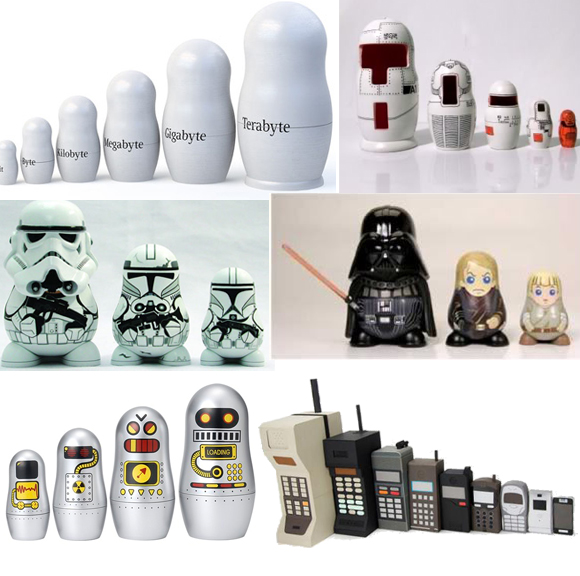 images found on:  Engadget (top left), ListsGalore! (top right), StarStore.com (middle left), Toys & Games reviews (middle right), Drysdale & Co (bottom left), GagdgetHER (bottom right)

for the music lover…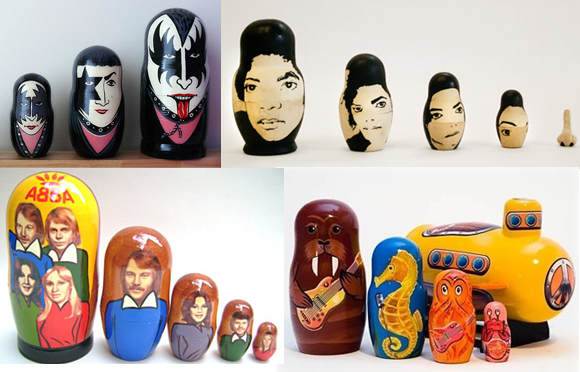 images found on: NikkiShell (top left),  listsGalore! (top right), Amazon (bottom left), Amazon (bottom right)
sources and further reading
We're constantly traveling to collect inspiration for our current designs. Check out our latest collection!