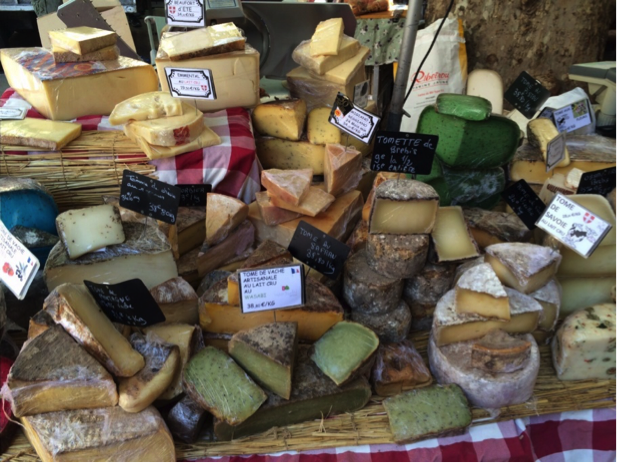 To help everyone at Tea "go there," we make a yearly contribution to each employee for international travel and exploration. Upon their return, our Tea travelers write a blog post to share their adventures with all of us (and the world)! 
My husband and I love to travel together – whether it's our annual weekend getaway to a nearby New England town for our anniversary or a bigger family vacation with our children, travel is one of those passions that brings us completely to life and really allows us special time to connect as a couple and a family.  Exploring new towns, cities, countries – these little adventures play in my mind as our happiest times and those when we are the most "in-sync."  So when we learned of the incredible contribution Tea was making to my International Travel allowance (in honor of my 10 year anniversary with the company) we were completely thrilled and couldn't wait to begin planning!
With so many places to choose from, we kept coming back to France – a country we hadn't yet visited, but one that had so much to offer for a family vacation with our 9 year old daughter (Chloe) and 7 year old son (Will). The plan was to leave as soon as school ended – we would take advantage of the children's summer vacation but avoid any late Summer heat (more to follow about Mother Nature's and the heat!)  We eagerly booked our tickets and began mapping out the trip.
We had a little international travel under our belts already as a couple and had taken the kids abroad to Spain at the ages of 3 and 1 and then to Mexico when they were a bit older – but the reality was that this trip would be very different.   They were no longer in strollers and the planning would need to accommodate the pace of a child and not just their eager parents.
Wanting to immerse ourselves in the culture, we opted to rent apartments in all 3 locations over booking traditional hotels and began our adventure in The Marais (the 4th Arrondissement) in Paris.
When our taxi dropped us at the corner of our tiny, cobblestone dead-end street, I was instantly pleased with our decision.  The bohemian feel of the narrow, lively street suited us perfectly – littered with cafes, unique boutiques, the incredible Jewish Murciano Patisserie (widely regarded as the best in the Marais), book stores, jewelry stores and a Gyro take-out window that had a line at all hours of the day – it was better than I ever could have imagined.  We all immediately felt the cultural shift and set out to explore "our apartment" and the neighborhood.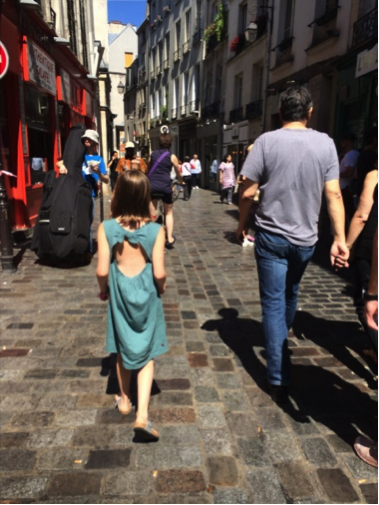 As we ventured out, we decided in advance to be very realistic about our first day in Paris and take it slowly. "Mother Nature" had delivered a heatwave during our stay with 100 degree temperatures so the heat and the jetlag meant that a leisurely pace was in order. We opted to stroll around the neighborhood and visit a wonderfully strange little museum in the Marais called The Magic Museum that had been recommended by a friend. Here they had antique toys & mechanicals, fun house mirrors, optical illusions, and a live magic show that was great fun. Before the show started, our son asked "Will it be in French? How will we know what he is saying?" "It's magic" I told him "just watch and you'll understand."   And so it was… the magic transcended the language barrier – we were all charmed and entertained! It was a perfect 'low-key' way to start our adventure as we geared up for the week ahead.
The days that followed held so much incredible site seeing – we marveled at the Eiffel Tower (both during the day, and a visit inside at night – a highlight for our children), the Louvre, Versaille, Notre Dame, Basilica of the Sacre Coeur in Montemarte, the Artist Square and a cruise down The River Seine among others. There is a reason so many tourists make a point of visiting these landmarks as their history and beauty is unparalleled.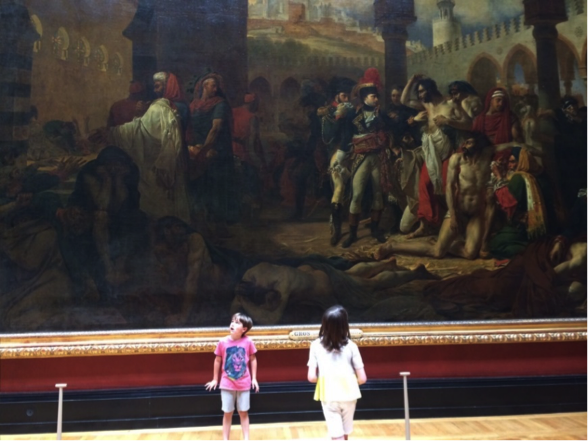 But what really struck me was the sheer beauty of everything in between – their government buildings, apartment buildings – buildings that no one would stop to tour. They were all breathtaking. Beauty was truly everywhere we turned. In the architecture, the food, the gardens. We enjoyed a little site-seeing each day and filled the rest of our days enjoying our time as a family. We visited parks and playgrounds, (where the kids discovered a special fondness of jumping in the fountains with the locals to fend off the heat), packed picnics, hit bookstores to satisfy our son's ferocious appetite for reading, and often played with our travel size "Connect Four" at cafés while we nibbled on baked goods and sweets. While the heat certainly played with our children's mood at times, we always found ways to relax and were honing in on our ideal pace with each passing day.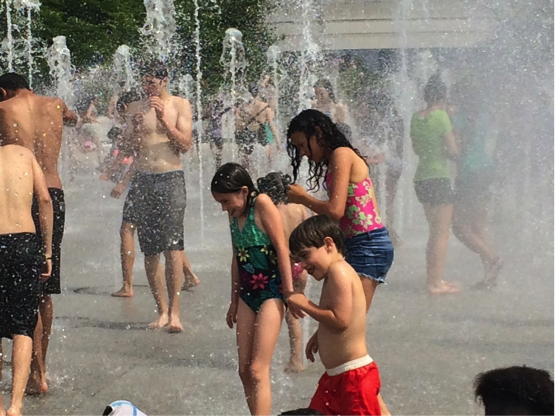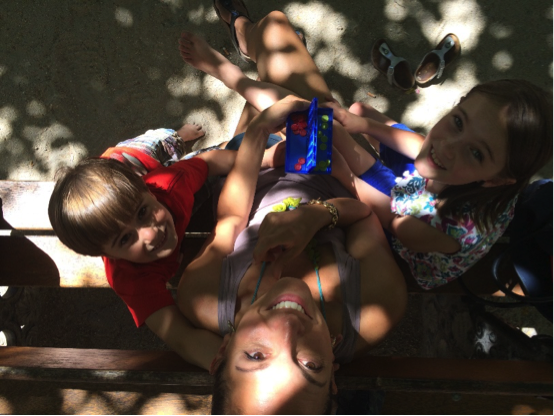 After 7 wonderful days in Paris, we said au revoir and headed to the train station for our next stop: Aix en Provence. Through an unfortunate combination of events that included an extended search for the "toilettes" for our youngest and our inability to find the correct hall in the Gare de Lyon Station, we missed our scheduled train (que 2 stressed parents!) Luckily though, the next was not far behind and we were on our way.
For the remaining week that we would spend in Provence, we choose to rent a car and explore. Upon arriving in Aix, we found the ancient streets were like a wonderful maze. Very different from Paris, the village had a charm all its own. Our Provencal apartment was warm and welcoming – with wonderfully high ceilings and large, walnut doors to greet us. The famous markets of Aix made my husband and I feel like kids in a candy store – the sights, smells and tastes of their amazing cheeses, olive tapenade, baguettes, produce and Rose made us giddy with excitement! The kids could have their gelato… the cheese was my version of heaven! Quirky street musicians, bungee trampolines, an antique car show and a visit to Cannes filled our days and allowed for a relaxing pace.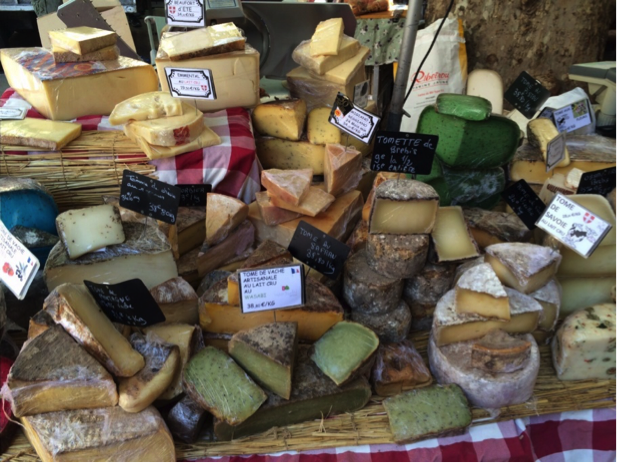 From Aix, we headed south to Marseille where we would spend our last few days. Not knowing what to expect of this city we found it quite unique – a combination of grit and beauty. A city in the truest sense of the word – with so many different types neighborhoods (some beautiful, some not) it was a melting pot of cultures and VERY tricky parking! But as you head towards the water, the overwhelming beauty of the coastline and the gorgeous port come into view and it is clear to see what sets it apart. It was in Marseille where we were the most immersed. Joining the locals on the small patches of beach to swim all day and finding little spots under bridges where families would gather with their children to snorkel, swim and boat. And dinner in Marseille was always a treat – with Octopus so fresh I thought it had jumped on my plate moments before it was served!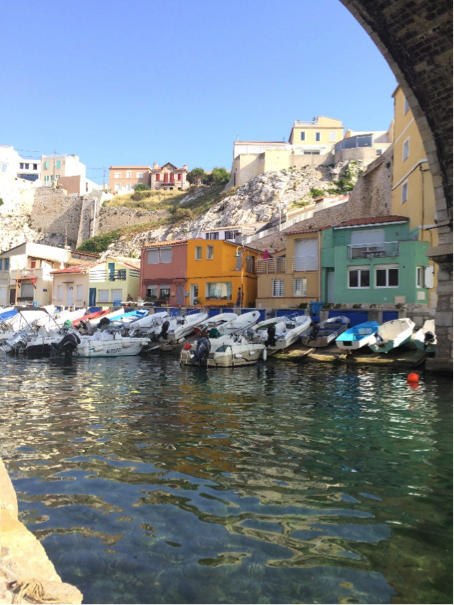 But it was the day trip from Marseille to Cassis that was one of the highlights of our vacation. Described to us as a "fisherman town", Cassis had been grossly undersold (which, in turn, made it a wonderful surprise!). With beautiful rolling hills and vineyards, a port filled with small colorful sailboats and a vibrant downtown it was just our speed – we would have gladly extended our stay if we could! We enjoyed one of their boat tours around the Calanques (breathtaking Provencal fiords in the rock cliffs along the coast) and ended up staying on the small pebble beach for the rest of the day that followed – vowing to come back someday.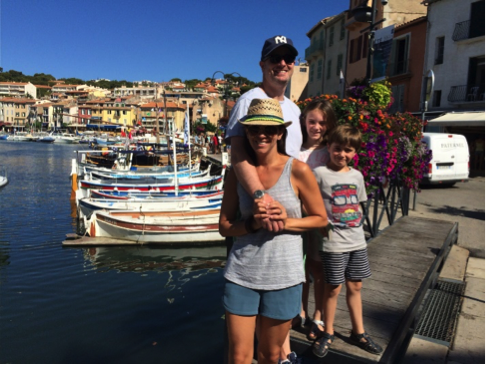 We were sad to see the trip come to an end, but felt incredibly fortunate for the experience. After being back in CT a day or so, my son asked me, "Mom… how do you spell Eiffel Tower?" why, I asked… "Because I want to look it up on Google maps!"   Ahhhh – our 'Little Citizens of the World', I thought.