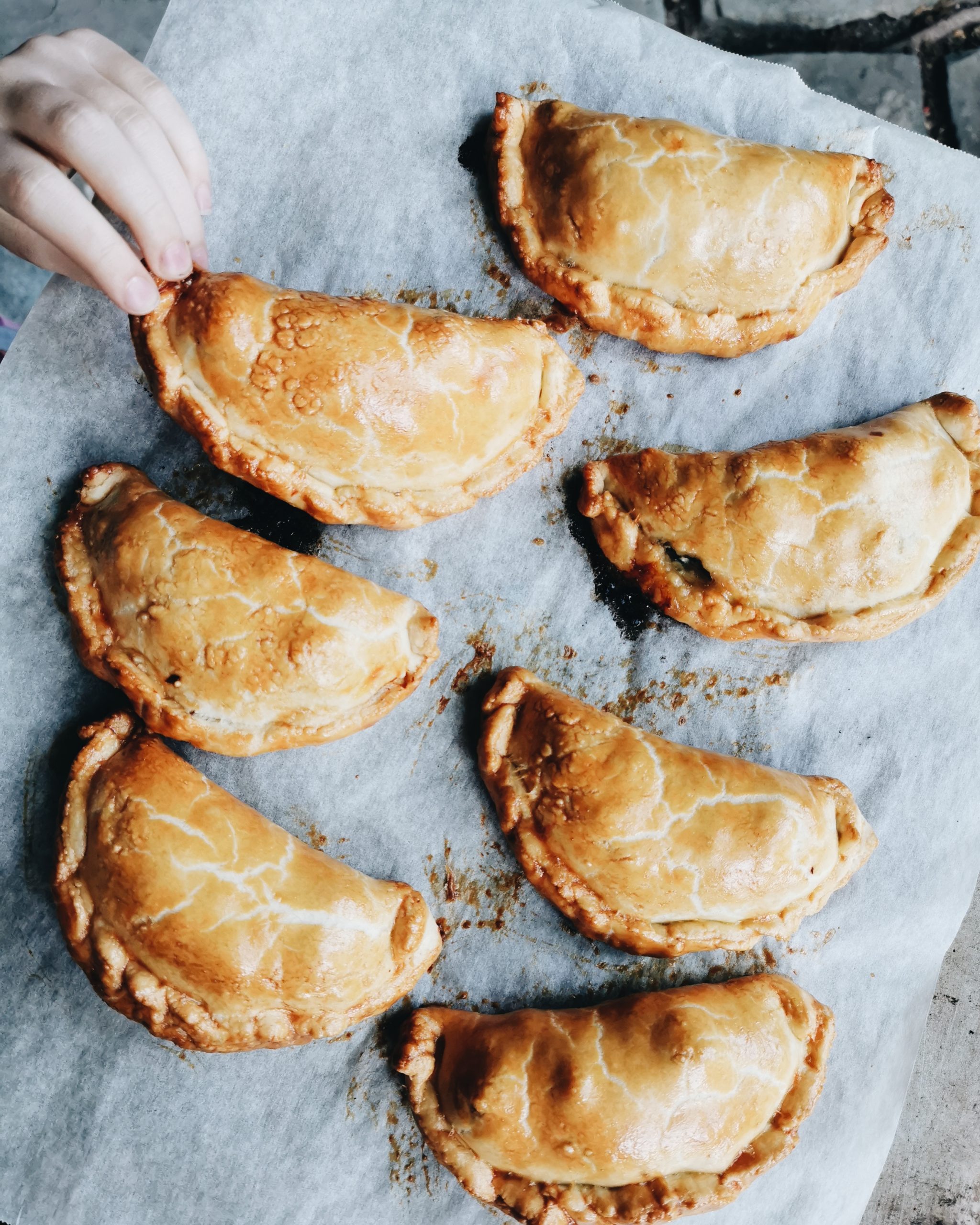 Our author and chef friend Emiko Davies is back with another Peruvian-inspired recipe. She and her two daughters, Mariù (8) and Luna (2), show us how to make classic Peruvian empanadas, inspired by Peruvian chef and food writer, Nico Vera. Read on to get the exclusive recipe.
—
Peruvian Beef Empanadas
I have to admit I am not very familiar with Peruvian food, so I had to do a little research to try to find something fun that the girls could make with me. My girls in particular love making things with pastry, so when I found these beef empanadas, I knew they would be perfect for the kids. They get to roll, cut out shapes, and snack on the ingredients along the way (pro tip: if making this recipe with kids, prepare extra!).
I ended up following the directions for Peruvian empanadas by a Peruvian chef and food writer, Nico Vera (aka @piscotrail). In the words of Nico himself, "Empanadas are a vehicle for almost every savory Peruvian dish. If this is your first time making empanadas, you need to start with the classic — ground beef with olives and hard boiled eggs." He very kindly gave me permission to share the recipe (and a promise to give me his best food tips for when I do make them in Peru one day!).
Note: We did not have currants on hand, so I left them out as I saw some other recipes leave them out. We also used whole, pitted olives for each empanada rather than slices.
Makes 12 empanadas
For the beef filling (sofrito):
3/4 lb ground beef
1 yellow onion, peeled and diced
2 cloves garlic, peeled and minced
2 tablespoons canola oil
1/4 teaspoon salt
1/4 teaspoon pepper
1/4 teaspoon cumin
1/4 teaspoon oregano
1 cup beef stock
1/4 cup currants
1 bay leaf
3 pitted Kalamata olives, cut in quarters
2 hard boiled eggs, peeled and cut into eight pieces
For the dough:
3 cups flour
1 teaspoon salt
8 tablespoons (1 stick) unsalted butter at room temperature
2 egg yolks
2 tablespoons white wine vinegar (optional)
1 cup cold water
1/2 cup flour for rolling the dough
For the glaze:
1 egg
1 tablespoon cold water
To prepare the filling:
Preheat oven to 375°F.
Prepare sofrito by sautéing onions and garlic in a skillet with oil over medium to high heat. Season with salt, pepper, cumin, oregano, and sauté until onions are translucent. Mix in ground beef, stir, and continue to sauté until the beef begins to brown. Add 1/2 of the beef stock, currants, and bay leaf, and simmer until liquid is reduced. Add remaining beef stock, then continue to simmer until the liquid is reduced further. Remove from heat, transfer to a bowl, and set aside to let cool.
To prepare the dough:
Sift the flour into a bowl. Add the salt, butter, white wine vinegar (if using), egg yolks, and mix well by hand. Add 5 tablespoons cold water and continue to mix and shape the dough. Add another 4 tablespoons cold water and continue to shape the dough until it forms a firm ball (add more water or flour if needed in order to obtain a dough that you can roll without being too sticky or dry). Let the ball rest (chill in fridge if it's a warm day) for at least 15 minutes.
Transfer the ball of dough to a well-floured working surface. Roll the dough to about 1/10 of an inch, adding flour as needed. Cut 12 circles with a 6" round dough cutter.
Assembling and cooking the empanadas:
Scoop a heaping tablespoon of filling to the center of each dough circle. Add 1/8 of a hardboiled egg and 1/4 of an olive to each filling (we used whole olives).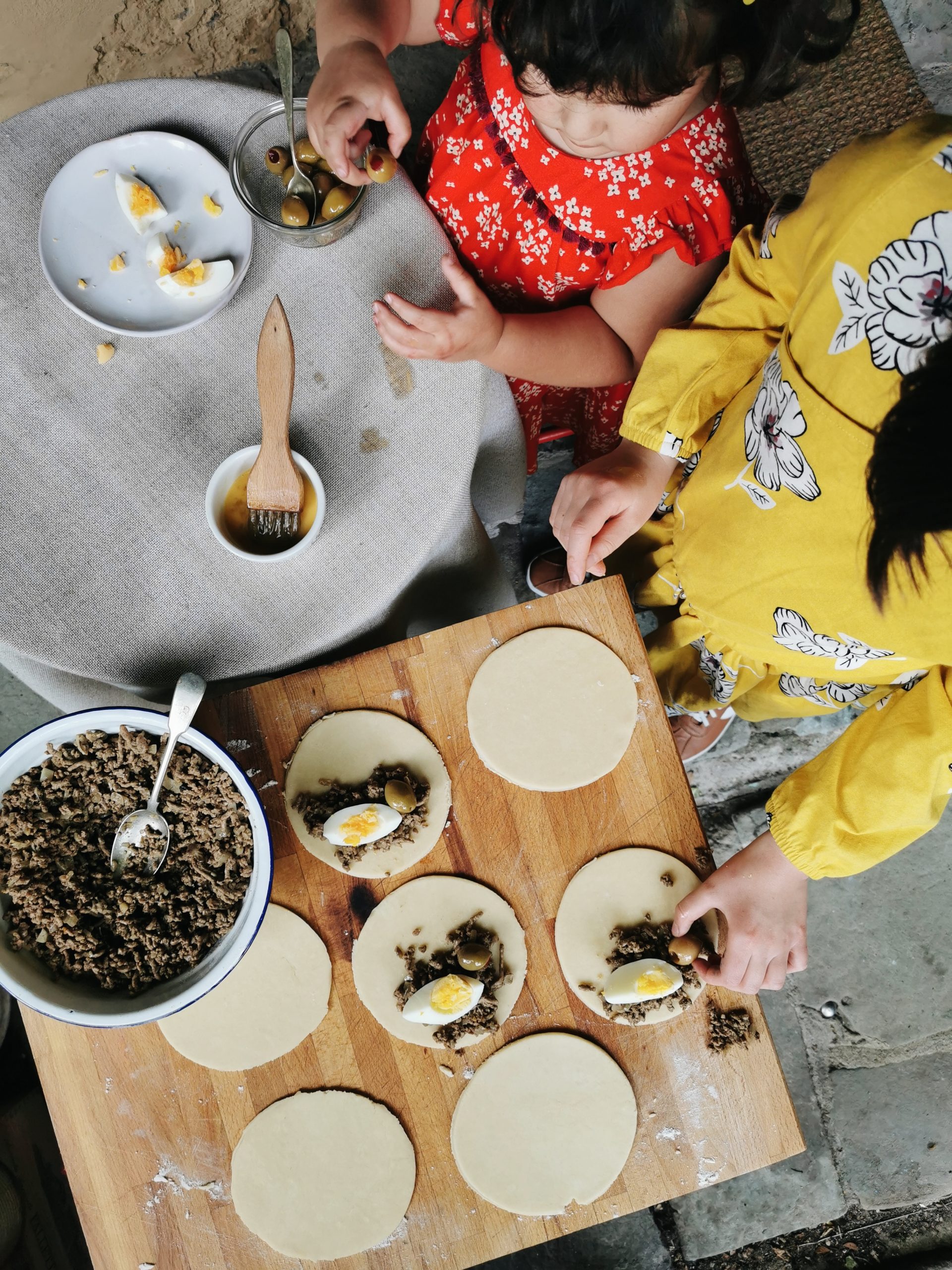 Brush the edge of each dough circle with water. Fold the dough circle in half, then seal the edge by pressing firmly with your fingers and a fork (alternatively, you can fold the edge over in sections, pressing down each time). Assemble the empanadas in a baking sheet lined with parchment paper. Prick the top of each empanada with a fork, and brush each empanada with egg glaze.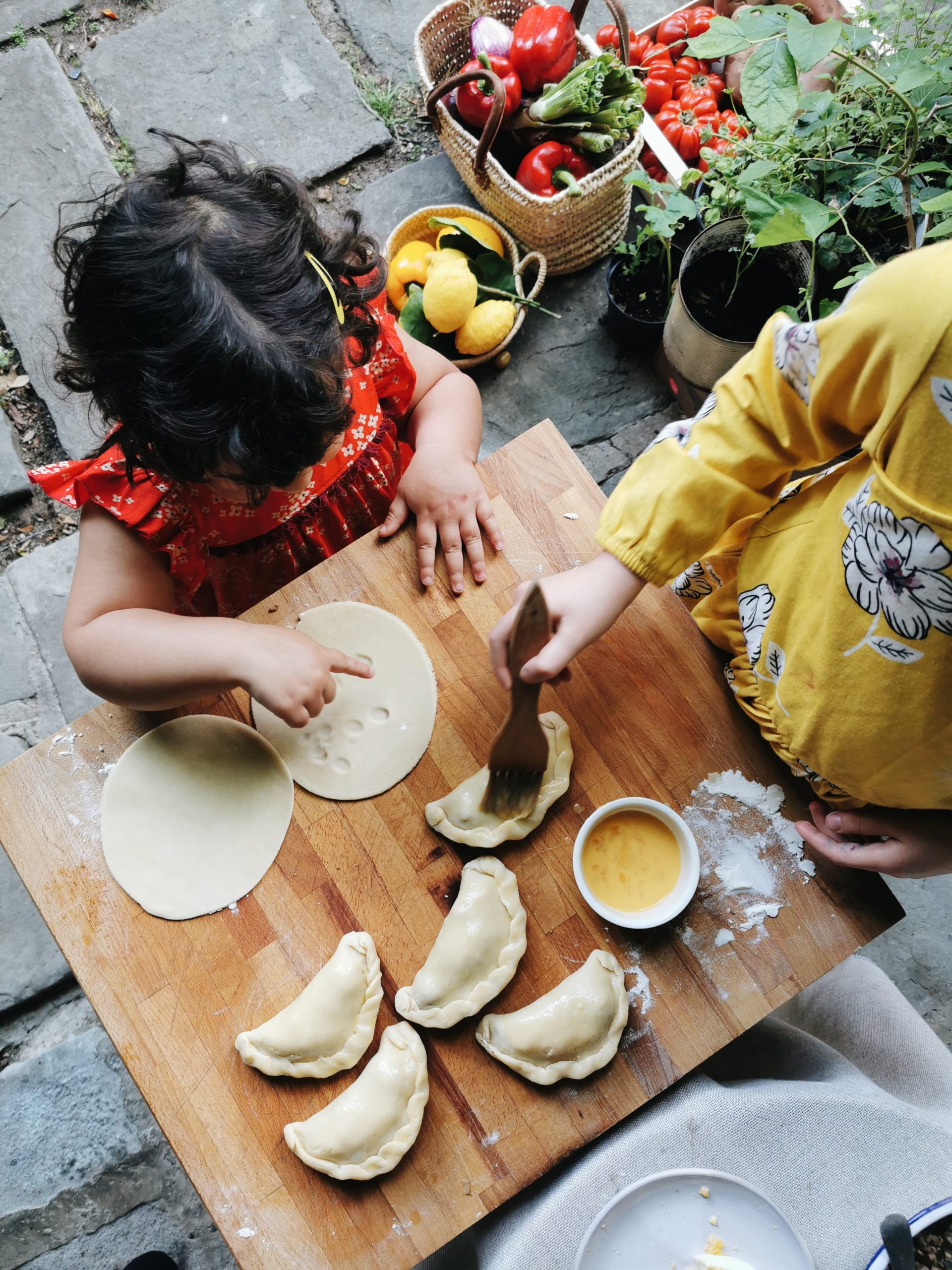 Bake for 20-30 minutes, or until golden brown.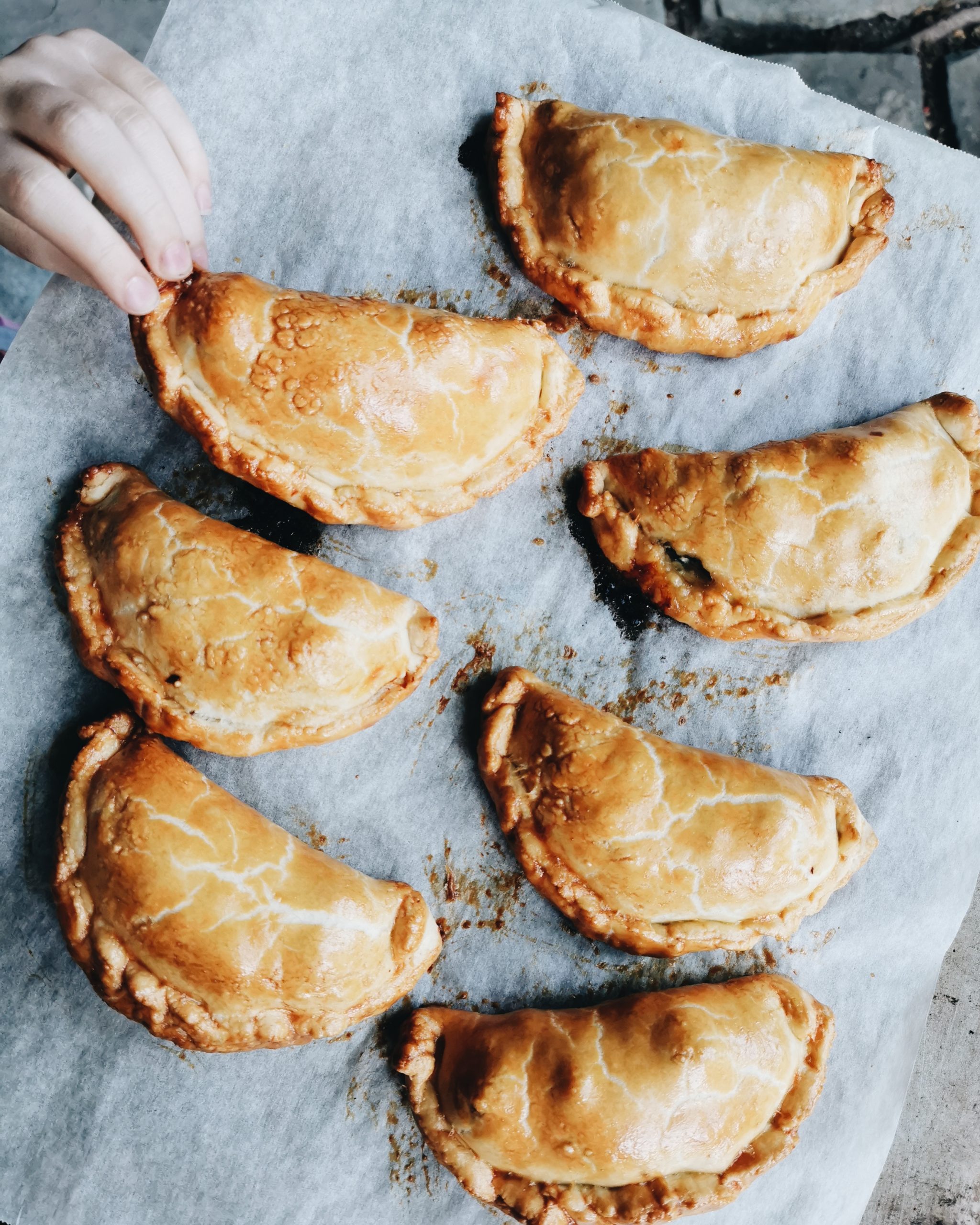 Follow @emikodavies on Instagram for more recipes like this, and be sure to check out our new fall collection inspired by Peru.