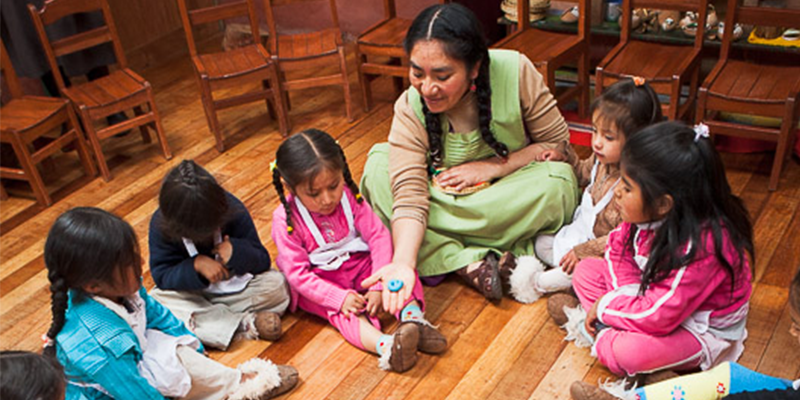 Since our founding, Tea has been committed to making the world a better place for kids everywhere. This season, we wanted to make an impact in the destination that inspired our fall collection. Together with Kusi Kawsay, we're helping build a library for indigenous kids in Peru.
Kusi Kawsay is an independent nonprofit aimed at providing an inclusive, dignified, and quality education to the indigenous children of Pisac, located in the Sacred Valley of Peru. Indigenous children have unique needs that are oftentimes not met by the public education system in Peru. Public schools in Pisac are overcrowded, and students often do not receive the individual attention they may need. Many of these kids also face discrimination and poverty, and struggle with self-esteem.
Kusi Kawsay serves children from kindergarten through 11th grade. In addition to teaching subjects like math, literature, reading, and science, Kusi Kawsay also provides workshops in weaving, Andean masonry, Quechua language, music, dance, art, nutrition, and agriculture.
Thanks to you, we're able to help kids in Pisac receive the resources they need. The library is set to be completed in 2021, so follow along for updates and more ways we're helping give back abroad. If you would like to donate directly to Kusi Kawsay, consider donating to the Ayni Scholarship Fund to help a child attend Kusi Kawsay or making a direct donation through their website at kusikawsay.org.