Combining chocolatier skills with artistic flair and balanced, powerful flavor profiles, Cacao Chaos is committed to bringing India to your sweet tooth!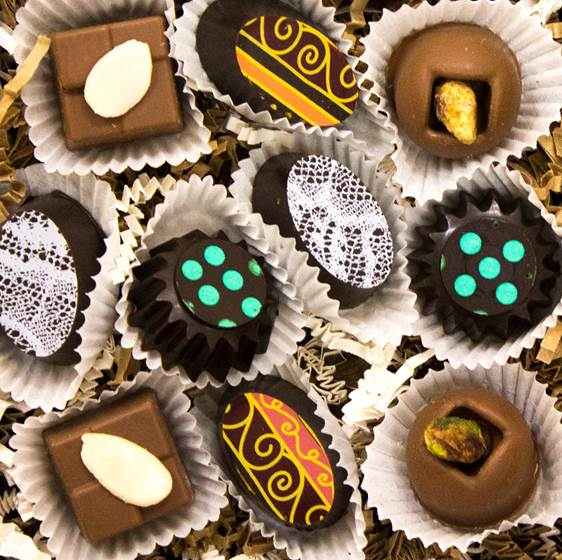 Jay grew up in India and Ami spent every summer there since age 2. The tastes, spices and memories of South Asian cuisine colored their childhoods. Many years later, when these two foodies met, feel in love and decided to get married in Philadelphia, highlighting their joint Indian heritage and their present lives in "the West" was an important part of their wedding ceremony. In search of the perfect dessert, they looked for sweets filled with the flavors of Indian cuisine in a polished, elegant and petite package. Finding nothing fitting that bill completely, the newly married couple decided that if that did not already exist, it was their culinary responsibility to create it! Thus was the born the first child of their union, Cacao Chaos.
Combining Ami's skills as a chocolatier and Jay's as both a strategic planner and food-adventurer, they developed the concept of taking age-old flavor-profiles and re-configuring them as a chocolate covered bonbons. Their intention was to make these unique tastes modern, accessible and, of course, delicious — what better way to improve anything than by covering it in chocolate! Reaching into their pasts for food memories and across India for more inspiration by way of desserts, drinks and sweet treats, they created their first collection of South Asian inspired flavor profiles.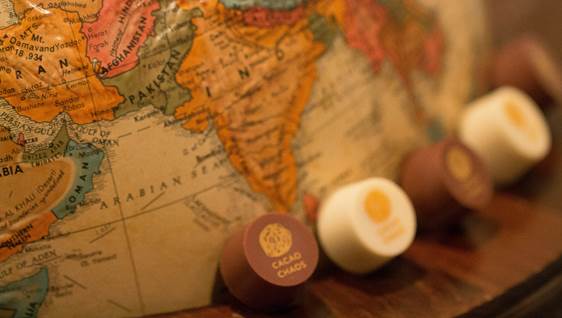 Our favorite flavor? They're truly all delicious… but we have to say the story behind Masala Milk places this one at the top of our list. Ami's mother made her a cup of warm milk steeped with saffron, cardamom and crushed pistachios every morning through her childhood. With a saffron and cardamom infused ganache, coated in white chocolate and topped with a roasted, salted pistachio, the Masala Milk derives directly from those moments of sips in an orange-yellow hued cup of warmth and love.
We love what Ami and Jay (the husband and wife duo behind the brand) have created with Cacao Chaos and we hope to spread that love by giving 5 lucky readers a 20 piece chocolate collection + a 2 piece outfit from Tea! Winners will be chosen February 9th.