I didn't go to India expecting to meet a hero. But that's exactly what happened when I visited a small village in Rajasthan.
The first two days in India were eye opening. You arrive, you see shantytowns on your drive to the hotel, you go shopping in busy markets, tour the City Palace and ride painted elephants. It's very clear that this is another life, one far different than what you know. But you don't really understand just how different until you get outside of the Pink City and past Amer Fort. It's not until you meet someone, you meet people – who have been working for over 25 years to make a difference here. You drive an hour outside of the city with these people, down dirt roads further than you're comfortable with until you reach villages with no electricity, no real housing, no drinking water. You are welcomed with warm smiles and nervous laughter, because these people have never met anyone from the United States before. It's awkward at first, and hard and emotional. But you sit and you take it in and you return these warm smiles and nervous laughs and in this moment, you realize while everything seems so foreign, we're all the same. At the core of it all, we're human beings — with feelings and needs and we just want to be happy and healthy.
I had no idea what to expect from this particular day in Rajasthan. That morning, I didn't even know what kind of transportation to expect from our hotel to the GBS office — and while I'm being honest, I had no idea what GBS stood for. I did know that through The Global Fund for Children, LaDonna and I were able to visit one of their grantee partners that worked to empower young girls and women. I knew that we would be visiting a few of the villages this organization worked with and I knew we were in good hands.
The ride from the hotel to the GBS office was an anxious one for me. The prior two days were a whirlwind. I had never been so far from home and in such a foreign place. Everything was new and strange and jet lag only caused a haze. But on that third day in India, as soon as we walked inside Gram Bharati Samiti's office and shook hands with Bhawani (the GBS founder), my anxiety disappeared and I felt at home. The chaos of India seemed to slow down around me and I was immediately certain that indeed, we were in good hands and to trust that the day would pan out just as it should.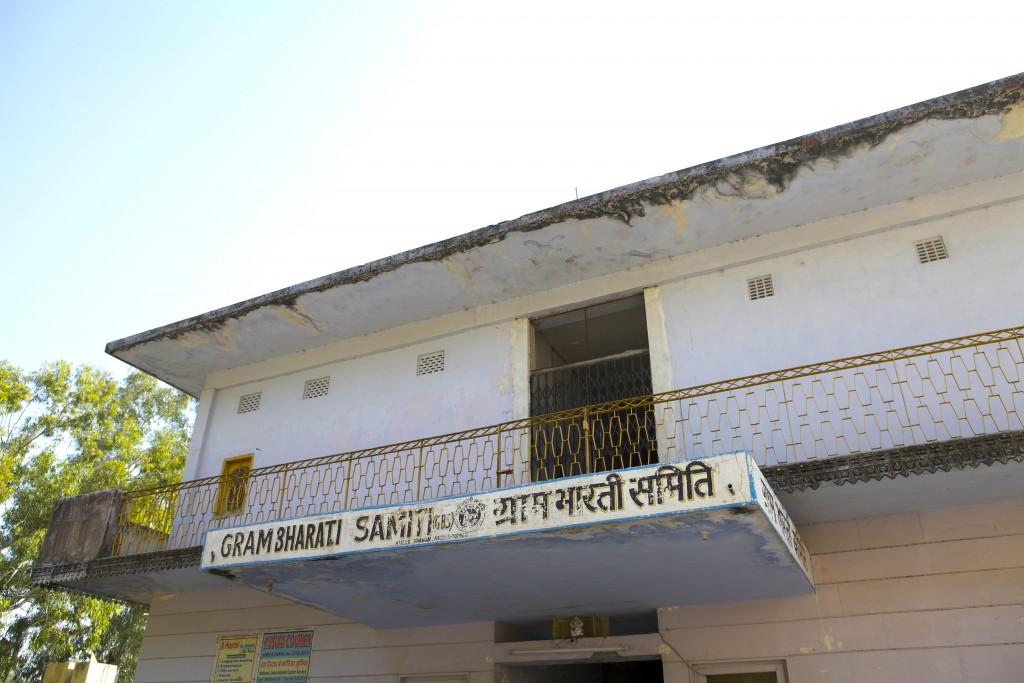 We met Kusum, a gentle warm-hearted woman who has been working with Bhawani for over 20 years. We sat and learned more about the villages Gram Bharati Samiti works with and briefly talked through our itinerary for the day as we sipped our hot masala chai. We'd be stopping by three villages; the first one focuses on the teaching of crafts such as dhurrie weaving, the second one focuses on the skill of hand embroidery and lastly, a more populated village where GBS works with women through "self help groups". We finished our chai, packed into a small car and drove for what felt like hours (but was really just 16 miles) into rural Rajasthan.
When we finally arrived in Gaonli, the first village on our itinerary, I was surprised to see a beautiful, giant, brightly colored tent set up in the center of proper huts, complete with a sound system. Beneath it sat over 50 people (mostly girls and young women) all waiting… for us. LaDonna and I were whisked to the front of the stage and seated behind a table with Kusum and Bhawani. We watched quietly as a vibrant younger woman led the assembly. Her connection with the people of Gaonli was obvious, she was adored and admired and very in charge. We learned later that Sarita works closely with Kusum and Bhawani at Gram Bharati Samiti and as Bhawani describes, is their organization's activist.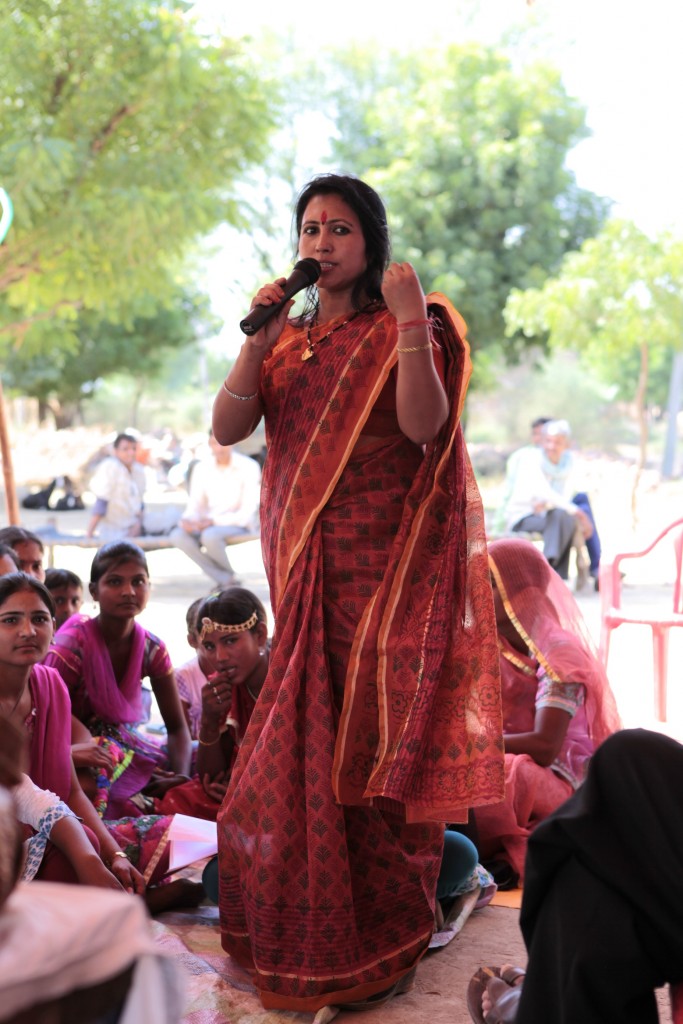 We sat through welcoming rituals and were delighted to find that a few of the older girls were prepared to dance ghoomar, a traditional folk dance of Rajasthan, for the group. What I was not expecting was the invitation out to onto the dance floor. I politely declined, but they insisted. My heart was racing — it could have been the heat, the dehydration or perhaps it was just nerves, but for a split second I thought I was going to pass out. I'm a cautious person, one with a mild degree of social anxiety and zero decent dance moves… I was terrified. And then I realized, these wonderful girls, here in the middle of nowhere, had been practicing their dances for weeks for us, for strangers… the very least I could do was join in. They giggled just as I suspected they would, but they were patient and tried over and over again to teach me ghoomar. I'm not sure I ever picked up these graceful moves, but I'm so glad I overcame my inhibitions and joined in on what will forever be my most memorable dance party.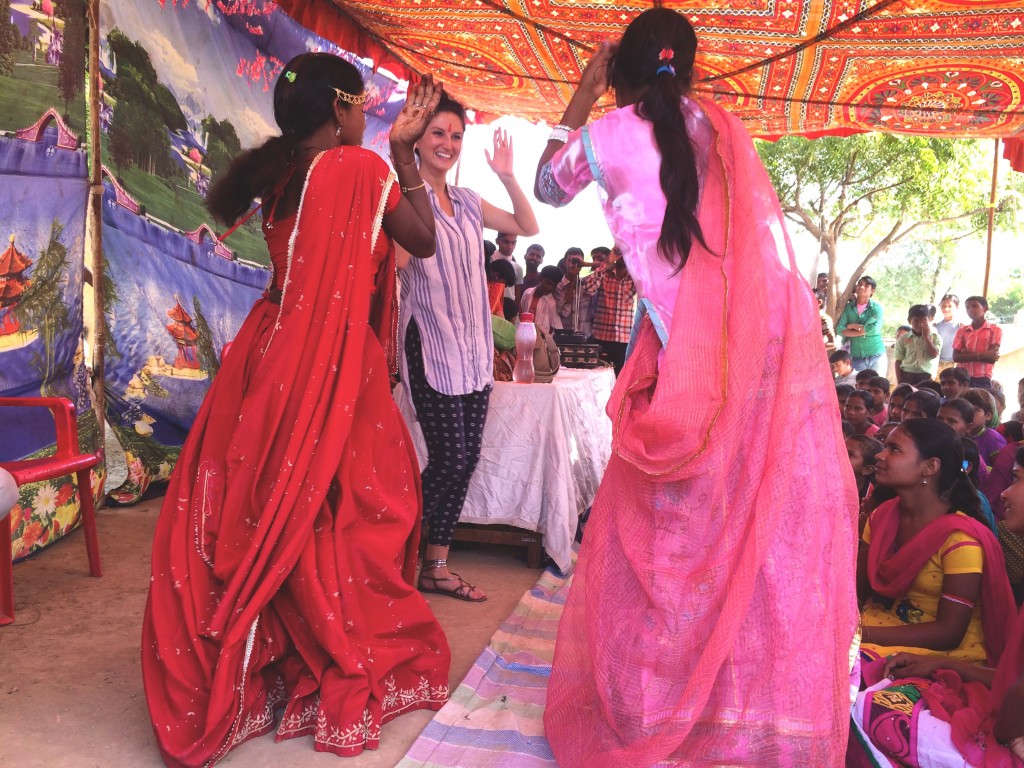 After the assembly came to a close, we were given a tour of their craft space. We were shown giant looms for carpet weaving, two-person looms for dhurrie and met the village's proclaimed 'Master Tailor', Priyanka, who beamed with pride as we snapped her photo. These girls and women seem to be so happy. They're all so proud. It's true not all are healthy and I know the village lacks basic needs, but with those sweet genuine smiles you seem to forget about these realities. You embrace each other; you smile as you exchange different languages. You see these looms they've learned to navigate with the help of the GBS and you know they have a better life because of it. They're able to band together and say no to the man in the big city who is paying them too little for their crafts. They're able to stand together and know that they're worth something. It's easy to see that because of this wonderful organization, these young girls are aware of their basic rights and will work hard to inform and redefine future generations.
We quickly moved to the next village after a warm, hearty home cooked meal courtesy of Sarita, who had been up since dawn preparing for the day. Already my perception of reality had shifted. Never before had I been so grateful for a home cooked meal, for lunch — a meal I often hurry through and take for granted.
When we arrived at the next stop, 4 timid girls who looked to be in their early teens welcomed us. We learned that here, GBS has taught the craft of embroidery to young girls so they're able to earn money after their daily lessons. Their hands moved so quickly, it was hard to believe the precision of their beaded embroideries that adorned the boarders of brightly colored saris.
Our last stop was in a village that was indeed more developed than the others. We sat with 11 women ranging in ages of what I would have guessed to be 20 – 85 years old, under florescent lights and a quiet ceiling fan. We shared cookies and chai and, with the help of Sarita, listened to [translated] stories explaining how GBS has given them a voice. These women, who once had no choice other than to rely on their husbands for income, now each have a water buffalo and are known as the local milk ladies. With small loans available through GBS, they were able to purchase a buffalo and now earn a decent income, in turn empowering these ladies to make decisions in the home. One woman proudly shared that with her earnings, her family was able to afford a new roof. These women make trips to the bank, make household decisions and stand as equals next to their spouses — these women have become empowered through the help of Bhawani's organization.
We began our journey back to the GBS offices as dusk was falling… it was a quiet, beautiful ride. The team regrouped inside the office when we returned. I sat silently while Sarita and Kusum explained the early beginnings of their organization to LaDonna and I. Sarita described her first few trips into the village of Ganoli — I wasn't welcome. The families didn't understand why I was there or what my intentions were. I explained that we wanted to help their girls, but they resisted and told me to leave. So, I came back the next day, and the next day, and I wasn't going to stop making the trip until someone listened. And they finally did and now she's a hero… to so many people, including myself.