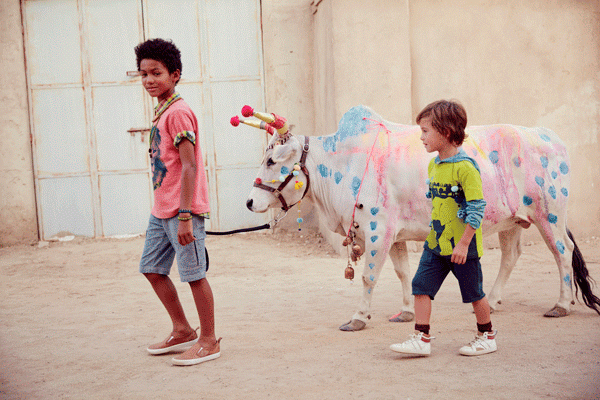 Kids love to wear our graphic tees for any and every occasion. And because our graphics are playful and special, they fit right in everywhere they go. Learn more about the graphics on our favorite tees this season…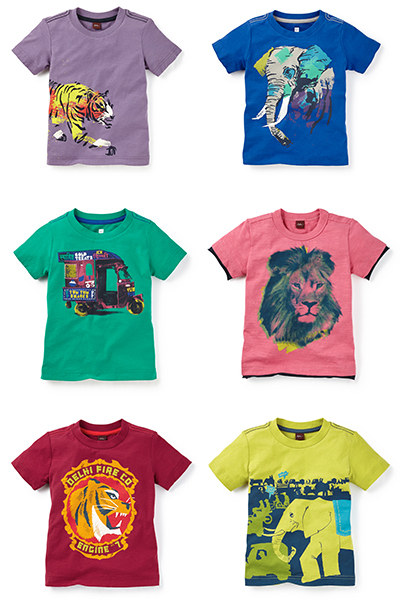 from top to bottom, left to right
Painted Tiger Graphic Tee :: There are more than 40 tiger reserves in India dedicated to protecting the Bengal Tiger, which is in danger of becoming extinct. (But the good news is the Indian tiger population has increased 57% since 2006! This is an original screen print design that wraps around the front and back.
Holi Elephant Graphic Tee :: Holi is a spring festival also known as the festival of colors. This elephant looks as if he was splashed with gulal (the colorful powder that's used during the festival).
Auto Rickshaw Photo Tee :: We saw auto rickshaws all over India, and we even rode a few. Because these rickshaws are motorized, we had to hang on for the ride!
Gujarat Lion Photo Tee :: The state of Guajarat is the only place you can find the endangered Asiatic lion (also known as the Indian lion). If you visit Gir Forest National Park in India, you're more than likely to see one.
Delhi Fire Graphic Tee :: We loved the fire engines we saw in Delhi and we know your little citizen will set the world on fire with this India-inspired graphic tee.
Jaipur Streets Graphic Tee :: Imagine a whole new kind of traffic jam with bumper-to-bumper lorries, rickshaws, scooters, camels and elephants. That's exactly what we experienced on the streets of Jaipur!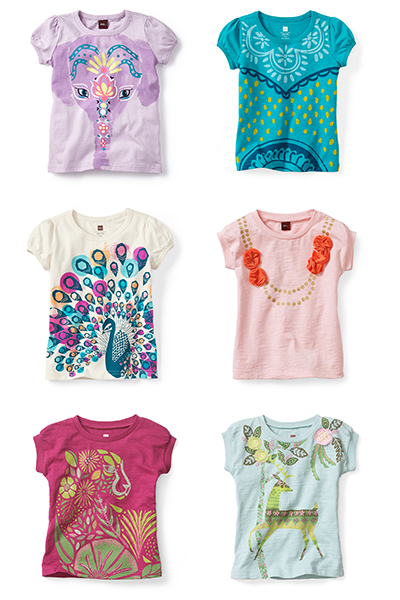 from top to bottom, left to right
Painted Elephant Graphic Tee :: Every year, the city of Jaipur holds a festival where elephants are painted with pigments by professional artists and paraded around in celebration of the day before Holi. When we visited Elefun, a working elephant village in Jaipur, we painted elephants, too!
Rangoli Graphic Tee :: This graphic is inspired by rangoli, an Indian folk art where patterns are made on the floor using colored rice, flour, sand or flower petals. The artwork is meant to be sacred and is usually created during holidays like Diwali, Onam and Pongal.
Mayura Peacock Graphic Tee :: Mayura is the Sanskrit word for peacock, India's national bird. This particular peacock is inspired by the brightly colored birds we saw over a doorway at the Jaipur City Palace.
Marigold Necklace Graphic Tee :: When our plane landed in India and we checked into our first hotel, we were welcomed with necklaces made of white jasmine and orange marigolds. We later learned that this is a sign of respect and honor.
Banabirala Graphic Tee :: We're just wild about this abstract banabirala (wildcat) because it's pieced together with jungle botanicals.
Calico Deer Graphic Tee :: This delightful deer is inspired by the classic children's book "The Calico Jungle," which is written and illustrated by Dahlov Ipcar. (Calico is also a popular quilting fabric in India.)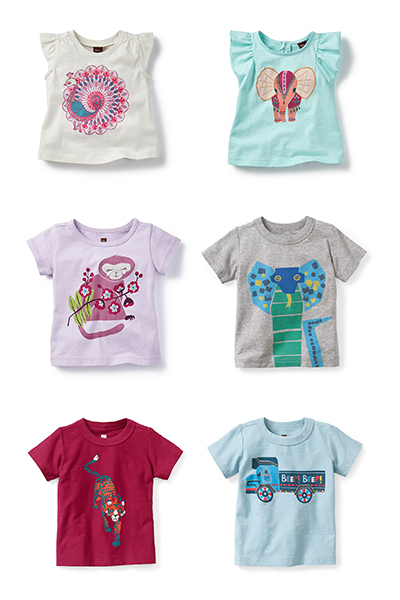 from top to bottom, left to right
Woodblock Peacock Flutter Top :: In Hinduism, the peacock is a symbol of love and immortality. This adorable peacock is inspired by traditional Indian woodblocking.
Baby Ganesha Graphic Tee :: Ganesha is the god of beginnings and is almost always honored at the start of rituals and ceremonies in India.
Baby Langur Graphic Tee :: A langur is a lanky, long-tailed monkey that calls India home. They spend most of their day on the ground and can spotted at temples or in local city gardens.
Naga Graphic Tee :: Naga is the Sanskrit word for a deity or being that takes the form of a huge snake (usually a king cobra). King cobras are the world's longest venomous snake and can grow as long as 18.8 feet. (Oh, boy!)
Baby Bengal Graphic Tee :: The tiger reserves dedicated to protecting the Bengal Tiger are such special places. Baby deserved to have it's own special graphic to honor these massive cats!
Little Lorry Graphic Tee :: On the chaotic streets of India, lorry trucks (like this one) are constantly blowing their horns warning other drivers and pedestrians to move out of the way. Some people say driving in San Francisco is crazy, we say we've got nothing on India!