We've teamed up with papaya+post to bring you a Holi festival giveaway fit for a party! As we kick-off the giveaway, we've asked Mugdha and Avni, the brilliant ladies behind the brand, to help explain the history of Holi and share their favorite ways to celebrate the colorful festival.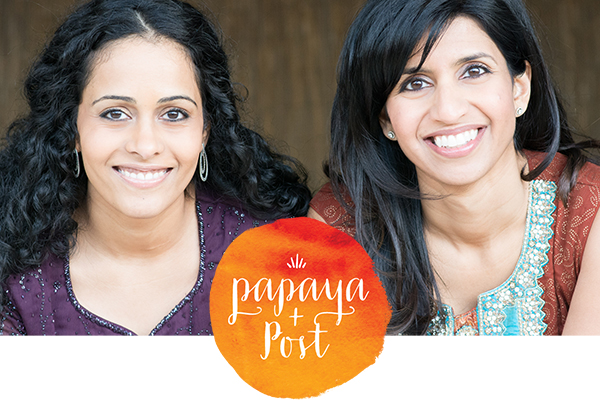 At papaya+post we believe in "Traditional, with a Twist". Basically celebrating the world's festivals in a way that respects age-old roots but that adapts them to our modern lives. Holi, the Indian festival of color, is one of our very favorites. 
Within this 3 day festival there are celebrations for the arrival of spring, for good prevailing over evil and for simple mischievous and playful fun. It's loved by kids and the young at heart alike. Each year, sometime in March (it's based on the lunar calendar, so the exact date varies), millions of people don their white kurtas and kurtis (traditional Indian cotton tops), prepare their personal signature colored concoction (water balloons, power, the more creative, the better) and head out to literally paint the town in their colors. What ensues is quite literally a riot of color!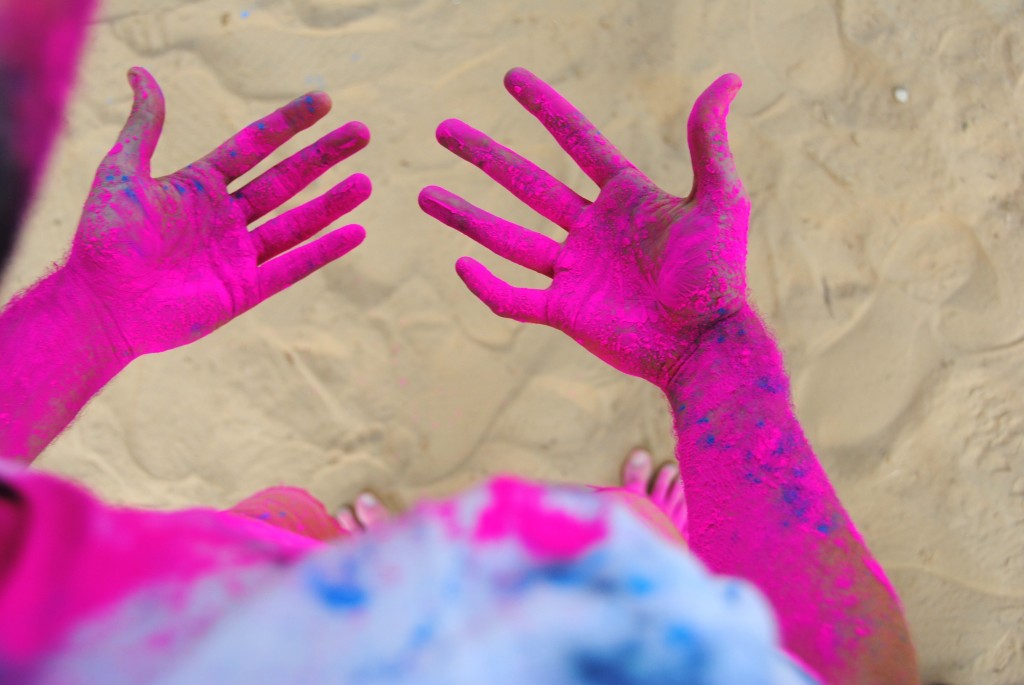 History and Origins of Holi — Why Holi is Holy?
Like many Indian festivals, the origins of Holi can be traced back to a number of different sources. The name Holi comes from the tale of little Prahlad and how his devotion to Lord Vishnu saved his life when his evil aunt Holika tried to kill him but she was instead burned and destroyed in a fire. Today, we celebrate the triumph of good over evil by lighting huge bonfires and though the name of this festive time. The traditional throwing of colored powders has a more playful origin, going back to the time of Lord Krishna. The story goes that Krishna loved to be mischievous and play tricks but he was worried that fair Radha wouldn't pay attention to him because of his blue-tinted skin. His mother handed him some pink gulaal (colored powder) and told him to color Radha's cheek with it so it wouldn't matter what color one's skin was. And so the playful tradition was born, with the important lesson that underneath, we're all the same. This is just a quick snippet of a couple of the stories but if you're interested in reading more, read on: Why is Holi, Holy?
How to Celebrate Holi
Holi is officially on Friday March 6, 2015, but people all around the world celebrate in the weeks leading up and after. It's such a wonderful festival for kids to get involved in and there are countless ways to celebrate. Like our philosophy, we wanted to share some ways that are more traditional and a couple that have a "twist".
Traditional:
Gulaal Party
When many people think about Holi, they think about piles of colored powder. This is the most traditional way to celebrate – gather some colored powder (you can make some of your own at home with some flour, cornstarch and food coloring.) It's an activity best done outside for parental sanity, but it's also the most fun. Have your kids dress in a white shirt they don't mind staining and have at it.
Colored Water Balloon Fight
In a similarly messy but authentic vein, you can fill water balloons or water guns with colored water and have an epic battle. Like a pint-size paintball game, the goal is to escape unscathed. Guaranteed fun no matter the result.
Twist:
Colored Bath Paints
This is a favorite over at papaya+post. Designed to get clean while getting colorful, colored bath paints have all of the elements of messy play but with the benefits of a contained space that can get cleaned up quickly. You can buy bath paints or mix up your own with this easy recipe.
Color Scavenger
Hunt Called the Color Festival for a reason, Holi is all about celebrating color, no matter how you do it. Even an afternoon hunt for items in your house by color is a great way to mark the holiday. Or take washable paints and have your kids explore by mixing them and discover how to create new colors. The squishy fun and gooey mess is a bonus for your kids. So go ahead, get creative. This festival invites you to find your own unique ways to celebrate the colorful and playful. We'll help 3 of you get started…
Grand Prize: 1 papaya+post Holi Celebration Trunk plus materials and activities for child's class/friends to hold a color party (up to 15 children),1 copy of Growing Up Global: Raising Children to Be At Home in the World by Homa Sabet Tavangar and 1 three-piece Tea Collection clothing set (up to $95).
Second Runner Up: 1 papaya+post Holi Celebration Trunk and 1 papaya+post The Great Roti Adventure Celebration Trunk plus 1 copy of Growing Up Global: Raising Children to Be At Home in the World by Homa Sabet Tavangar and 1 two-piece Tea Collection clothing set (up to $55).
Third Runner Up: Choice of 1 papaya+post Celebration Trunk and 1 copy of Growing Up Global: Raising Children to Be At Home in the World by Homa Sabet Tavangar and 1 Tea Collection top or tee (up to $35).