To help everyone at Tea "go there," we make a yearly contribution to each employee for international travel and exploration. Upon their return, our Tea travelers write a blog post to share their adventures with all of us (and the world)! This post is one we've been looking forward to… LaDonna, Tea's Copy Director, traveled abroad with her little one for the first time and before reading this post we suggest you grab a pen to take notes. You'll have a trip to Costa Rica planned in no time!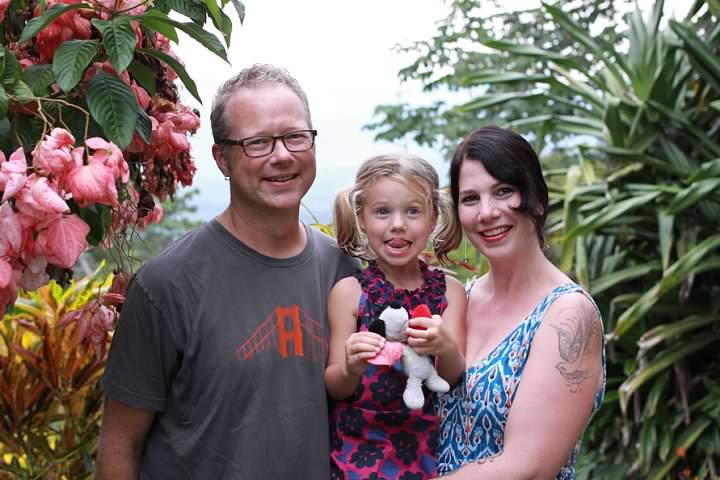 Before the baby-having, my husband and I collected quite a few stamps on our passports. We've always traveled well together, counting the ups and downs of travel as just another part of the adventure (like lost luggage on our honeymoon or the six-hour wait for handwritten boarding passes at the Dublin airport when their computer system crashed).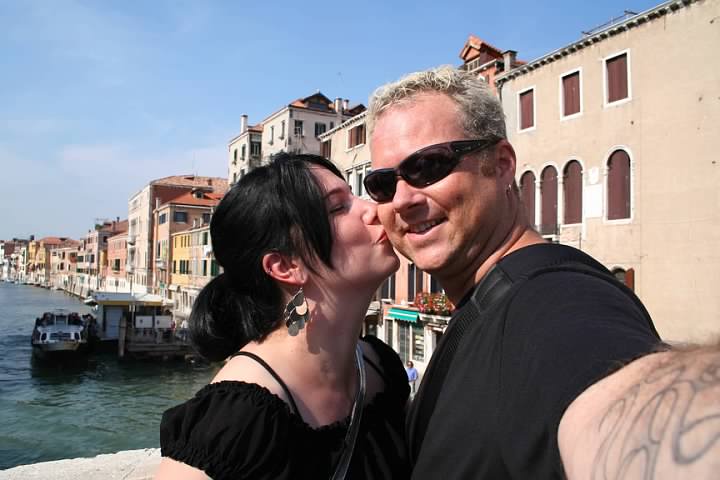 We look forward to getting lost in a new city and we love the way you always discover something new—not only about the world but about yourself—when you travel.
But then our daughter arrived and, as they say, having a baby changes everything.
About two years in to parenthood, I sat my daughter Lucette down in front of a white background for a passport photo. The photo, with a tiny yellow bow perched on her almost-bald head, was pretty adorable. But the crisp blue passport book sat untouched in a drawer for two more years.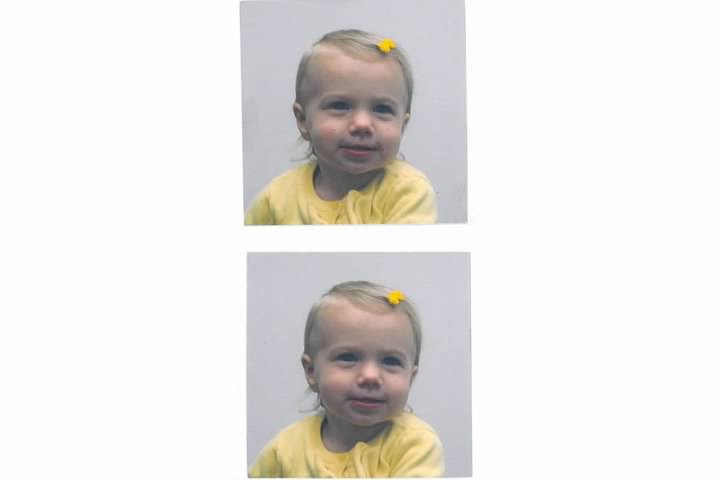 It's not that we didn't travel at all—there have been the cross-country flights to visit Mimi & Papa on the farm in Illinois, the 12-hour roadtrips to Portland, the (pretty awesome) vacation to Kauai two years ago.
But we weren't quite ready to brave the kind of distances that require passports—until now.
Lucette turned four in September and has proven herself to be a fabulous on-the-road adventurer. So we scoured the map, gauging flight times across various bodies of water, and landed on Costa Rica as the destination for Lu's inaugural international trip. It's safe, it's fairly close, and with amazing beaches and an abundance of wildlife, it's very kid-friendly.
Early in December, we boarded a plane bound for San José, Costa Rica. It was a long day of travel—two flights and then a 3-hour bus ride to Quepos on Costa Rica's Pacific coast.
But Lu was super excited—we had been watching videos of sloths and monkeys and iguanas for months—and she couldn't wait to get a stamp on her "passport book."
It was late in the evening when we finally reached the immigration line in Costa Rica, but Lu watched carefully as the immigration officer stamped her passport. "Mom!" she whispered loudly, "He stamped the ship page!!"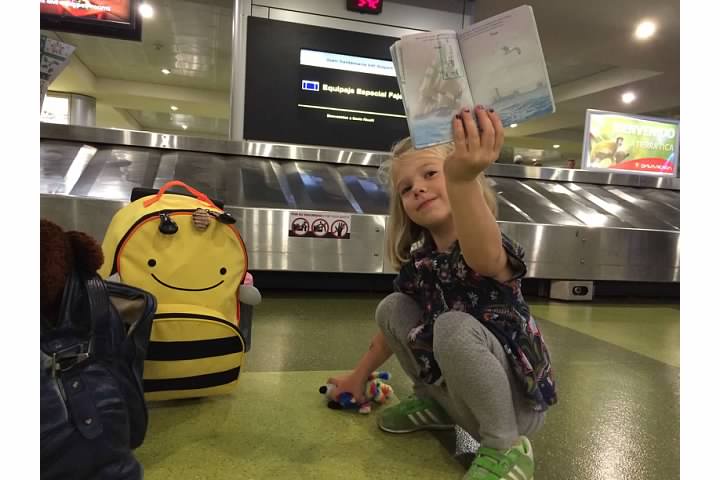 We woke early the next morning to our first real view of the country, marveling at the way the rainforest surrounded our rental house, at the mist crowning the top of the coastal mountains, at the abundance of colorful blooms bursting open in all directions.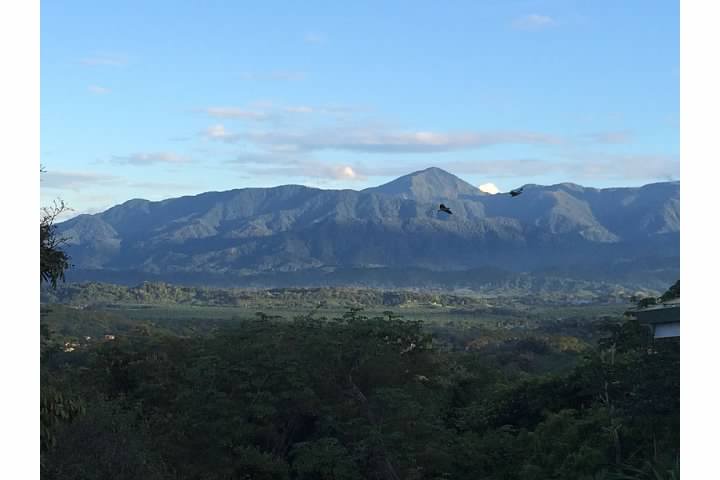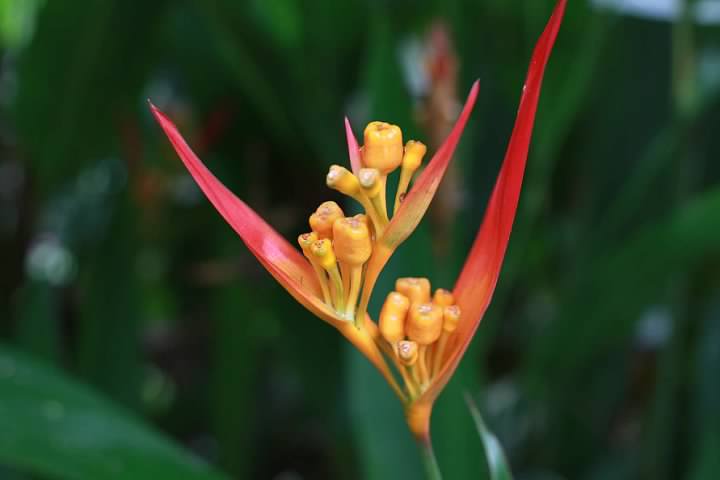 While we waited for our fellow vacationers to arrive—Lu's godparents ("The Aunties" and "The Uncles") flew in a day later—we took full advantage of our own private swimming pool.
"What do you think of Costa Rica so far?" I asked Lu as we splashed about.
"I am A MILLION HAPPY!" she squealed.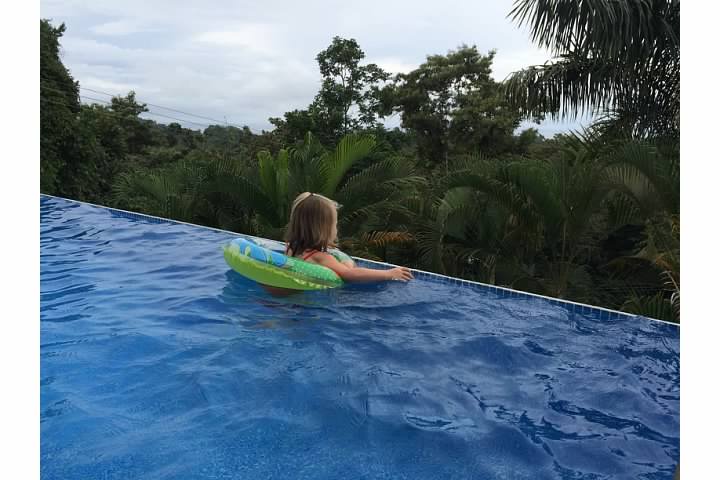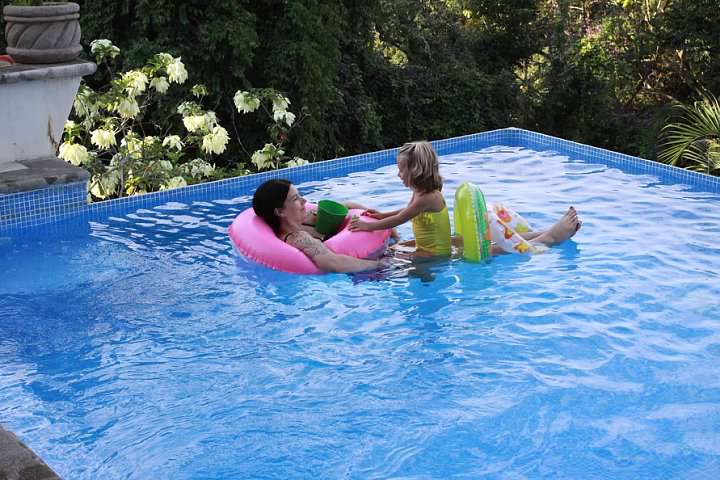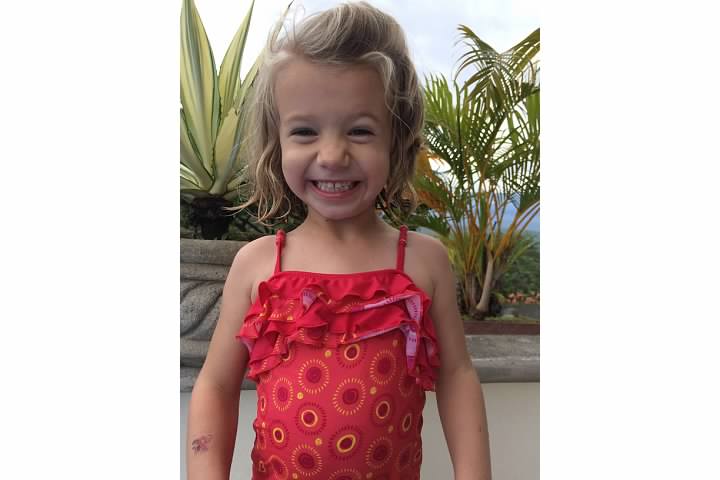 And it just got better from there. By the time her Aunties Kathy and Lani and Uncles Michael and Andrew arrived, Lucette was already full of stories about "the awesome stag beetle" we discovered on the patio and "that big crazy iguana" who came out to sun himself in the yard.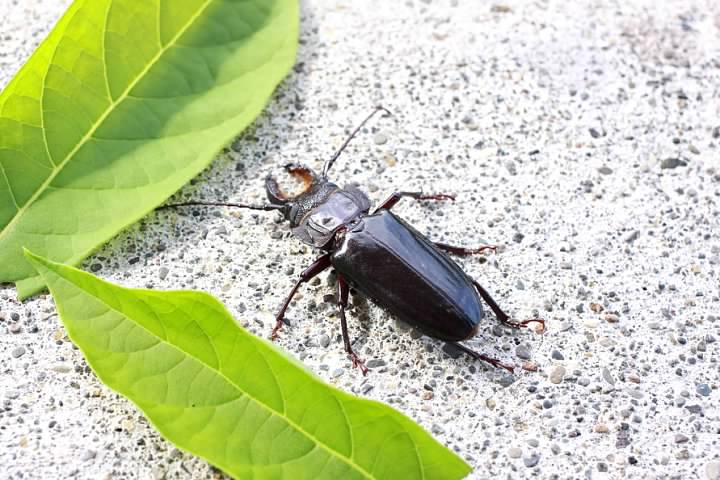 The next morning, as we all ate breakfast poolside and got ready to head down the hill to Playa Espadilla, we had our first monkey sighting when a group of red squirrel monkeys leapt from tree to tree to telephone wire right next to our house.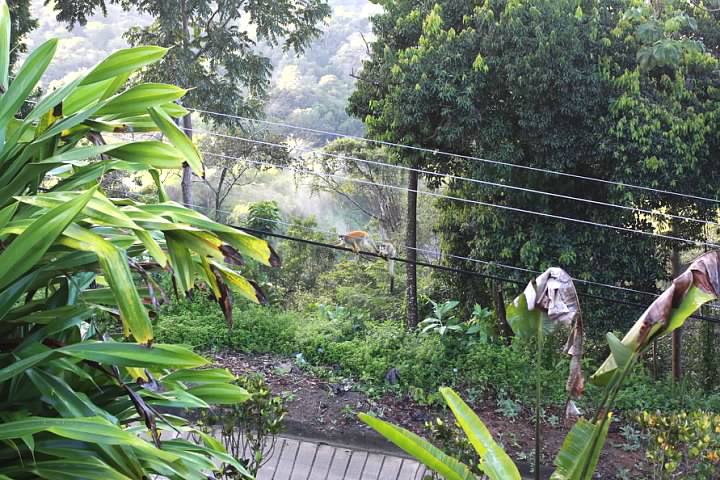 The animals, the pool and the beach—these are the things Lucette will remember most, I think. She's still a bit young to really grasp the idea of distance and geography, but she did say a few times, "Costa Rica is reeeeaaaaally far away from San Franskisko, isn't it?"
And once, as we traveled in a taxi and Bruce spoke Spanish with the driver, Lu leaned over and whispered in wonder, "Mom? Am I speaking Spanish right now?!"
Although she was fascinated by the whole fish ("with a face and everything") her father ordered, she was a typical four-year-old in her own adventures with the local cuisine, preferring repeated orders of "dedos de pollo" to anything else. She did develop a taste for star fruit and limonada, though. Small victories.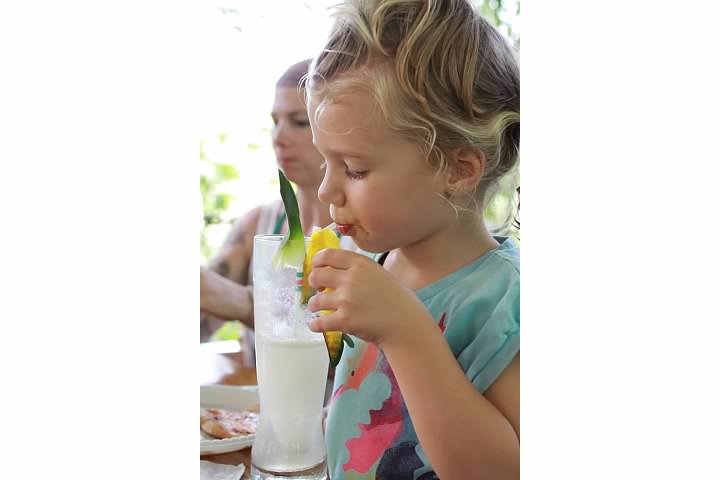 We kept things pretty low-key for our first family-style international vacation, spending most days exploring the local beaches looking for interesting pieces of coral and making "berry and crème" cakes from wet sand. Which is to say, we completely embraced the Ticos' "Pura Vida" way of life—a mindset of "Life is wonderful, slow down and enjoy it!"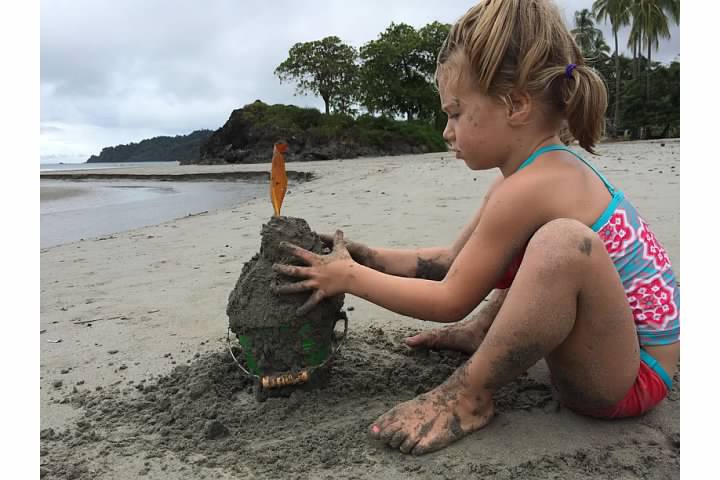 But the rainforest hike through Parque Nacional Manuel Antonio was a big hit—we met lots of interesting spiders like the golden orb-weaver, white-faced Capuchin monkeys, a territorial green iguana, lunch-stealing raccoons, ear-shaped fungi and—the big score—three different two-toed sloths.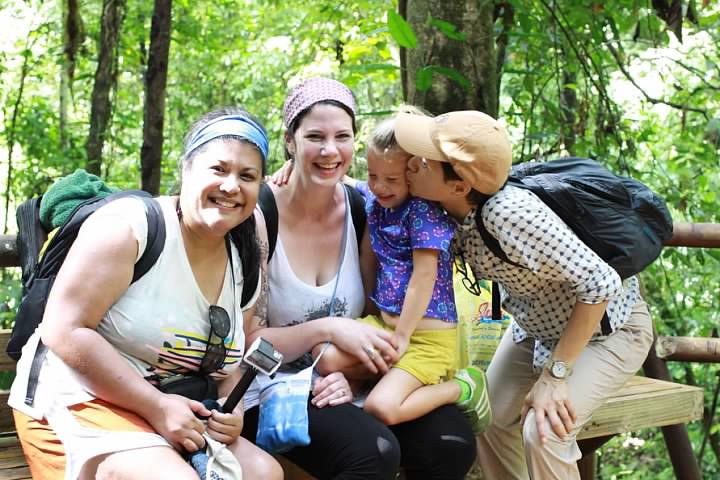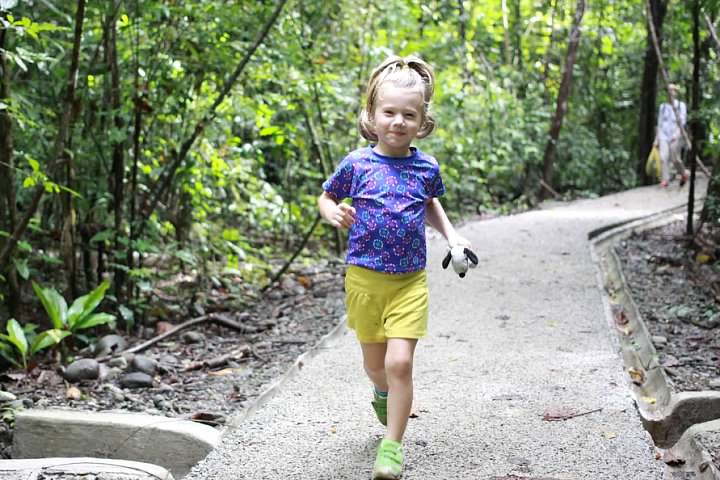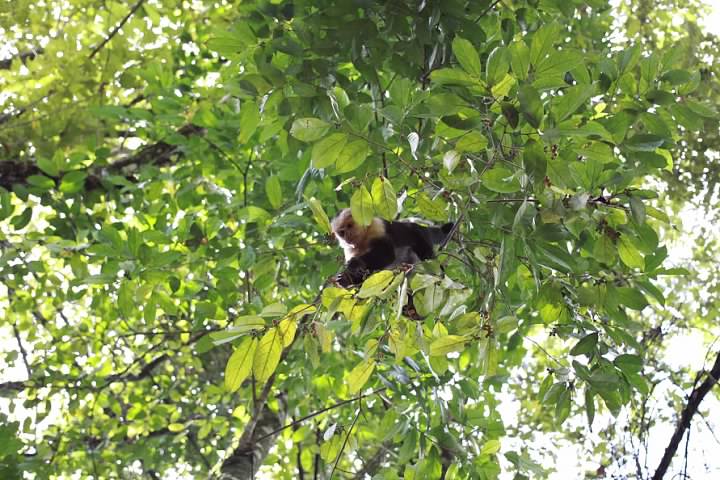 We also took a boating excursion in Isla Damas, exploring the tangled mangroves and brackish water searching for caimans. We didn't see any of the toothy reptiles, but we did see sleeping fruit bats, black iguanas, Jesus Christ lizards (so named because they walk on water), and were surprised by a giant manta ray who suddenly leapt out of the water in front of our boat.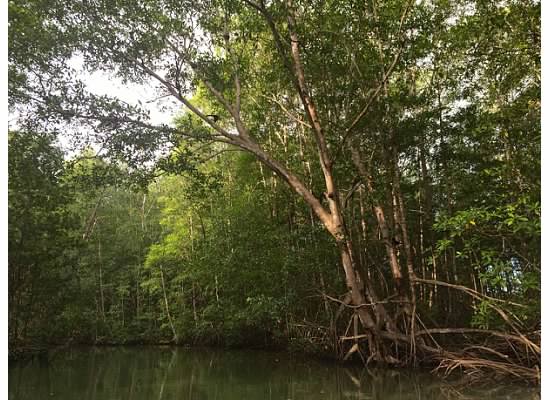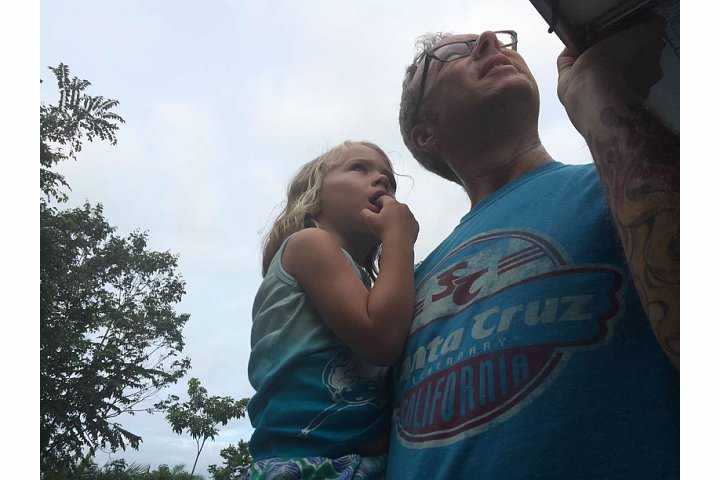 We also had a close encounter with a group of white faced monkeys who jumped on the roof of our boat and bared their fangs in a futile attempt at intimidation. (In a video Bruce took of the monkeys, you can hear Lucette giggling hysterically in the background, saying, "Those monkeys are so silly!!" Not intimidated in the least.)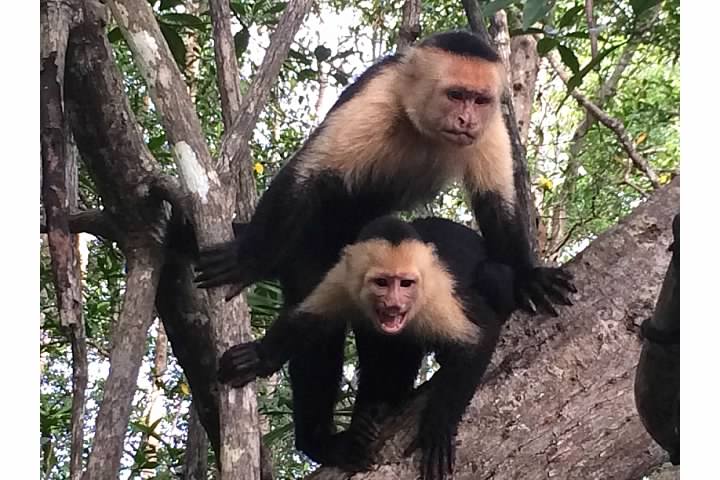 More than the monkeys, though, when anyone asks her about the mangroves she recounts the moment that Snoopy (her bedraggled best buddy of 2 years) fell overboard. It was toward the end of the tour and she lost her grip on her faithful friend for just a moment. I was alerted by a shriek and panicked cry of "SNOOOOOPY!! SNOOOOOPY!!!" I turned and there he was, floating (for the moment) on the green surface of the canal and swiftly being whisked downstream. A goner for sure, I thought.
But our quick-thinking boat captain came to the rescue with an oar and fished Snoopy out of the water. He was quickly wrapped in a towel and carefully cuddled while Lu muttered, "That was VERY dangerous for Snoopy. He did not like that. The crocodiles were going to EAT him up right down into their bellies."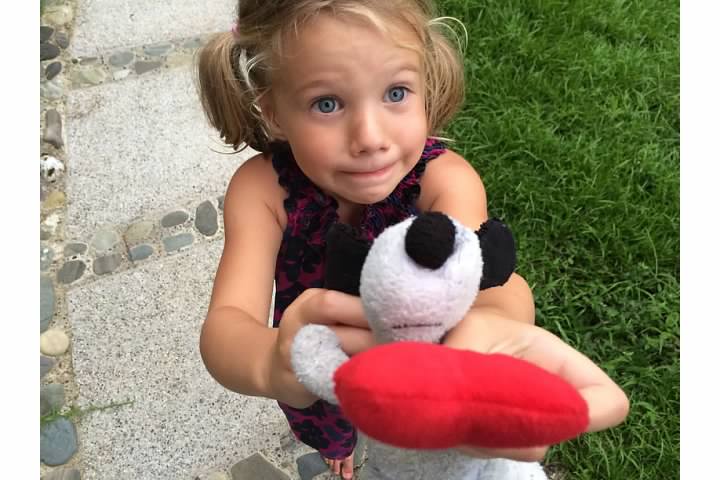 Honestly, I don't know exactly what parts or how much of this trip a four-year-old mind will retain. But to help her remember, we've got hundreds of pictures, a new stuffed sloth friend—named him "Leafeater" after the sloth we saw slooooowly picking and eating leaves in the treetops of the Manuel Antonio rainforest—plus her newly acquired skill of "belly surfing" and of course, that one lone green entry stamp in an otherwise pristine (for now) passport.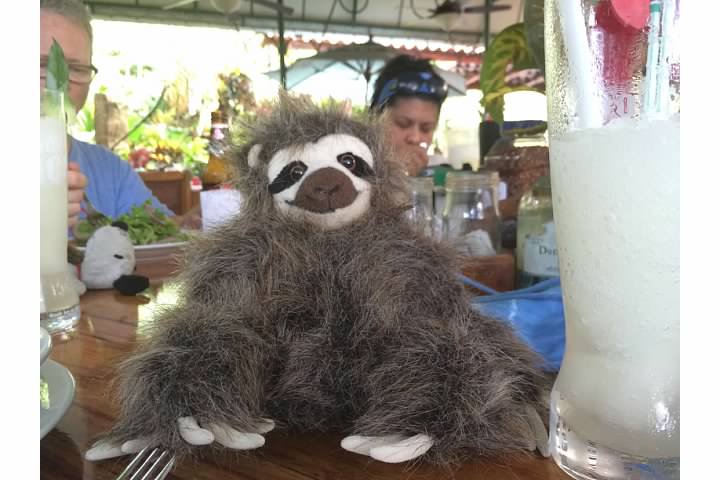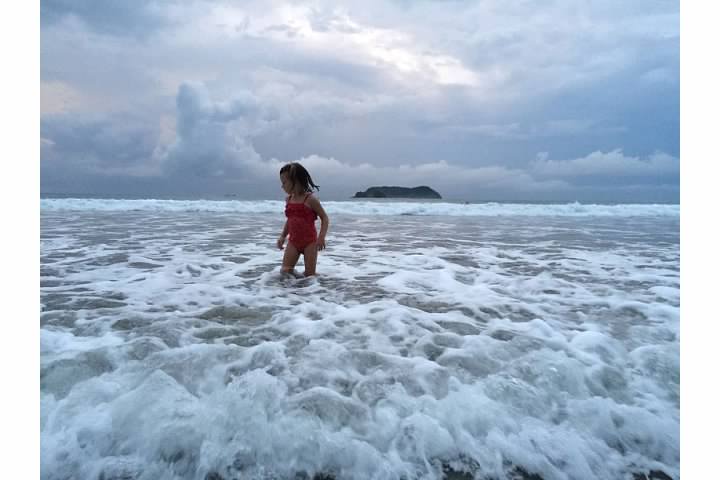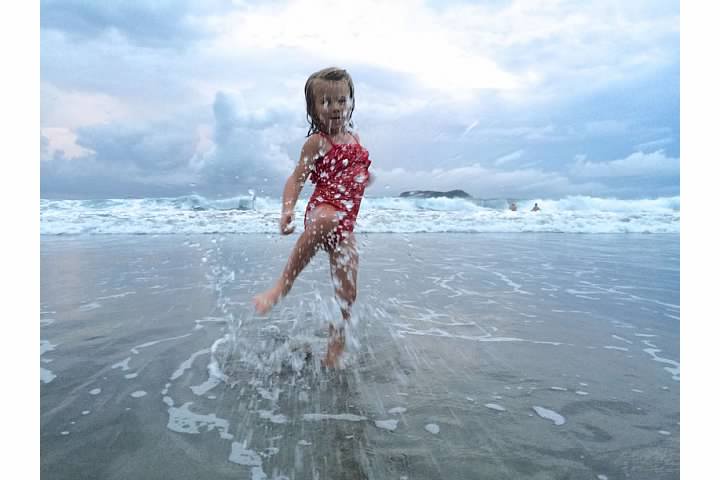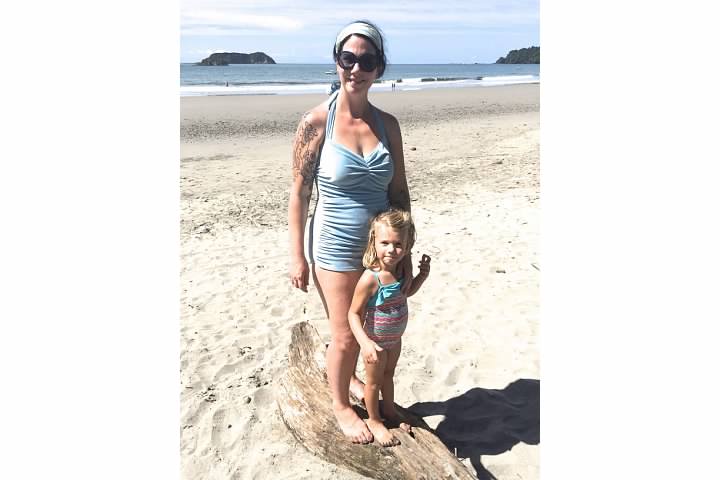 The thing I will remember most is our first day in Costa Rica, just the three of us on the beach. Lu suddenly looked up from her sand pile and said, "Mom, have you ever been to Costa Rica before this?"
"No, I haven't." I said. "This is my first time."
"Dad," she said, "have you ever been here to Costa Rica before?"
"This is my first time too," Bruce replied. "And you know what? I waited my whole life just so I could come here for the first time with you!"
She pondered that for a minute, digesting the implausible information that her parents didn't know much more than she did about this strange land, that we were all discovering these grand new things together.
"Ok," she said. "Well, I think Costa Rica is a pretty good land. I think maybe we should just stay here forever."
"Oh Lu," I said, "Costa Rica is beautiful and amazing but you know what? There's so much more to see. The world is full of amazing places."
And we can't wait to show them to her.