Have you ever heard of Mexican hairless dogs? The xoloitzcuintle (pronounced shoh-loyts-kwint-lee) is native to Mexico, with roots tracing back over 3,000 years, and are believed to be the first domesticated dog of the Americas.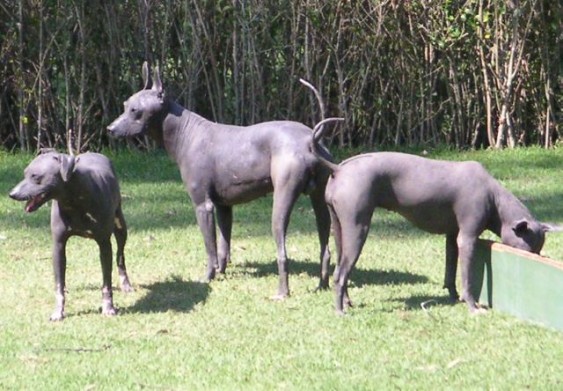 Their hairlessness has many theories, the most popular being that it was a survival tactic in the hot tropical regions of Mexico. The Aztecs in particular were very fond of these dogs, with the belief that they were necessary to guide their owners through the underworld upon death. Xolos exude an exceptional amount of body heat and were valued during cold months as additional heat sources at night. Perhaps due to this, they also gained a reputation as being healers, and are still kept around today as superstition for fighting away sickness. Xoloitzcuintles are also appreciated for their guard-dog abilities and unwillingness to back down in a fight. They bond strongly to their owners and are a notoriously intelligent breed.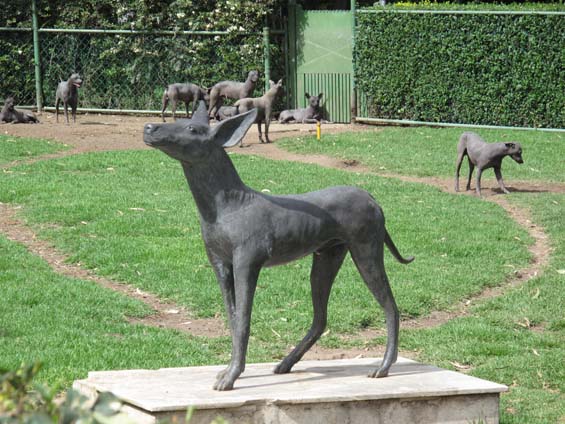 Our designers saw quite a few xoloitzcuintles on their inspiration trip to Mexico. The dogs above live in the Dolores Olmedo Museum in Mexico city, in honor of the philanthropist's love of the breed.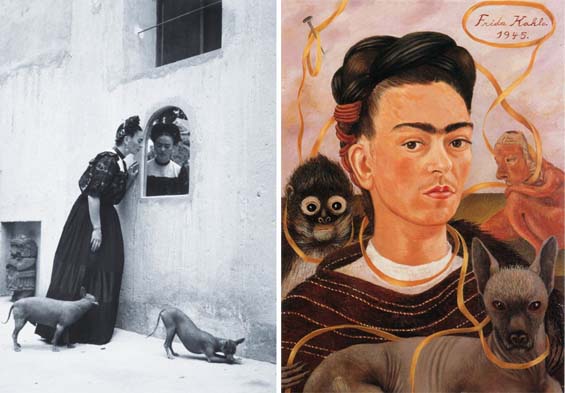 Frida Kahlo and Diego Rivera are among the most well-known fans of the xoloitzcuintle dog. Frida with two of her pets (above left), and in her self portrait with her xoloitzcuintle (above right).
What do you think of xoloitzuintles? Do you find them elegant and beautiful? Or strange and ugly? They unfortunately didn't make the cut for any of our Tea graphics this year, but we're still fascinated by them!