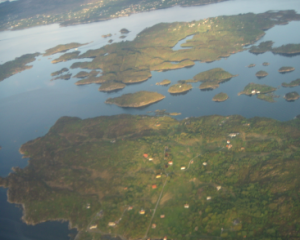 In May 2007, Emily and I headed north to explore the vast country of Norway in search of inspiration for Tea's Fall 2008 collection.
This was my first visit to a Scandinavian country and I was expecting clean and modern aesthetic. Upon landing in this rich country, I was instantly taken by the enveloping evergreens and the woodwork, immaculate even in the airport.
I knew that this was a country that respected its natural resources and proudly celebrated them through craft. I could not wait to see what we would find…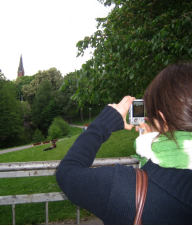 We began our trip in Oslo, visiting museums and taking in Norwegian metropolitan culture.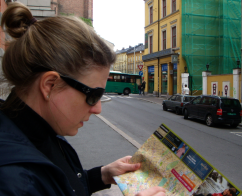 One notable stop was the Norsk Folkemuseum, which featured 150 reconstructed townhouses, farm buildings, and churches from Norway's past.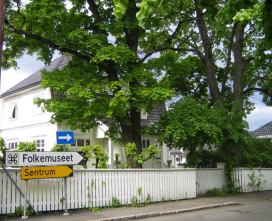 Here, we discovered a style of folk painting called Rosemaling (see below). This style of painting emerged in Norway around the late 18th century. Artists from the more rural areas in Norway would travel from home to home, painting interior walls and furniture. The homeowners would provide warm shelter and food for these artists in return for their services.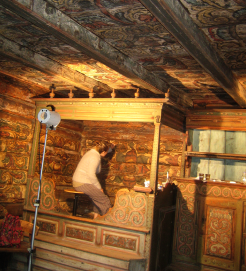 The color and detail of these scroll-like floral designs were captivating in beauty and impressive in coverage.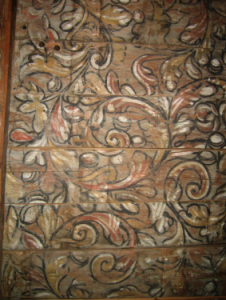 Later, we found that this painting style influenced embroidery in Norwegian folk costume. This discovery inspired us to come up with our own modern interpretation.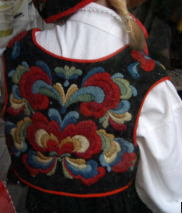 (Norwegian Folk Embroidery and Tea's Inspired Print)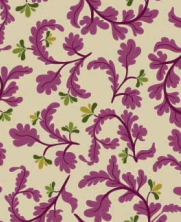 (Below from left to right: Tea's Rasmussen Floral Dress and Elina Embroidery French Terry pants)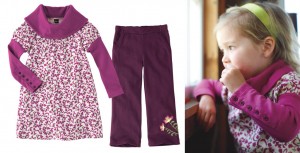 We also found that hand and loom weaving have been a native tradition in Norway, often done by families in times of celebration. There are many different types of traditional weaving, but 2 examples stood out, Billedvev (pictured here), a pictorial tapestry…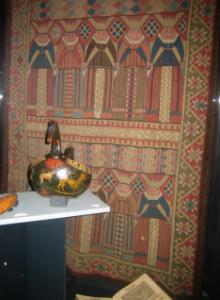 …and Rutevev, a geometric style (below).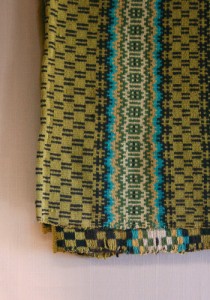 These flat woven textiles were typically done in village homes found amongst the fjords. We were fascinated by the textures and colors in these textiles, so we headed north in search of some to make our own.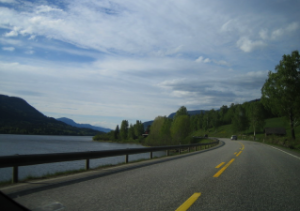 By chance and through a little help from friends that we met along the way, we ended up at the Stalheim Hotel.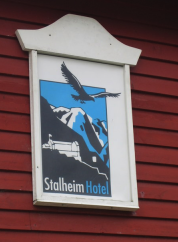 A beautiful hotel set atop a 300 meter high cliff, not only does this hotel boast amazing views, it also has a spectacular collection of Norwegian crafts and a reconstructed folk village.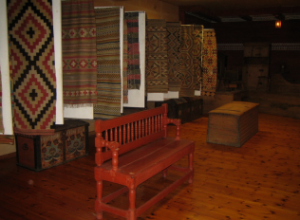 The varied patterns and color we found in Stalheim's collection of textiles inspired us to interpret them in rich sweaters and bright plaids.
(above: Norwegian woven textiles)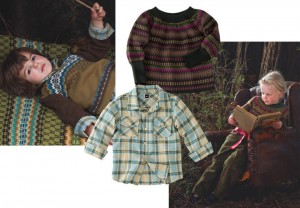 (Above from left to right: Tea's Stalheim Fairisle sweater, Aurland plaid shirt, and Ingrid Jacquard sweater)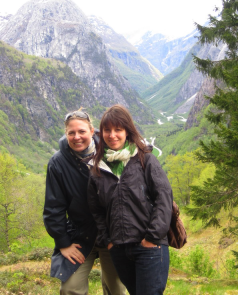 (Emily and me at the lookout from the Stalheim Hotel)
It is hard to be in fjord country without going on a fjord tour. We were in luck as we were close to one of Norway's most famous, the Sognefjord. It is of the longest and deepest in Norway, an inlet jutting over 100 miles into the country and over 4000 feet deep.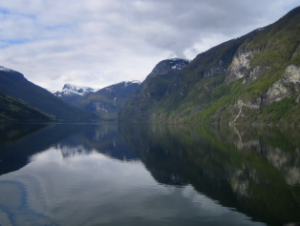 You can't deny the beauty and massive landscape surrounding you in Norway. We tried to capture this feeling through voluminous silhouettes in this Fall's collection like the Aurland Plaid Dress and Fjord Coat (both pictured here).