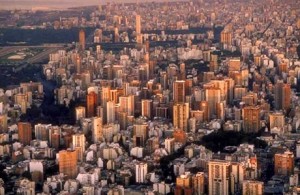 Our daughter was 16 months old when we took her for two weeks to Buenos Aires. She absolutely loved it (as did we). Here are a few things we are glad we did and/ or wish we had known:
Avoid red-eye flights – All flights from the U.S. to Buenos Aires are red-eye flights. We had the time and didn't think our daughter would do well on a red-eye, so instead we flew Mexicana airlines to Mexico City during the day. We stayed at the airport Ramada hotel (recommended) and continued on the next day to Buenos Aires. This worked well for all of us, especially for Grace as she only had to nap on the plane, not try to get a full night's sleep. This plan backfired on us on the return though when Mexicana canceled our return flight and we ended up on a red-eye anyway. Some parents say their kids do well on red-eyes by sleeping all the way through, so do what you think will work best for you and your child(ren).
Rent an apartment – Apartments for rent are widely available in Buenos Aires because of a hotel room shortage and because of investment real estate. Many of them are cheaper than comparable hotels. We paid $120/ night for a very nice 2-bedroom, 2-bathroom apartment in Palermo, a great neighborhood to stay in with a child. We rented through ApartmentsBA and found them professional and, apart from a few minor hiccups, easy to work with.
Keep your child on the time at home – If you're from the West Coast that is. If you're from the east coast the time difference is only 1 or 2 hours (depending on time of year), from the west coast it's 4 or 5 hours. We kept our daughter on Oregon time by still feeding her dinner an hour before bedtime but at 8 or 9pm instead of 5 or 6pm. This way we were able to stay out until 9 or 10pm and sleep in until at least 8am. Argentines don't even think about dinner until 9pm so by keeping her on a later schedule we could actually eat when locals eat.
Bring a portable booster seat – While most restaurants in Argentina have high chairs, some don't. Of those that do have them, every single one we saw was actually just a tall chair with no straps or even bar to keep the child in. This might work with an older child but our daughter would have simply slid right out. Thankfully we had brought The First Years On The Go Booster Seat which fit nicely into the restaurant high chairs and kept our daughter in place.
Don't bring diapers and wipes – We had heard diapers and wipes would be expensive but they really weren't. Major U.S. brands (Pampers, Huggies) were available in every grocery store and pharmacy, so we were never without a place to buy them.
Do bring baby food – If your child is still eating pureed baby food you'll need to bring it with you or bring a hand grinder to make your own. We had heard jarred baby food would be available but we checked in multiple large grocery stores and it never was. Our daughter was old enough that she was also eating table food, so it wasn't a problem for us but could be a big headache for someone with a smaller baby. Our daughter drinks whole milk which was easy to find but formula also seemed easy to come by.
Bring a baby carrier – We highly recommend the Ergo baby carrier, no matter where you are traveling. See our list of essential travel gear for more information. We used it daily in Buenos Aires.
Bring a plastic changing pad. Diaper changing stations were very rare in public bathrooms. We either changed Grace's diaper on the floor on a changing pad or just waited until we returned to the apartment. Since we returned at least once a day for naps this worked most days but there were a few emergencies where the bathroom floor had to do. We were told all McDonald's have changing stations and McDonald's are everywhere.