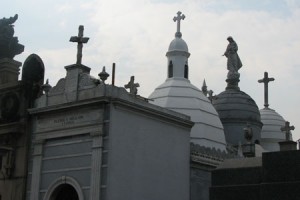 Buenos Aires is an excellent destination to visit with children of all ages. The city is full of interesting things to do, see and eat including parks, world class museums, historical sites, zoos, restaurants, shops and sidewalk cafes. There's a decidedly European flair to the city but the prices are about a third or less to what you would pay in Europe or North America for everything from food and lodging to transportation and admission to sights. It's relatively clean (apart from the dog-poo-on-the-sidewalk problem), quite safe and easy to get around using taxis, busses and subway. We enjoyed strolling through some of the prettier neighborhoods such as Recoleta and the gigantic green parks like Parque 3 de Febrero as much as the tourist destinations. Here's our list of top places we visited with our 16-month old daughter.
Parks – There seemed to be a small park and good playground around every corner in BA. We enjoyed the playground close to our Palermo apartment where our daughter could swing. We also took long strolls through different parts of Parque 3 de Febrero (includes a boating pond and Japanese gardens) and Parque Las Heras (where the dog-walkers gather, which is great fun for kids to watch).
Recoleta Cemetery (see image above)- We were skeptics when this historical site was recommended as a "must-see." How much fun could a cemetery be? Recoleta is more like a small city of mausoleums of every shape, size and architectural style. It's full of big trees and is well-maintained. There's nothing creepy about it, just a fun place for kids and adults alike to explore and discover. The church (Basilica de Nuestra Senor del Pilar) just behind the cemetery is especially beautiful as well. On weekends and some weekdays there's quite a nice handicraft market set up on the square just outside the cemetery.
El Ateneo Bookstore – El Ateneo has several branches around BA but the one not to miss is in a sparkling converted movie theater on Avenida Santa Fe in Recoleta. The old movie theater style balconies and cafe on the stage are a lot of fun. There's a great kids area in the basement and, if mom and dad are in need of something to read in English, there's a small English literature section.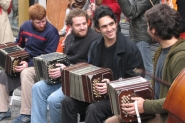 San Telmo Sunday Market – While decidedly touristy, this was still a lot of fun for us and our daughter. Locals flock to this antiques and handicraft market as much as tourists, so it's well worth it. There are excellent street musicians, marionettes and tango dancers to watch as you pass by plus beautiful handicrafts and interesting antiques. Hint: The cafes around the market are few and packed. We were thrilled to discover the delicious Italian restaurant, Amici Miei at 1072 Defensa, just across the street from the Plaza Dorrego, the main plaza for the market. You enter this cafe through a narrow doorway at street level and the cafe is on the second floor, so only locals know about it (except you now!). The food was excellent and they even fresh-squeezed some orange juice for our daughter. Impeccably clean bathrooms too!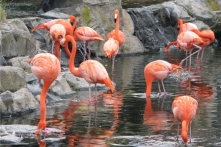 Temaiken Biopark – Temaiken is actually an hour and fifteen minute bus ride from the center of Buenos Aires but we consider it a must-see for anyone visiting Buenos Aires, with kids or without. The beautiful park design, the natural-like habitats and the wide variety of interesting animals we would never see in North America made it a highlight of our trip. Adult admission is 22 pesos ($US 7) as of May 2008 but we went on Tuesday when admission is half price so only paid 11 pesos. To get to Temaiken by bus (5 pesos one way or $US 1.50) take bus 60 from Plaza Italia in Palermo. Make sure you get on the semi-rapido bus just north of Avenida Sarmiento. There's a little booth where you buy a ticket before you get on the bus. If you're not sure just ask the driver before you get on if the bus goes to Temaiken. You'll know when you've arrived at Temaiken. It's the end of the line and the bus literally drops you off at the main entrance so you can't miss it. The bus runs often every hour during the day.
Tigre– This beautiful day trip destination from BA could also be an overnight trip if you wanted it to be. We did it easily in a day by taking a taxi from Palermo to the Tren de la Costa station in Olivos for less than $US 20. From there we took the Tren de la Costa to Tigre, with a brief stop in the cute town of San Isidro. Their weekend market and cafes are recommended if you have time for a stop. Their church is very pretty as well. In Tigre there are delicious dining options with river views along the Paseo Victorica. We ate on the terrace at La Terraza and loved it. There are a wide variety of length of boat trips you can take through the delta and the tourist office can tell you about them. We opted for the basic one-hour boat trip, not sure how long our daughter would enjoy being on a boat, and that turned out to be a wise choice. We've also heard there's a great fruit and handicraft market in Tigre but we'll have to catch that on a future trip. You can take the Tren de la Costa home but we took the regular commuter train instead. While the views were nothing special, the hawkers and musicians on the train were much more entertaining for us and our daughter than the crowds of tourists on the coastal train.
Eat ice cream – The ice cream in BA is as good as the gelato in Italy. It's fresh, homemade and delicious. Once we discovered the Persicco ice cream chain we had to go back almost every day, even though we were there during fairly cold weather. They offer dozens and dozens of interesting flavors like dulce de leche (yum!). They'll even deliver by motorbike if you want (you can get just about anything delivered in BA if you want). Other good chains are Freddo and Altra Volta.
For more information on these and other activities in Buenos Aires, we highly recommend The Rough Guide to Buenos Aires (May 2008 edition).