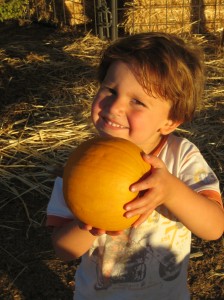 I am really looking forward to Thanksgiving this year. Last year, we hosted the event for the first time, and while I was excited to take ownership of the "bird," lay out the silver and china, and try some new dishes (I baked a chocolate and fig tart, and my husband experimented with a duck on the rotisserie), I am relieved to not have those responsibilities this year. Instead, my sister and her family (bless them) will be hosting. But I'm excited for the day for other reasons too.
As for a lot of people, this has been a really tough year for our family. Even with all of the struggles we experienced, I'm grateful that we will be able to come together and honor each other with a roof over our heads and warm food on the table. We're also starting to get the formula right for how to make the event fun and less taxing. For example, gone are the days when one family member was on point for the entire meal, a stressful responsibility that, as I recall, left my aunt with a mile-long and food-stained spreadsheet one year—a spreadsheet for a family meal! That's just madness. Instead, we'll be taking a pot luck approach.
I am also hopeful that we can experiment a little more with what we are allowed to call "Thanksgiving Dinner." For some people, it just isn't Thanksgiving without pumpkin pie. Others wouldn't touch canned cranberries with a ten-foot pole. And then I found there are people who just don't like turkey. I was shocked when my husband revealed this fact. Needless to say, we get a ham for him now. I gave up meat at the beginning of this year, in large part because we hosted Thanksgiving last year and it totally undid me, so I will be joining my grandmother in line for tofu stuffing (it's actually really good). In addition, I hope I can contribute something new and tasty to the pot luck that can stay "on brand" with the season. For example, I'd love to be able to copy Andronico's amazing tortellini with sweet potato salad that it sells from its deli. But beyond my small attempts to diversify the Thanksgiving cornucopia and the usual dish suspects I'm sure are being planned out as we speak, I'm curious if my family—and yours—would be willing to take more risks on the last Thursday in November?
Specifically, I'm recalling last year's Christmas Eve dinner at my sister's house, when her Italian mother-in-law cooked up the simplest and most amazing dinner ever—cioppino. That's right, instead of a pheasant or turkey or stuffing, we had an Italian-inspired, tomato-based seafood stew over a bed of perfectly-cooked vermicelli. There was also a beautiful endive salad with some cheese and fresh bread—torn, not sliced—in the center of the table. Add in some great wine and voila! Done. As you probably suspected, my sister's mother-in-law is a wonderful lady, and she can cook like nobody's business. And for dessert? That goddess gave us all home-made bottles of limoncello, a sweet lemon liqueur originated from Southern Italy. Oh yes, she did.
I do not know if my family is ready to trade in a juicy turkey, my dad's amazing garlic and cream mashed potatoes, my sister's French bread stuffing or my mom's amazing salads for an international experiment. However, after last year's home run on Christmas, I know we are all a lot more likely to be curious and adventurous even on the most American of holidays. Cheers to you and yours!