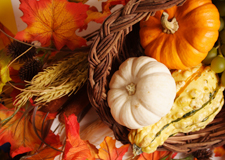 Thanksgiving is such an American holiday. And in my travels I have yet to find another celebration that's really analogous. Interestingly enough, some of my favorite Thanksgivings were the ones spent in other countries with new friends and non Americans. I think Thanksgiving has such a wonderful history to it, and I love to introduce it to people from other places.
Our first Thanksgiving away from home was spent with a Russian family while living in the Middle East. We loved introducing them to the concept and the food. At the time, I was newly pregnant and barely able to stay awake for the feast. Good thing since they left as soon as their six-month old started to melt down. Finding turkeys in the Arabian Gulf can be tricky. They ship them in for the Americans who celebrate the holiday and if you don't get them in time, they're gone. I learned then one of the great things about traditional Thanksgiving food is that it can really be found almost anywhere. Stovetop Stuffing may be a bit hard to come by, but I always found the ingredients to make it from scratch. That's one of the wonderful things about Thanksgiving food, it really is simple food.
The following year, I had a baby and was again newly pregnant. Luckily, I was only responsible for one dish–the turkey! We celebrated with a huge group of friends from the US, Scotland, Egypt and Australia. Everyone brought something from the traditional American Thanksgiving menu—even those unfamiliar with the food. I remember the Egyptian man asking about the origin of this American holiday. Those of us who were American talked about the American Indians and the pilgrims who were celebrating the harvest using our best third-grade Thanksgiving knowledge. Then the conversation transformed into more of the meaning of Thanksgiving for us–to be with those around us and give thanks for the many blessings we do have.
The following year we found ourselves replaying this ritual with a Swedish family. We had just moved to Stockholm and had very few friends around but our neighbors seemed like good people to share this holiday with. I remember my neighbor remarking that Thanksgiving food was one of her favorites–fall comfort food really helped warm up a cold body on a dark Swedish day. In return, we had the chance a month later to experience the Swedish Julbord with them.
This is where I started realizing we should be sharing celebrations with each other–even if they didn't celebrate it. Holidays and traditions are important to understanding cultures and this, particularly American one, has deep roots in our own history. It's wonderful to be able to experience a holiday to its fullness when you're with people who are not familiar with it. We share it with others, and in turn, it reignites the celebration spirit within us.