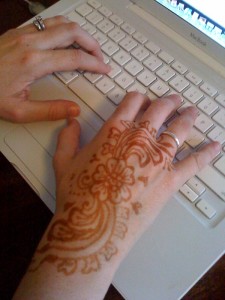 There's very few American traditions I enjoy more than a good old-fashioned baby shower — complete with wonderfully useful (and a few useless) gifts for a first-time Mom. I recently planned an intimate baby shower that blended a traditional high tea shower with South Asian flair — the application of mehndi for the expecting Mom and shower guests.
About Mehndi
Mehndi or Mehendi is the application of henna as temporary body art. Evidence suggests that mehndi originated from India but it is also deeply engrained in the history and culture of people in other South Asian countries, North Africa and the Horn of Africa.
Mehndi is traditionally applied as part of a wedding ceremony in India. When traveling in Goa a few years ago, I learned we could easily identify a newly married woman by her intricately designed arms and hands.
Mehndi is also a part of other special occassions live the birth of a baby, engagements, holidays or other family get-togethers. In Arabic speaking countries mehndi is part of celebrations of a woman's seventh month of pregnancy.
Three Reasons Mehndi Is Great for a Baby Shower
It's beautiful and personal to each guest – some Moms at the shower I just organized very cleverly had the names of their husbands and children worked into the intricate designs they selected.
As the henna gradually fades away, guests are reminded of the guest of honor's upcoming joys and challenges.
Henna is cooling and soothing. Just this small amount on my hand had a great overall chill-out effect.
If you're looking for a henna artist in the NYC area, check out Ammara at NY Henna – you can find her on Facebook as Ammara Nyhenna. Facebook also has a great Mehndi Lovers Group which contains listings for artists across the country and around the world.