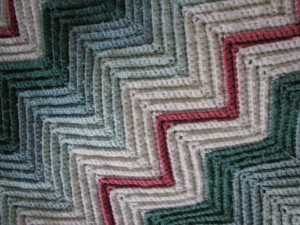 As winter took one last punch at the eastern half of the US last week, we found ourselves traveling under unusual circumstances. My husband's grandmother passed away a week short of her 101st birthday. With the funeral in Ohio and a reception in South Florida, packing proved challenging. We would be leaving our home in the Deep South for two distinct climates. I had some decisions to make regarding wardrobe; for starters, what should a baby wear to a funeral? I also struggled with how I would keep a baby with a southern winter wardrobe warm. I didn't have to think long to come up with an answer.
Grandma was an amazing woman. Raised as an Orthodox Jew in rural Ohio, she saw her share of prejudice and hardship. She lived through the Great Depression and World War II. She saw her youngest daughter head south with her new husband, a Catholic no less, to tackle the Civil Rights Movement. That girl went on to have three sons, the last one my husband.
Through her 100 years, there was one thing her family and friends could count on. Grandma would crochet them an afghan. A woman with a sense of joy and much love, the blankets she created felt alive with her memories. She made them in all shapes and sizes, in all colors. We personally have six in our household and we love each of them. I feel overwhelmingly blessed that Annie P was able to meet Grandma and receive an afghan of her own. When we stepped out on a bleak winter day to say goodbye, Annie P wasn't cold as she snuggled under her great grandmother's gift.
We were fortunate to make it to Florida before the snow and got a couple of extra days down there as a result. But as the mourners returned to their homes in places up and down the east coast and the weather took a turn, they reached for their afghans. My husband's mother and her sister received call after call from people to tell them they were finding comfort under their blankets, in more ways than one. Grandma left a legacy in her afghans, one we will hold onto for years to come.
This made me think about the things we hold dear. Some of the most prized memories of a family are woven, crocheted or sewn. The 103 year old dress Annie P wore for her baptism was first worn by my mother's grandmother. The care we took in dressing, and undressing, her is a testament to the place the gown has in our family. After my wedding, I painstakingly preserved my dress with the notion that perhaps one day my daughter would take it out and want to wear it. Or just look at it.
Gloves, hats, quilts, tablecloths, pillow cases. Each woven heirlooms of what we're made of, or where we come from. Sometimes when I'm dressing Annie P, I wonder which pieces of her clothing I'll hold onto and why. Aside from aesthetics, maybe I'll save the outfit she's wearing when she finally walks, or her dress from the first day of kindergarten. Maybe a blouse I adore will be ruined beyond repair. So I'll snip a small piece of it and save it in a drawer. Over time, it will become a part of a collection. Maybe I'll turn that collection into an heirloom for Annie P And along with her afghan, I'll keep them safe until she needs them.