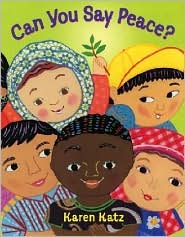 Kai's favorite book right now is a wonderful story written by Karen Katz, Can You Say Peace? Even at 9 months, the colorful characters in the book resonate with him. Kai's face lights up when I pull this book off the shelf and he laughs with excitement. Without leaving Kai's room, we travel to 11 different countries and catch a glimpse of each child's life with their own families. His favorite children in the book are Sadiki from Ghana who says "goom jigi" and Kenji from Japan who says "heiwa". We have such a good time reading and learning to say peace in multiple languages. It's never to early to teach our children to wish for non-violence around the world.
Of course, Katz isn't able to cover evey single country. Here are some other ways to say peace:
Shalom-Hebrew
Salam-Arabic
Amani-Swahili
Hoa Binh- Vietnamese
Kapayapaan- Tagalog
Pyong'hwa- Korean
Shite- Tibetan
How do you say peace in your language?