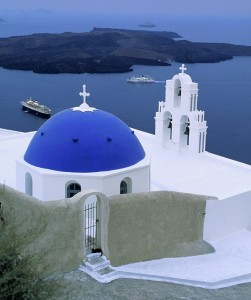 This past week, I did quite an abundance of spring cleaning and came across an old travel journal from college. As I sifted through the different entries, I felt as though I was immediately transported back to my travels through Greece. All of the sights, sounds, emotions and experiences of that time seemed to surround me. It got me thinking that perhaps I should continue to journal during my travels even when it isn't required for a class. Not only do my entries take me back to my own experience, but they help me to share my experience with others. Let me share an experience with you:
June 2, 2001
We have been traveling most of the day. We left Tolo early this morning to visit a few sites. Soon we will come to Mycenae. We arrive. I step off the bus and a cold chill runs down my spine. We walk up the palace steps, the very same steps that Agamemnon walked to his death. We pass through the lion's gate, shaft graves on our right with more steps to the left. We climb. I wander off on my own, passing through chambers where some say the murders of the House of Atreus took place. I climb further to where there are no walls, no ceilings; only dark blue mountains and damp air surround me. It is quite hot out, but I feel a coldness in the air. What sights those towering mountains must have seen. Our professor once told us that we can have 'conversations' with rocks, trees, wind and water. I wonder what those frigid mountains could tell us.
Some say a picture is worth a thousand words, but words, unlike photographs are subjective to our emotions and experiences at the moment. Be sure to not only record the images of your trip, but also the emotions and ideas that you explore along the way. Your family could even swap journals at the end of a trip to view another person's perspective of the journey. This could be a resourceful activity for a long plane or car ride. Reflecting in this way enriches the total experience for you and your family for years to come.