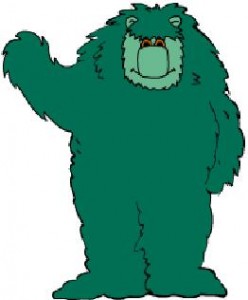 My little girl is the first grandchild on both sides of the family, and it certainly shows with the abundance of gifts she has received. So when my mother asked me what she might 'need' this past Christmas, I had trouble coming up with anything specific. I told her that I would think about it. What could a child, who has plenty, possibly need? Finally, the thought came to me; my little one could use something educational. She had just turned two and was just beginning to structure words into sentences. Maybe we could begin to slowly introduce her to a second language. That was when I came across Muzzy, a BBC series of cartoons designed to introduce children to a new language of choice.
I was not sure what to expect as my little one received her gift and immediately asked to watch it onscreen. I certainly had reservations about the idea of a toddler learning a second language. Would she actually enjoy the program? Would the cartoon be remotely entertaining? Would I be able to follow along as well? When the DVD began and Muzzy, a large, fuzzy green creature with a deep voice began speaking, I was pleasantly surprised to find that my daughter was quite engaged in the cartoon. I found it amusing that her favorite character is not the king, queen or princess, but a furry green thing that enjoys eating clocks and parking meters. She thought this creature was the most hilarious thing and now insists on watching him daily!
Although my little one thoroughly enjoyed the DVDs, I certainly still had reservations about a toddler learning a second language. How soon would she catch on? Well, I am pleased to say that my little one, without any prodding, randomly counted to five in French last week. I was so shocked that I asked her to repeat it, and she did! With a master's in education, I was well aware of the malleability of a child's brain, but to see it actively apparent in your own child is a completely different experience and well worth the effort. The DVD's also come with a parent's booklet that translates the DVD's dialogue for moms and dads so we are able to guide our children through this remarkable learning process. Merci beaucoup BBC!