Back by popular demand!  Lori Chaplin wrote this article back in October 2008 and we were reminded of the importance of safety while families are out traveling and enjoying the wonderful summer weather.  Keep a watchful eye as you venture out on your travels this season!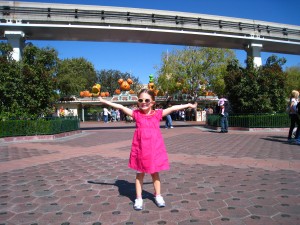 Have you ever "lost" you kid? Maybe you haven't admitted it publicly but it happens to many families. It happened to us at Disneyland last weekend. I was parking the stroller and asked our daughter to hop out and get in line with Dad. A cast member told me I would need to move my stroller to "stroller parking." I followed a path to stroller parking far removed from the ride which we were waiting. I quickly parked the stroller and did a brisk walked back to the Astro Orbiter in Tomorrowland, almost a jog. I was unaware that my daughter had followed me. I returned to the ride with my husband in line. We looked at each other simultaneously saying, "Where is Olivia? I thought she was with you!" Quick expression of panic and we both take off running.
This is the part that saved us. Every time we go to a public place like Disneyland, Del Mar fair, Legoland, Sea World, San Diego Zoo, San Francisco zoo or any of the other places we would never had been found 6 years ago….we take pictures of our daughter on our cell phones. Front, side and back view pictures AT the site. This would allow us to show a picture of her in the outfit she was wearing and the hairstyle she had on the same day if she got separated from us. We always figured if we had a current picture on our cell phones we could easily show it and forward it to others if needed.
And we needed. Within seconds of missing Olivia at Disneyland, I showed the picture to the man who made me move the stroller and he began pointing and saying "Ohhh the little girl with pigtails. She is right there with another cast member!"
Slump of relief.
She did all the right things, found a "manager" and stayed put once she felt she couldn't find us. But having the picture expedited the situation. Once back at Astro Orbiter, another family asked us if would like our place back in line and confessed they had a stomach ache too from the sympathy pains. I told them how I found Olivia and they immediately took out their cameras and took a picture of their 7 year old. I am sure that will become part of their "public place" routine. I can now personally recommend it to all parents.