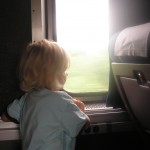 Maybe it's the haunting whistle at five in the morning or perhaps it's the gleaming steel curves of the engine, but there is something about trains that taps into a deep corner of my soul. It could be the romance-the vagabond lifestyle, the ease of which one can hop off of a train and instantly be in the heart of a new city. Or maybe it's the pioneer spirit-looking at the open countryside filled with infinite possibilities. Regardless, as I contemplated the best way to get my family from Minneapolis to Milwaukee on a recent family vacation to the Midwest, I couldn't shake from my mind the idea of taking the train. Sure, flying would be faster and maybe even more economical, but an airplane would be just one more opportunity for our luggage to get lost. We could have rented a car, but that option would have left us with children complaining of the monotonous views from the windows and wanting to stretch their legs. So, the train it was.
While it was no Japanese bullet train or the Orient Express, my children could not have enjoyed their six hours on the Empire Builder more. From the moment we boarded the train and climbed up a narrow staircase to our seats, the fun never stopped. There were complicated footrests to master and train table charts to look at. There was the observation car with its oval side tables and views of the Mississippi. There was the excitement of the dining car where we sat at a table with strangers and ate ice cream with tiny paddles. Every moment held a breathtaking discovery.
Watching my children embrace the experience of traveling on a train, I couldn't help but think of the first train trips that I took in Europe and the indelible memories that they have left. How could I ever forget sitting on my pack in a cramped hallway while 70 German teenagers on a school holiday trip chattered the night away? And my heart still skips a beat when I remember the shock of having a border guard in Hungary burst into our train compartment in the middle of the night with his German Shepherd growling at us.
In a world that measures achievement by tasks accomplished or the distance one has gone, traveling by train forces one to slow down. The calming rhythm of the train and the measured pace of the scenery slipping by the window always has a meditative effect on me, and it had the same effect on my children. As we gazed idly out the window, we commented on the birds that we saw or the red barns in the distance. And perhaps that is the romance of the train-this communal experience with one's fellow passengers and with the landscape, all of which is something that kids seem to be hardwired to enjoy.