Santa Cruz has more to offer than the beach boardwalk. Even if you can't do an overnight, it's possible to do a bunch of fun stuff on a day trip. When we visited last weekend, I noticed lots of families hanging out everywhere. Definitely a kid-friendly beach town!
Here's a quick itinerary:
-A must see is Natural Bridges Beaches. It's not as widely known as the Boardwalk beach or even Seabright Beach.  NB is small and sweet. There are literally rock formations that create bridges in the water. Even better, there is a visitor center and a trail that is home to monarch butterflies in the winter.
– For the gardener in you, visit the arboretum at UC Santa Cruz. Their land has a world class living collection and their garden store always has plants for purchase at excellent prices.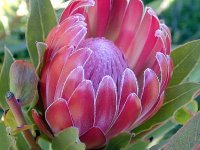 –Marianne's ice cream is a locally owned parlor with original and homemade flavors like lavender and ginger. In a big group, try the giant sundae that comes with over 10 scoops!
– Skip the Borders and head over to Bookshop Santa Cruz on Pacific Ave. has something for the whole family. It's one of the best independent books stores around and still thriving. They have an extensive children's book collection with books from many cultures. There's a cute play area for the young ones too.
-Ride the Giant Dipper. You can still stop by the boardwalk for an hour to get in line to ride the big dipper. Just buy tickets and enjoy!
– Snack on fish tacos! Local fish make tasty tacos and they're real easy to find. I recommend snapper and salmon tacos at Taqueria Santa Cruz
-The kids will love Pizza My Heart. They have plenty of veggie and vegan options for the super health conscious!
Let us know if you have any favorite Santa Cruz spots to share.