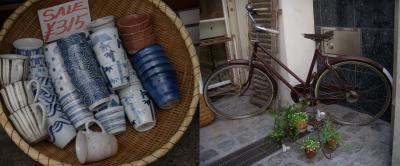 In our travels, we fell in love with the subtle characteristics of Japanese culture.  We discovered exquisite vintage textiles in a quaint Kyoto gallery. We met a modest artisan who is revered for his heritage, knowledge and talent. And we became infatuated with small, independent design houses featuring clothes for a relaxed lifestyle.  This fall, we've created a collection of children's clothes that expresses the grace and style of Japanese culture, especially the honored use of indigo dye.
As far back as I can remember, I've loved the raw beauty of indigo.  I've watched it age, growing richer in its blue hues, softening to the touch, but retaining its strength.  For me, indigo is an emotional inspiration because of its glorious, ancient origins, and how I've seen the Japanese render it today into a high quality, casual fashion.
In Kyoto, we visited the Aizenkobo Indigo Workshop where an artist revealed more to us about the dye than I ever knew.  In its natural form, indigo doesn't burn.  It is rare to find such textural beauty and strength together.  In the 18th century, Japanese firefighters wore indigo-dyed garments because of its protective ability.  One of my favorite travel pictures is Laura Boes in the antique firefighter's coat from the Edo period. 
Shibori is another traditional craft that is much like tie dye. Cotton fabrics are soaked up to 20 times, or even 40 times for silk, to achieve the deep blue-violet color.  Artists, then, painstakingly string-tie miniscule knots around pinches of the dyed fabric, creating a small-dotted circle shape. Thousands of these knots evolve into a sea of repeating geometric motifs that can cover the entire piece of cloth. 
Because of the arduous and expensive process, most of the world uses synthetic indigo.  However, a few Japanese artists and designers are keeping the craft alive in today's culture.  We wanted to pay homage to this honored tradition in our boys and girls clothes.   
The Indigo Arts Collection includes great back-to-school and holiday essentials such as the Shibori Girl Dress and Top, Takayama Plaid Top and Dress  for girls and the Edo Firefighter Pullover for boys .  And we are bringing back our iconic Kimono Robe . When I see my son and other little citizens wearing it, I know that they have the softest, most quintessential piece of children's outerwear for any time of year. 
I wish a wonderful fall season to everyone.  I look forward to your comments and hope that you will share the spirit of indigo with all who inspire you. 
-Emily