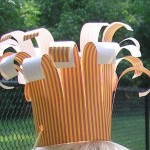 With no fanfare, no streamers, and no cheering, I am happy to finally declare that Birthday Season at our household is officially closed. After the chaotic sprint of birthday-birthday-mother's day-birthday-father's day-birthday, I'm done. I'm spent. I'm planned out. I have made more cupcakes that I ever thought possible, I have fashioned more paper pinwheels than is healthy, and I have cut and curled more party hats than I care to admit.
By nature, I'm a pretty lazy person who likes to keep things uncomplicated. Children's parties for our family involve no games, no decorations to speak of, and typically no outrageous theme. They are actually just get-togethers with our friends and families that happen on or around a child's birthday and therefore involve cupcakes for dessert. Reflecting on this year's birthday season, I have realized that most of the parties that I have organized have followed the following set of guidelines hereby known as "Throwing a Good Enough Birthday Party for the Preschool Set."
1. Take it outside. My kids have the good fortune (from a party planning standpoint) of being born in the warm weather months, which admittedly in the South can stretch for most of the year. All of their parties therefore have occurred outside of our tiny home—on our back deck or in neighborhood parks. Not only can your forego the silly step of tidying your home just to have it trashed by children but the cleanup is so much easier when the party is outside. No worries about spilled drinks if they just land on the deck or the picnic bench!
2. Who needs games when there are bark chips? My kids are still young and really don't care why their friends or grandparents have come over; they are just excited that there are so many wonderful people to play with. In the absence of adult created games and contests, the kids invariably create their own: How many cousins can fit in a cardboard box? How much bark can we pile onto the slide?
3. Don't cater to the kids. Who wants to stop and eat when there is so much fun to be had? When my kids get together with a large group of their friends, they seldom stop to eat anything beyond fresh fruit and a birthday cupcake. Instead of planning meals and snacks around things that I know they will safely eat but that I find unappealing, food at recent birthday parties has included things like gourmet pizzas with garlicky spinach and pancetta, orzo vegetable salads, and Asian style cole slaw. The adults are happy not to be dining on hot dogs, and when the kids get hungry enough, you'll be amazed by what they will agree to eat!
4. Forget the prepackaged theme. Save yourself a lot of time, trouble, and money and resist the urge to deck out the tablecloth, napkins, and party favors with some animated character's visage. Instead, try decorating around a simple idea like summertime or snowflakes. For my son's summertime party, we made pinwheels out of brightly colored paper to decorate his cake and used paper goods in primary colors. We let him pick the color for his cake's icing which resulted in a memorable yellow frosting with an odd shade of puce as the accent color. My clever sister-in-law used the time of her son's birthday party to create a fun party—she invited kids over for a Donut Party at 9 am and asked kids to come in their pajamas for some tasty breakfast treats.
5. Start your own traditions. Before my children were even a glint in my eye, I had bought a set of wooden circus animal candle holders. I have used these animals on every one of my children's birthday cupcakes save one cake. And you know what? That cake just didn't seem right with the little tiger and giraffe on it. Start a tradition with your children's birthdays, and they will always remember it as will you.
6. It's not about you. At the end of the day, if the kids have had fun, the party was a success. Keep it all in perspective and have a great time with your family and friends!