One of my favorite ways to explore a new country is through taste. Whenever I travel I try my best to eat locally, from street vendors, small restaurants, or whenever possible, local people's kitchens. I've eaten fresh feta salads in Greece, baked fish in Morocco, foufou in the Congo, and tamales here in San Francisco. Having not visited any of the modern countries that formerly made up Old World Hungary, I thought I'd do some research into traditional cuisine and see what I could make here in the States.  Kolacky will appeal to the most stubborn sweet tooth, and are easy and fun to make with your kids.
When searching for Kolacky cookie recipes I found references to Poland, Czech Republic, Slovakia, and Hungary. Perhaps due to their tastiness they seem to be common across much of Central Europe. Also known as Kolachi, Kolacki, Kolaczki, or Kolachky, these sweet fluffy cookies are a breeze to make, and with a little bit of fruit in there you can even pretend they're healthy. I recommend making and refrigerating the dough in advance, and including kids for the rolling, cookie-cutting, and final construction steps.
Ingredients:
3 ounces cream cheese
1/2 cup butter, softened
1 cup all-purpose flour
1/2 cup any flavor fruit jam (I used strawberry jam, and orange marmalade)
1/3 cup powdered sugar for decoration
Directions:
1.   Mix cream cheese and butter until smooth. Add flour slowly until well blended. Shape into a ball and chill in the fridge until firm.
2.   Preheat oven to 350 degrees. Roll dough out 1/8 inch thick on a well-floured counter. Cut into squares approximately 2 1/2 x 2 1/2 inches, and place about 1/2 tsp of jam or preserves in the middle. Overlap opposite corners and pinch together. The dough puffs up in the oven,  so make sure they're sealed well so that they don't open up when cooking (a little water warm water helps create a smooth seal). Place on ungreased cookie sheets.
3.      Bake for 12 – 15 minutes in the preheated oven. Cool. Sprinkle lightly with powdered sugar.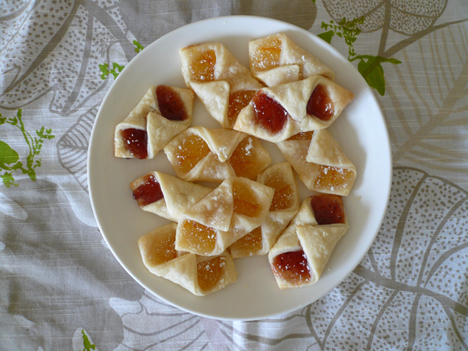 Share your results and suggestions below. Have a favorite kolacky recipe? Please let us know!