I can't believe it's December already. Really starting to feel like the holidays around here. Wanted to share some beautiful crafts and traditions from our current destination, Old World Hungary (which includes Croatia and Romania too).
From Croatia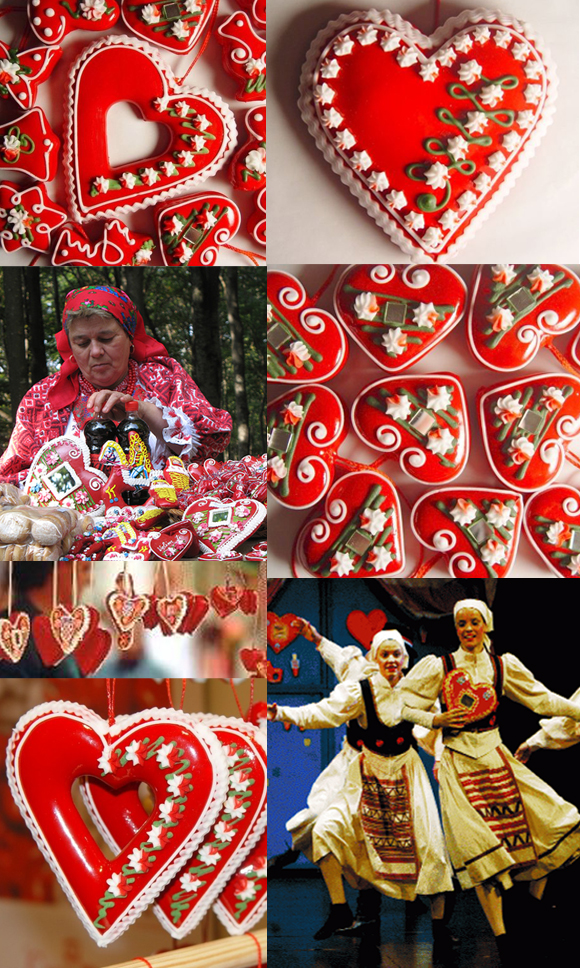 images from:  Rina Travel (2nd row left), eLanguages (3rd row left), Licitar (all other images)
Licitar is a beautifully decorated, edible ornament that most commonly comes in a heart shape. The heart shape is a traditional symbol of the city of Zagreb – it represents the warmth of the city and its people. They are given as a symbol of love for Christmas, birthdays, weddings, Valentines Day and other holidays.  Making the ornaments is highly involved and extremely time consuming (it can can take over a month). The tradition dates all the way back to the 14th century.
From Hungary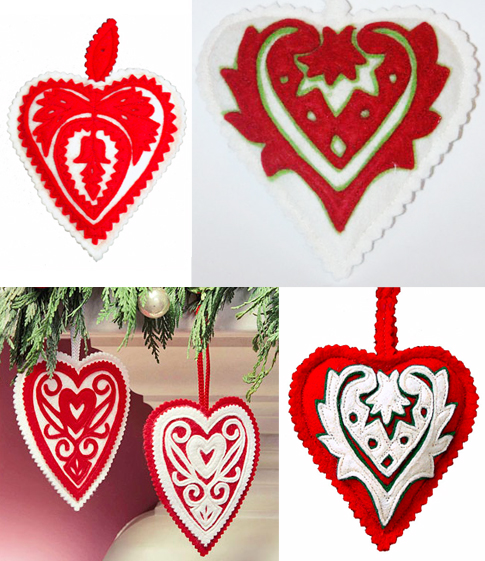 images from:  Crossroads Trade, Better Homes & Gardens, The Sandor Collection
Traditionally, Hungarian women used reverse felt applique to decorate clothing. Eventually they adapted the technique to make beautiful applique ornaments. Ornaments have a variety of motifs which can represent different regions. Learn to make your own appliqued heart ornament here.
From Hungary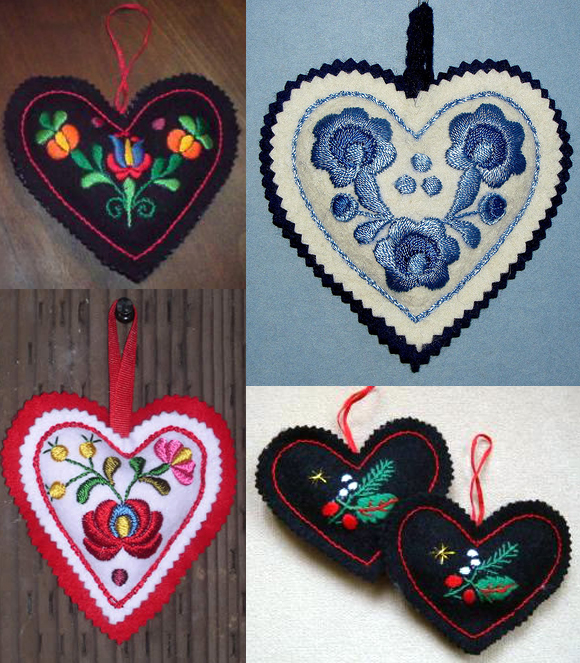 images from:  Hungarian Folk Art (top left),  Lmntl Crafts (bottom left), diffuse Flickr (top right), Hungarian Folk Art (bottom right)
Heart ornaments are a traditional Hungarian ornament around the holidays. Matyó Ornaments use originated in the Matyó region in Northern Hungary and use their embroidery techniques.

sources and further reading:

Croatian Tourism, Zagreb, Croatia
Great site about licitar, Licitar
more info on licitar, Wikipedia
more info on licitar Hearts, about.com
Croatian Souvenier, Rina Travel
Info on Matyó Embroidery:  Hungarian Embroidery and Folk Arts
About Reverse Felt Applique:  National Geographic